Through The Chris Long Foundation, the Patriot hosted 100 veterans, active duty service members and their families for a holiday dinner at Morton's Steak House in Boston on Wednesday night to show his appreciation and to honor the sacrifice each one has made for his or her country. 
Those invited received a three-course meal and met with Chris, and though this is his first event of this kind in New England, Chris said nights like this are important to show gratitude for those who serve our country.
"The lead initiative of my foundation is clean water, but not far behind it is military appreciation. I think for me, it's just because I picture the jobs that these men and women are doing to preserve what we take for granted," he said. "It's cliché, but if you really think, are you willing to do those things, I think a lot of us would say, 'I don't think we have the courage or I don't think we have the fortitude.' These folks make it seem so effortless, but it's very hard. They're real heroes, and it's our job as football players to lift them up and show them our support."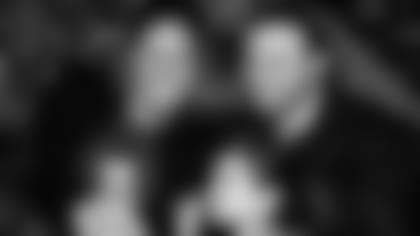 Throughout Chris's career in the NFL, he has continually shown his support for those currently serving and who have previously served by donating his time, providing financial donations and creating one-of-a-kind experiences to express his gratitude. While he said that an appreciation dinner won't necessarily change things for the veterans, service members and their families who were invited, he does hope it makes them feel appreciated around the holidays. 
"It's not a game changer in a sense that we're doing something that's altering, but what we are doing is trying to show support and say thank you," Chris said. "At the end of the day, the best thing we can do, because those folks have such a hard and sometimes thankless job, is say thank you."
To learn more about The Chris Long Foundation, visit its website here.  
RELATED LINKS