Chris Long foi o segundo jogador escolhido no draft de 2008, pelo St. Louis Rams, e na altura fez história pois foi apenas o segundo jogador jamais escolhido na primeira ronda que fosse filho de alguém, Howie Long, que estivesse no Hall of Fame.
Esteve durante oito temporadas com os Rams, mas as duas últimas foram bastante frustrantes porque ficaram marcadas por uma série contínua de lesões que o impediram de mostrar o seu verdadeiro valor.
Por isso, a 19 de fevereiro de 2016, foi dispensado pelos Rams. Passou alguns dias a pensar sobre o seu futuro, mas pouco depois, a 18 de março, decidiu assinar pelos Patriots.
Na terça-feira, rodeado de jornalistas de todo o mundo, teve oportunidade de contar a sua história.
A INFLUÊNCIA DO PAI
Começaram por lhe perguntar se o pai o tinha aconselhado a decidir quem deveria representar esta temporada.
"Falámos, provavelmente tivemos a mesma inclinação, mas obviamente a decisão foi minha," respondeu Chris Long.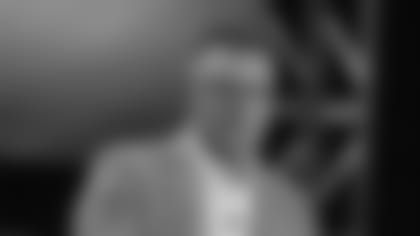 Invariavelmente quiseram saber se o pai o tinha ensinado a jogar football, se lhe mostrara como vencer na luta nas trincheiras, no combate mão-a-mão que marca as batalhas individuais da linha defensiva.
"Sim, realmente é uma espécie de combate mão-a-mão ali na linha (defensiva), e o meu pai era bom com as mãos, era bom tecnicamente, aprendi algumas coisas com ele," começou por dizer Chris Long, que de seguida fez questão de chamar a atenção para algumas diferenças pois "todos temos estilos diferentes, por isso as coisas que resultavam para ele talvez não deem certo para mim e eu faço coisas que ele, que está no Hall of Fame, não conseguia fazer. Todos os jogadores são diferentes, mas todos nós aprendemos aquele tipo de arte."
Mas, a melhor ajuda do pai sempre surgiu no campo pessoal.
"[Ele tem-me ajudado] como pai. Por sermos jogadores profissionais de football há muitas coisas que as pessoas não veem, os altos e baixos da carreira. Por isso, ele esteve sempre disponível para colocar as coisas em perspetiva, muitas delas até sem terem nada a ver com o football. Ajuda-me como pai e agora é avô, sempre me deu muito apoio."
A VIDA COM OS PATRIOTS
São um modelo de sucesso, por isso os Patriots são muito invejados já que ninguém conseguiu ainda replicar a fórmula que levou esta franquia a sete Super Bowls em 15 temporadas. Chris Long tentou explicar o que faz a diferença em Foxboro.
"É preciso ser resiliente e conseguir vir para cá e não esperar nada. Não ter nada na ideia a pensar que vai ser assim, porque aqui as coisas estão sempre a mudar. O teu papel pode mudar de semana para semana, não é sempre a mesma coisa," explicou Chris Long. "É preciso conseguir colocar a equipa acima de tudo e fazer uma promessa internamente de que tudo o que vais fazer durante este ano, eu assinei por uma ano e sabia que este ano, fosse como fosse, eu ia colocar a equipa acima de tudo."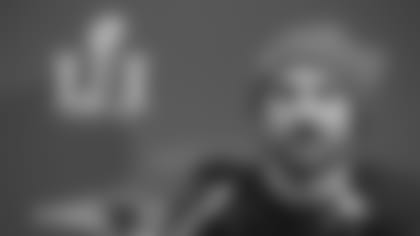 Em relação à decisão final, Chris Longrevelou que escolheu os Patriots porque "eu estava numa fase da minha carreira onde tinha que novamente provar o meu valor como jogador pois os dois últimos anos tinham sido uma porcaria devido às lesões."
E entendeu que Foxboro seria o local ideal para relançar a parte final da sua carreira pois já não precisava de louros individuais, mas sim de títulos.
"[Foxboro] não é um lugar onde tu conheces sempre o teu papel, ondes vais fazer sempre a mesma coisa, ou vais fazer o que tinhas feito no passado," acrescentou Long. "É um lugar onde vais ganhar e o treinador vai-te colocar numa boa posição para teres sucesso."
Devido a isso, os jogadores dos Patriots não sentem tanta pressão nos grandes palcos, como é o caso do Super Bowl.
"Nós todas as semanas colocamos imensa pressão sobre nós próprios, nós queremos ser os melhores, temos jogadores no balneário que pensam assim" revelou Chris Long. "Por isso, quando nos encontramos numa situação destas, pois semana após semana, ano após ano, muitos destes jogadores fazem todo o seu trabalho, colocam toda essa pressão sobre si, este momento não parece ser demasiado grande."
A mudança para os Patriots teve, portanto, muito a ver com Bill Belichicke Chris Long considera que fez a aposta certa.
"Antes de cá chegar eu pensava que ele era provavelmente o melhor treinador de todos os tempos," disse Long. "Depois de cá chegar, depois de o ver a trabalhar dia após dia, todas as três fases, compreendi que o seu conhecimento global do jogo é incrível."
COMO É ESTAR NOS PLAY-OFFS
A oportunidade de poder finalmente chegar aos play-offs foi talvez o motivo principal que o levou a assinar pelos Patriots. Agora que já saboreou uma vitória na fase final da prova, precisa apenas de mais uma vitória para se sentir realizado.
"É ótimo [jogar nos play-offs], é algo de que estou grato todos os dias," confessou Chris Long. "Antes desta semana estava grato todos os dias por ter chegado aos play-offs, agora estou grato por estar aqui e repartir esta experiência com os meus colegas. Este é verdadeiramente um desporto coletivo, com 53 homens que colocam a equipa acima de tudo, e é por isso que estamos aqui."
E foi essa mentalidade que ajudou a equipa a superar alguns obstáculos imprevistos.
"Tivemos algumas adversidades, mas ninguém pestanejou, e isso não é acidente nenhum porque neste balneário temos jogadores que são fortes mentalmente e essa é umas qualidades mais importantes, senão mesmo a mais importante, que um jogador de football pode ter," indicou Chris Long.
Um dos jornalistas quis saber se os Patriots adotam a atitude de que ninguém gosta deles para se motivaram para esta final.
"Não sei bem se pensamos assim, nós contra o resto do mundo," avisou Long. "Penso que se trata duma equipa que se prepara para todos os adversários como se fosse o jogo mais importante. É mais assim que nós lidamos com as coisas e isso torna esta semana mais fácil pois este é o jogo mais importante, o último jogo. E nós disputamos todos os jogos como se fossem o jogo mais importante, o último jogo. Treinou-nos para isto."
E agora segue-se Atlanta.
"O objetivo é colocar pressão sobre ele [o quarterback Matt Ryan], como se faz com qualquer outro dos grandes quarterbacks, mas estando sempre conscientes de que ele é bastante móvel," respondeu Chris Long quando lhe perguntaram qual era o plano de jogo da sua unidade. "Quem viu o jogo contra Greeen Bay, sabe que quando as jogadas não resultavam, ele improvisava, e para ambos os lados pois ele não é o tipo de jogador que escapa apenas para o lado esquerdo, e é assim que consegue prolongar as jogadas."
"Para se chegar aqui [ao Super Bowl] é preciso saber baralhar as coisas, e eles [Atlanta] fazem um excelente trabalho nesse aspeto. Têm imensos pontos fortes, não têm pontos fracos, por isso não há nada que se possa eliminar quando nos preparamos para jogar contra eles."
Em resumo Chris Longvai fazer tudo ao seu alcance para fechar a temporada com chave de ouro. Durante a temporada regular registou 35 tackles e quatro sacks, participando em 65 por cento das jogadas defensivas. O sistema rotativo com Rob Ninkovich, Trey Flowers e Jabaal Sheardpermitiu que estivessem sempre bem fisicamente durante os jogos, evitando cansaço excessivo, algo que vai ser necessário uma vez mais frente à veloz defesa de Atlanta.