INDIANAPOLIS - Cornerback may be the most athletically demanding position in football, a spot where there just simply isn't enough talent to go around to all 32 NFL teams.
In a passing league, finding guys with the athleticism and smarts to cover elite playmakers with consistency under today's rules slanted toward the offense is a major challenge.
The Patriots struck gold landing Malcolm Butler as an undrafted free agent destined to become not only a Super Bowl hero but also New England's Pro Bowl No. 1 cornerback. But as the team continues to try to bolster the back end of the defense, expecting another talent to fall into their lap is an unlikely tactic.
Butler is a restricted free agent likely to receive a first-round tender and maybe even a lucrative extension in New England this offseason. But the rest of the depth chart is a bit more questionable.
Logan Ryan is set to hit free agency March 9 and in all likelihood the former third-round pick will find lucrative offers to take his services elsewhere after four years in New England, the most recent a solid campaign as the Patriots 12th-ranked pass defense's No. 2 cover man.
Ryan's expected departure will push the rest of the remaining cornerbacks up a slot. That includes 2016 in-season trade addition and former Eagles second-round pick Eric Rowe. The longer corner played a nice role down the stretch, but penciling him in as the every-down No. 2 cornerback for 2017 may not be ideal.
The rest of the remaining cornerbacks include disappointing 2016 top pick Cyrus Jones, Justin Coleman and Jonathan Jones, none of whom have proven themselves worthy of consistent reps on defense.
While the door is clearly open for Cyrus Jones to make a year two jump, more likely New England needs to consider adding talent to the position this spring as Ryan appears poised to depart.
If that means targeting the cornerback spot on draft weekend, the good news is that prospect class at the Combine is both top-heavy and extremely deep. NFLDraftScout.com projects that as many as six cornerbacks could go in the first round of the draft come late April, while as many as 40-plus talents could get called over the seven rounds overall.
NFL Network draft analyst Mike Mayock called the 2017 group a "great cornerback class."
"The corners, I keep saying, are so deep. It's going to be kind of pick your flavor based on what's important in your scheme," Mayock said. "You can go three or four rounds deep and find potential starters, you can find nickels.
"I can get through four rounds of quality corners, and I've never been able to say that before."
Bill Belichick has taken a cornerback at some point in 14 of his 17 drafts in New England. He's picked a cornerback in the first three rounds in nine of those drafts, first two rounds in six of them.
Given history and the current depth chart, there is a good chance the Patriots will dip into a very talented, deep cornerback class at some point again spring.
The group of guys jockeying for position atop the impressive group includes Ohio State's Marshon Lattimore (6-0, 193), Washington's Sidney Jones (6-0, 186), Florida's Teez Tabor (6-0, 199), Alabama's Marlon Humphrey (6-0, 197), Iowa's Desmond King (5-10, 201), LSU'sTre'Davious White (5-11, 192) and Michigan's Jourdan Lewis (5-10, 188).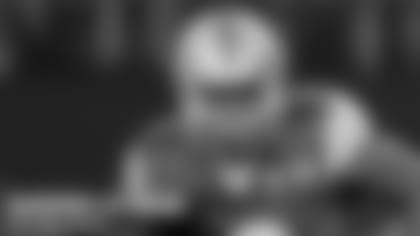 "I think Lattimore's going to be gone in the top 10 from Ohio State. Sidney Jones to me is kind of lean, but I think he's instinctive like Marcus Peters, and I think he's a top 15 pick all day long," Mayock said.
The biggest red flag for the Buckeye is a history of hamstring issues that dates back to high school. He missed most of the 2014-15 seasons to those issues, before staying healthy for a breakout 2016.
"It's a blessing to be in the position I'm in," Lattimore said of his spot at the Combine and projection as the top cornerback in the class. "I didn't even know if I'd be healthy enough to play."
When he did play he proved to have the quickness and athleticism necessary to be a top corner, and was a playmaker after picking off passes, including a 40-yard touchdown return.
The secret to healthy hamstrings and playing time?
"It's not luck at all," Lattimore said. "I did yoga, extra exercises and extra stretching. All that."
Still, teams have questions about his health.
"It's the first thing they ask, tell them about my hamstrings," Lattimore said.
While Lattimore's red flags are health related, Tabor's are in regards to his maturity and off-field behavior. He was suspended twice for the Gators, including a game for a fight with a teammate. Sunday at the Combine he also admitted to failing a drug test early on in his career at Gainesville.
"They have a report on me on who they think I am," Tabor said of the NFL teams he's been talking to this week. "I just want to change that perception."
The early entry was a force for the impressive Florida defense as a two-time All SEC selection – "When you are the best at what you do, time to move up a level" – but the impression he makes on teams this week may go a long way toward the height he can reach on draft night.
"I'm a changed young man," Tabor said. "I just had some growing pains. It's never a mistake unless you make it two times. I don't think I did that."
That message, and his obvious skill and confidence, are what Tabor brings to the table.
"I just have a natural knack for the game of football. When you put on the tape you see that," Tabor declared. "I feel I'm the best overall player in the draft, not just corner. That's the confidence I have."
Lewis is one of the 14 Wolverines in Indy this week and certainly played in the shadow of safety/linebacker teammateJabrill Peppers. But he's well aware that his 5-10 height is a concern and not ideal for a top-flight cornerback prospect. As he tries to prove first-round worthy, he'd like to think his cover skills speak for themselves.
"My tape is pretty good, I think," Lewis said. "I'm confident in the way I play and that my size won't hinder me."
White's calling card is his experience and attitude. He was a four-year starter for the Tigers, facing the best competition and skill in the country on a weekly basis each fall. He understands there will be a transition and some likely growing pains.
"I have a great mindset, just knowing the position I play is all about short-term memory," White said. "You are going to get beat. But I'm going to win more than I lose."
And White isn't concerned with the depth and talent he's competing against in the pre-draft process.
"It's something I look forward to. I'm a competitor. I love to compete. It's the next big stage," he said.
Jones is a little more soft-spoken than some of the other top corners, but is still very much looking to follow former teammate Marcus Peters to NFL success. Jones thin build may be a concern for some, as is the fact that he found out this week that his reach isn't up to par.
"I heard I have a small wingspan," Jones said. "That doesn't affect me as a player. I use my arms just fine. It's never been an issue."
Known as a film junkie and a teaching tool by his coaches "because I do everything the right way," Jones doesn't compare himself to other corners but prefers to make his own name stand out.
"I'm a great player. I'm a lockdown corner. I have great instincts," Jones says. "I try to play my game."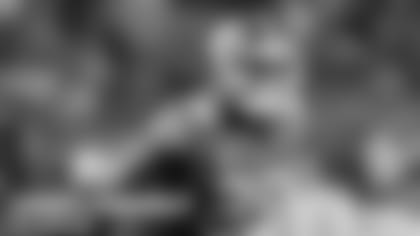 As Mayock alluded to, after the top crop of would-be first rounders there are a slew of players in the next group with a very legitimate chance to be high level NFL contributors. Clemson's Cordrea Tankersley(6-1, 199), Ohio State's Gareon Conley (6-0, 195), Tennessee's Cameron Sutton (5-11, 188), Colorado's Chidobe Awuzie (6-0, 202), Florida's Quincy Wilson (6-1, 211), USC's Adoree Jackson(5-10, 186), Washington's Kevin King(6-3, 200), UCLA's Fabian Moreau(6-0, 206) and a handful of others fill that bill.
While length man be a question for Jones, it's not for his former teammate King. In fact, that's what the former Huskie hopes separates him in a class that doesn't have a tone of long, tall corners.
"Just working the receivers," King, former safety, said of the length advantage. "Not too many guys are used to having that constant pest on them, nasty and long. And I'm going to get the ball. When the ball's in the air, that 50/50 ball isn't really 50/50. There are bigger guys in this league, and you've got to go up and get the ball."
Wilson brings a similar confidence coming from another well-rounded secondary at Florida with multiple defensive back prospects at the Combine.
"[Size] definitely sets me apart," Wilson said. "I see a lot of guys 5-11 or 6-0. But I don't see too many 6-1-plus that can do the kinds of things I can do."
The former Trojan Jackson, on the other hand, clearly tries to separate himself with his speed and versatility. First, though, he says he's had to convince teams that his track career is behind him and that football is the focus.
"I just want them to know I'm a hard worker and dedicated to football," Jackson says. "My track days are over."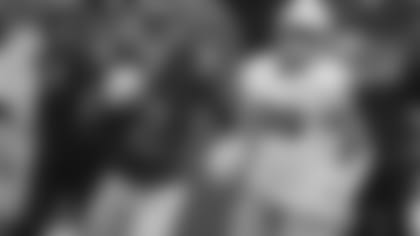 Jackson was a big-play machine for USC as a defensive back, returner and even on offense. He recorded five interceptions on defense, two touchdowns on punt returns and two more on kickoff returns. So it's no surprise that he doesn't believe he has a lot of limitations.
"I feel I can do it all out there," Jackson said, though he made it clear no team has talked to him about playing offense. "Defense and return specialist."
Awuzie is a guy who tries to get an advantage with his head as much as with his physical skills after career playing all over the secondary for the Buffaloes.
"I definitely feel I am one of the smartest players, not just defense but any players, here," Awuzie declared, not wanting to limit himself to any one role on defense. "I see myself as a baller. I get on the field and make plays."
That was evident by his tackles for a loss and nine career sacks, a rare number for a cornerback.
"I'm just a ballplayer. I always have the mentality of 'See ball, get ball.' No matter where I'm lined up, whether it's sacking the quarterback: get the ball, I'm going to tackle him. If the ball's in the air, I'm going to tackle him on a play. And that's the way my mentality is," Awuzie said.
Moreau just wants teams to know that even though he missed 2015 to a lisfranc injury and didn't start playing corner until he got to the Bruins, that he is a ready-made rookie contributor.
"I am confident in my abilities. I feel like I can come in and play right away," he said. "Just be myself. That's what got me here. Just prove I belong in this class."
Turning to the latter rounds of the draft there is an almost endless list of guys who are in the mix at this point. They range in size from Maryland's William Likely(5-7, 180) through Michigan's Jeremy Clark (6-3, 220), who is recovering from a September torn ACL, and everything in between.
Though undersized, Miami's Corn Elder(5-10, 183) is an intriguing option having served as a four-year starter for the Hurricanes. Elder earned All-ACC honors last fall with a year in which he made plays all over the field with 12 passes defensed, one interception, one forced fumble, one fumble recovery, three sacks and 4.5 tackles for a loss.
Elder takes pride in the consistency of his career in Miami.
"It means a lot," Elder said of being a four-year starter. "I'll take the experience I have to the next level. I just have to keep doing what I've been doing. I'm a guy with toughness, playmaking ability and some to give it everything he's got."
Michigan's Channing Stribling (6-1, 188) led the Wolverine defense with four interceptions and 16 passes defensed. He's spent Combine week promoting not only his versatility, but his football IQ.
"I can play all spots. A lot of teams have asked if I can play nickel and safety," Stribling said, something that can be key for later-round defensive backs. "I'm trying to show them I'm a smart guy. I've done well explaining what we do (on Michigan's defense)."
Even guys currently projected as undrafted rookies invited to the Combine seem to ooze confidence. Central Florida's Shaquill Griffin (6-0, 194) doesn't expect to get lost in such a deep, talent corner class. He's focused on running a Combine 40 that should boost him up the boards.
"My 40 is gonna open some eyes. I feel like I'm gonna surprise a lot of people," Griffin said, though he wasn't willing to predict a time. "They know my size, length and character. They know I can play."
All of the more than three dozen cornerbacks at the Combine can play. It's a group that includes likely future Pro Bowl talents and NFL stars as well as more complementary contributors at one of the most important positions in the game today.
As Washington's Jones so accurately put it, "I think every team needs more depth at cornerback."
And Belichick's Patriots are no exception.