INDIANAPOLIS – There was a time in the not-so-distant past when the Patriots offensive line was as good as set in stone. But over the last couple of years the spot has become much more fluid.
The retirements of Stephen Neal and Matt Light, plus the departure of Dan Koppen, have left the group in a transition stage. That could be accentuated this offseason if veteran right tackle Sebastian Vollmer, who is a free agent, isn't re-signed.
The team has done some work toward ushering in a new era by adding 2011 first-round pick Nate Solder to 2005 first-rounder Logan Mankins to establish a solid left side. In addition, former practice squad member Ryan Wendell turned in a solid season in his first year as the starting center, seemingly taking control of the position in Koppen's wake.
How enthusiastically the Patriots jump into the offensive line fray in the upcoming draft remains to be seen. If Vollmer does leave it would add some urgency to the situation, especially if the team isn't sold on 2011 fifth-round pick Marcus Cannon, who has seen limited time during his first two seasons and has struggled when he's been in the lineup.
Fortunately for Bill Belichick and his longtime offensive line coach Dante Scarnecchia, there would appear to be plenty of quality options at the draft and many of them made strong first impressions on Day 1 of the Combine on Thursday.
Depending on the position and area of the draft New England is looking, there seem to be plenty of options. If Vollmer is gone – and given his balky back perhaps even if he's retained – the Patriots could make tackle a priority. With a scarcity of picks (just five in all and none between Rounds 4-6), it would be a surprise to see an early one used on a tackle, but there are some options.
NFLDraftScout.com projects four to go in the first round – Texas A&M's Luke Joeckel (6-6, 310), Central Michigan's Eric Fisher (6-7, 305), Oklahoma's Lane Johnson (6-6, 302) and Alabama's D.J. Fluker (6-5, 355). Although he's slated to go in the top half of the first round and therefore won't likely be a candidate for the Patriots, Fisher's story was interesting. He basically had a choice between Eastern and Central Michigan after going largely un-recruited out of high school.
So, how could such a highly regarded prospect be subjected to such a fate?
"In high school I was a 230-pound offensive tackle. I didn't really go around the country selling myself to every college team out there and Eastern Michigan and Central Michigan were my only two offers, and went with Central Michigan and never looked back," Fisher said.
Fisher said his experiences at the Senior Bowl were quite beneficial and allowed him the opportunity to showcase his skills against top-flight competition.
"I thought the Senior Bowl was absolutely huge for me," he said. "I knew what I had to do to impress a lot of people and cancel all the doubt in people's minds, so I went down there with a little chip on my shoulder on a mission to prove to a lot of people who Eric Fisher is and what he's made of."
Moving a bit further down the list, Colorado's David Bakhtiari (6-4, 299) is an interesting prospect. A former teammate of Solder's at Colorado, Bakhtiari left the Buffs with a year of eligibility remaining but is confident he's ready the next level.
"The biggest point I came up with was I felt I was mentally mature enough, I wanted to make this my career, I want to treat it like a full-time job, and I want to be surrounded by guys who also want this to be their job," said Bakhtiari, who is projected to go in the second round. "And I understand, someone told me if you go to the next level, you're going to be taking a grown man's job, steady income from somebody, and I said yes I understand and I was able to cope with it."
Moving toward the mid-to-later rounds, Virginia's Oday Aboushi (6-5, 310), Arkansas Pine-Bluff's Terron Armstead (6-5, 306), San Jose State's David Quessenberry (6-5, 294), Ohio State's Reid Fragel (6-7, 298) and Wisconsin'sRicky Wagner (6-6, 310) are all possibilities.
Fragel has little experience as a tackle after spending most of his career at tight end. But Urban Meyer's arrival in Columbus brought those days to an end, and they also put Fragel in position to earn a living as a lineman.
"The offense that Coach Meyer brought in was more of a spread type," Fragel said. "And being a traditional tight end and seeing Mike Adams and JB Shugarts (former Buckeye linemen) both leaving, I knew that was a position we needed help at and a position I felt I could help our team at.
"I'd say it was the pass pro footwork has been the biggest adjustment. Coming from tight end, it was a little different. The run game was always natural to me. I was a blocking TE and a lineman at heart so to speak. So that came a little more naturally. But the pass pro took a little more time. I feel more and more comfortable as time goes on."
Another intriguing late-round prospect is Wisconsin's Ricky Wagner. The personable 6-6, 310-pound Wagner never played tackle in high school but bulked up during his time with the Badgers.
"I came out of high school at about 260 as a tight end, took about a year to get to 300," Wagner said. "So over the course of my freshman, sophomore year I put on 40 to 50 pounds."
Two other late possibilities are also from a school with a reputation of producing NFL linemen – Boston College products Emmett Cleary (6-7, 312) and John Wetzel (6-7, 313). Both are possible seventh-round choices, and with the Patriots possessing a pair of picks in the final round, each has thought about sticking around for a pro shot.
Both watched in awe two summers ago when the Patriots came to Chestnut Hill for some informal workouts during the lockout. Cleary came away stunned with one thing in particular – Vince Wilfork.
"Wilfork is the biggest human I've ever seen in the flesh. I couldn't believe it."
Moving to the interior spots, a number of mid-round candidates spoke with the media and offered strong initial impressions. Syracuse'sJustin Pugh (6-5, 301) has experience at tackle but projects as a guard. He actually believes he's capable of playing all five positions, which is rare but a feeling held by a handful of the players on hand in Indy.
"I think I can play every position on the offensive line. I haven't snapped, but I think with my football IQ I know I'd be good with the calls," Pugh said. "It'd be just getting the snaps down, which is something that with coaching should come easy."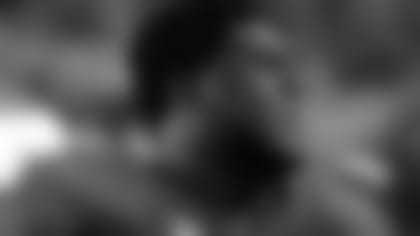 Alabama's Chance Warmack (6-2, 322) and North Carolina's Jonathan Cooper (6-3, 310) are projected to go in the first round, which would be unusual for guards.
No centers are currently considered first-rounders but there are some talented prospects there as well. Alabama'sBarrett Jones (6-4, 305), Wisconsin's Travis Frederick (6-4, 338) and USC's Khaled Holmes (6-3, 305) could be taken in the first three rounds.
Holmes is another player who said he was comfortable playing a variety of positions while Frederick believes his versatility is one of his biggest strengths.
"One of my best qualities is that I can play both center and guard," he said. "In today's age, with smaller rosters, it's really valuable for teams to be able to have somebody who can play both, especially in a back-up position or if they can slide somebody over mid-game, they don't have to back up all three inside positions. They can do something like that a little bit easier. So I think something like that that I have is going to help me out a lot.
"I started my true freshman year the first two games at center. I got hurt and then I started the last two games at guard. So two and two. I took a redshirt year my sophomore year. My junior year I started all at guard up until Peter Konz got hurt at the end of the year and I moved over to center when he did. I played about three games at center that year. And then this year I played completely at center."
Moving further down the list, Notre Dame's Braxston Cave (6-3, 304) should be available in the fifth or sixth round, adding to the Patriots possibilities if an interior lineman is on their radar.
Overall, the offensive line provides a solid mix of versatile, athletic options depending on whether the Patriots choose to look in that direction.