The value of the running back position in the NFL has been oft debated in recent years.
Back in 2013-14, no running back was taken in the first round of consecutive drafts.
But last year, Dallas certainly didn't regret nabbing Ohio State star Ezekiel Elliot with the No. 4 overall pick, part of the Cowboys two-headed rookie monster that catapulted the team to the No. 1 seed in the NFC this postseason.
Heading into the 2017 NFL Draft the question remains, though, just how much of a premium teams put on top running back prospects such as LSU's Leonard Fournette, Florida State's Dalvin Cook or Stanford's Christian McCaffrey.
That's especially true given the perception of a relative abundance of talented prospects at the position this spring.
"What's a little different is the depth of the running back position, which hasn't been real deep in recent years, but it looks like this is shaping up to be a real strong running back draft class," Steelers GM Kevin Colbert said when assessing the overall talent in 2017.
That depth might inspire teams to hold off on selecting a back early, especially those already philosophically prone to somewhat devalue the position on draft weekend.
"I'm a firm believer that you can get running backs throughout the draft. You don't have to go as high as the first or second round," Falcons G.M. Thomas Dimitroff said. "You can go in the mid-rounds and you can also get CFAs out there if they fit within your system and you utilized them properly.
"In this league, you can actually acquire the third running back and that guy can move up through your ranks and become your first running back. I love seeing that. I think that's a great way of utilizing talent and being mindful of where you are spending your resources. Not only our money, but your resources for sure."
The Patriots have approached the running back position, like so many other spots, in a variety of ways over the years. Though the team often fields a committee approach in the backfield each fall, the acquisition of that talent has come through different avenues. A decade ago that included a first-round selection of Laurence Maroney, who ended up having a disappointing career in New England. More recently the team used a second-round pick on Shane Vereen, a third on Stevan Ridley and a fourth on recent Super Bowl hero James White.
Overall the Patriots have taken a running back in seven of Bill Belichick's 17 previous drafts in New England, but the team has gone without a running back selection in four of the last five drafts.
LeGarrette Blount had a career year in 2016, rushing 299 times for 1,161 yards and a team-record 18 touchdowns, his best season in two tours of duty in Foxborough as first a trade addition and then a free agent return after a horrific short stint with the Steelers.
With Blount's injury history, impending free agency and the veteran coming off a 300-carry season at the age of 30, his days as the top dog in the backfield are at the very least limited. While the passing back role seems to be well stocked on Belichick's depth chart with White, Dion Lewis and undrafted rookie D.J. Foster, a search through either free agency or the draft for another big-bodied lead back type is probably on.
No player would fill that bill better than Fournette (6-0, 240), though the expectation is that he'll go in the top half of the first round, at the very least, and probably at a value that Belichick might not embrace even if he were in position to do so. Fournette finished his three seasons at LSU with more than 3,800 yards and 40 touchdowns despite being limited to less than 900 yards due an ankle injury this past fall. A year ago he was one of the most dominant forces in college football, rushing for 1,953 yards with a 6.5-yard averaged and 22 touchdowns.
Some wonder if Fournette is too big – he said his 240 Combine weight was five pounds of water weight and he's returned to his 235 playing weight already – for the modern NFL. But his elite production in the best conference in college football turns plenty of heads as the potential top running back. He's also well aware that Elliot's success as a rookie can only boost his chances.
"It helped us completely. It showed he's not just a running back. He can help in the passing game. He can run and block. He led a great way for these running backs coming out right now," Fournette said. "Him and Todd Gurley did a great job preparing us running backs to come out even to get a chance to get picked in the first round."
Fournette may not be as versatile and elusive as Cook or McCaffrey, but he's comfortable his style will translate to the next level.
"North and south runner. Can make defenders miss, can run over them, can run past them," he said, describing himself with plenty of confidence.
If the big LSU back isn't the first chosen, that honor could go to the fellow underclassman Cook (5-10, 210). The playmaker notched three straight 1,000-yard seasons for the Seminoles, including 1,765 yards and 19 touchdowns last fall, his second straight year with 19 scores. He also caught 20-plus passes in each of his three seasons.
Though he brings a different skill set, Cook certainly feels he's an every-down NFL back.
"It's becoming a passing league, but us running backs are trying to bring it back," he's said of his run-heavy mentality, saying he's patterned his game after Jamaal Charles. "We've got the top guys in this class at running back. It's probably one of the best you done seen yet and I think what separates me is I can do it all. I can stay on the field all three downs and I'm just a do-it-all back and I just feel like I am the best back in this class."
The do-it-all mentality was also one Stanford's McCaffrey (5-11, 202) was selling. The playmaking son of former Broncos wide receiver Ed McCaffreyscored as a runner (21 TDs), receiver (10), kickoff returner and punt returner for the Cardinal during his college career. He rushed for more than 2,000 yards as a sophomore in 2015 and another 1,600 this fall despite dealing with injury.
He's certainly not shy about hyping up his own abilities.
"I don't think there's anyone else that can do all the things I can as far as running between the tackles, outside pass protect, play X, Z, slot and do a lot of things in the return game as well. I think that's what sets me apart," McCaffrey says.
He could be the third running back called in the first round on draft night, with many early mock drafts slotting him to Belichick and the Patriots. That may not make sense, though, given the depth New England has at passing back with White, Lewis and Foster all returning.
For his part, beyond answering questions about his decision to skip Stanford's bowl game in order to avoid potential injury, McCaffrey seems intent on selling the NFL that he's more than a role player or specialist.
"I definitely believe I can be an every down back and a specialist, do them both at the same time," McCaffrey said, going on to describe his love of the return game. "There's just a lot of big plays open in the return game. You see special teams have such an impact on the game today. A lot of times it gets taken for granted. Any time I can have the ball in my hands, I feel like I can do something dangerous and that's really why I love the return game. There's so much space in front of you and there's just another opportunity to make a play.
"Wherever they put me. I'll do anything a team needs me to do."
While Fournette, Cook and McCaffrey are the top talent and three likely candidates for the first round, NFLDraftScout.com projects 28 guys as potential selections on the three days of the draft. That depth that Colbert pinpointed includes a number of bigger backs in the middle rounds that might fit New England's needs.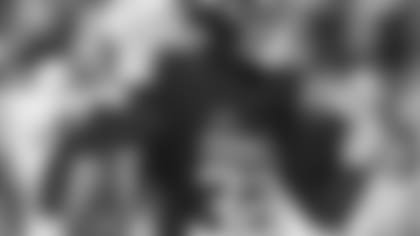 The group includes Oklahoma bowling ball type Samaje Perine (5-10, 235) and Texas'D'Onta Freeman (6-1, 249). Perine finished his Sooners career with a school-record 4,122 rushing yards and 49 touchdowns, including an FBS-record 427 yards against Kansas State as a freshman. Perine says he's drawn to a physical running style like former Seahawks star Marshawn Lynch and is ready to be a powerful workhorse and playmaker in the pros.
"Absolutely, just because I've done it," Perine said of being an every-down back. "I think I've done a good job showing I have the power and the speed to break away if I have to."
Foreman led the nation with 2,068 yards rushing in a breakout 2016 season to take home the Doak Walker Award as college football's top running back. But he faces questions about his weight control, quickness and speed that make him a mid-round prospect.
But if size matters at the running back position, Forman is all set.
"My size and my speed," Foreman responded when asked what sets him apart. "Fournette is big, too. But when I step on the field I want to show I'm the best.
"How fast I am and can I catch the ball well? I think those are the questions."
Similar questions could probably be asked about Blount, but he's been a perfect fit for the Patriots needs on offense and Belichick's long-standing preference for a big running back.
Maybe the biggest wild card in the running back class is Oklahoma's Joe Mixon (6-1, 226). With a history of domestic violence very much shading his future, Mixon was not invited to the Combine. That left Perine to answer for his teammate, who many may recall seeing punch a female out in a surveillance video rather than for his on-field exploits that included 1,200 yards, a 6.8 average and 37 catches last fall for the Sooners.
"I imagine he takes it with a grain of salt and just works harder," Perine said of Mixon's situation. "It was tough. But at the end of the day we both have our problems and have to find our own way of dealing with them. He's done a great job of dealing with them. He hasn't stopped working. I talked to him a couple weeks ago and he's working for Pro Day. But it's a tough deal and I don't wish that on anyone."
Another potential second-round prospect with a unique story is Tennessee'sAlvin Kamara (5-10, 215). He began his career at Alabama before injuries and suspensions led to a transfer to junior college and eventually ending up with the Vols. He rushed for a relatively evenly-split 1,200 plus yards with 74 total catches over two seasons at Tennessee.
Though his unique route to the Combine will lead to plenty of questions from teams, his limited action could also be spun as a positive.
"I talked about that a little bit with teams and it's honestly a good thing, the limited amount of carries," Kamara says. "Of course they wanted to see more production, but the limited amount of carries, I mean, save it for the league."
Kamara also hopes to lure teams in with his potential versatility.
"Catching out of the backfield. My special teams, the special teams component I bring to the game. Things like that. A lot of teams have been bringing up special teams and me being able to catch out of the backfield and being comfortable lining up in the slot. Just things like that," Kamara said of separating himself from the group. "I think when you come on the field, you can see I'm different than a lot of those backs, but still I have the same qualities. It's a great class. I guess we'll just see it out through the Combine and leading up to the draft."
Maybe the best story among the running backs is that of Pittsburgh bruiserJames Conner (6-2, 240), a potential mid- or late-round selection. After rushing for 1,700 yards and 26 touchdowns as a sophomore in 2014, Conner missed most of 2015 with a knee injury and, then, a cancer diagnoses. He returned to rush for 1,092 yards and 16 touchdowns last fall, and last week got a clean bill of health.
Conner's spot in Indy at the Combine is actually what helped push him through his battle with Hodgkin's lymphoma, the same exact diagnoses that Chiefs safety Eric Berry dealt with and also overcame.
"This right here, trying to fulfill my ultimate goal of being in the NFL, one step closer at the scouting combine, so I really just had that goal to be an NFL player, so during treatments, this was on my mind, getting closer to my dream," Conner said.
Now the big running back believes he has an advantage having overcome cancer on his way to pursuing his NFL dreams.
"For sure. That's what I like to explain to the coaches," Conner says. "I ask the coaches, "What do you guys want in a RB?" They want a tough guy. My mental toughness and my physical toughness, I feel, is second to none. I just been through so much and I think I'm more determined than any running back in this class and just willing to make sacrifices and do whatever it takes."
Like so many positions in New England, the running back spot is defined by some depth and some uncertainty this offseason. How Blount's free agency status plays out and the team's plans moving forward for the likes of he and the passing backs will certainly play into the Patriots plans come draft time.
But if Belichick and Co. choose to pursue another weapon to add to the backfield committee behind Tom Brady there are certainly some big names and big bodies who might fill the bill for New England's needs.