INDIANAPOLIS - Quarterback is and always will be the marquee position in football.
As such, it is the Sam Darnold, Josh Rosen and Josh Allen-led group that will garner the most attention at the 2018 NFL Scouting Combine this week. Heisman-winning passers Baker Mayfield and Lamar Jackson will be the talk of the town.
But when a number of the coaches and GMs in Indianapolis this week were asked about the quality of talent on hand in this year's draft class, many pointed to a different offensive skill position as a top pool of talent.
"I think at running back you're going to see at all levels that you're going to have some high-end players," first-year Colts GM Chris Ballard. "I think you're still going to see some really good players at the running back position come out of this draft third, fourth, fifth, sixth round."
"It's a deep class. It's a good looking crew," Lions GM and former Patriots front office member Bob Quinn said. "It's guys that have different skill sets. Guys that can carry the ball, guys that can catch. You know, one underrated aspect of this running back class as I go through it is pass protection. It's something that a lot of these guys are skilled at. With the passing games in college, which is really the key to most offenses, they have more experience in pass protection. So, it's a little bit easier to get the evaluation done. You're not searching for those snaps quite as much as you might have been five or seven years ago. So, to kind of add that into the evaluation process, it's a little easier. When you put on three or four games you can tell if a guy can pass protect, which is crucial in this league."
The depth of talent and versatility could marry with a need for the Patriots as the team faces an uncertain running back depth chart this offseason. Veterans Dion Lewis and Rex Burkhead are set to hit free agency, while Mike Gillislee is coming off a very disappointing first season in Foxborough (he was inactive for seven regular season games and three postseason contests) as a restricted free agent signing who's future is dubious at best.
Lewis has left the door open for a return, but also sounds like a guy who could test the market after averaging 5 yards per carry and totaling impressive career highs of 180 rushes and 896 yards after taking over an expanded role in the offense in the second half of the season.
Burkhead battled injuries that limited him to 10 games played, but also impressed with a career-high eight total touchdowns in an rotational role in his first season in New England as a relatively high-priced signing with a $4 million salary.
New England already re-signed veteran backup and core special teamer Brandon Bolden. If both Lewis and Burkhead were to move on in free agency, it would leave a void in options for rushing attempts so adding a draft pick at the position could make a lot of sense.
The Patriots haven't drafted running backs too often under Bill Belichick's leadership during the last 18 drafts. New England has taken nine players at the position, with Laurence Maroney the highest selection at No. 21 overall in the first round in 2006. The most recent pick included incumbent passing back James White in the fourth round in 2014.
NFLDraftScout.com lists 28 running backs with a draftable grade at his point, including three with first-round potential. The site has 11 players with the possibility of going in the first three rounds.
The star of the class is Penn State's Saquon Barkley (5-11, 230), who topped 1,000 yards in each of his three seasons for the Nittany Lions while scoring 51 touchdowns from scrimmage and another two as a kick returner. His production, explosive playmaking, pass-catching and star power have him in consideration for a potential top-5 pick just a few years after NFL theory had teams shying away from such a heavy investment in the position.
"The bottom line is, is the guy a football player? This whole myth of devaluing running backs, I find it kind of comical," said Giants GM Dave Gettleman, whose team holds the No. 2 overall pick. "At the end of the day, if he's a great player he's a great player. It doesn't matter what position it is."
Clearly Barkley, who's been compared to LaDanian Tomlinson, has all the tools to be an impact player from day one.
"I'm a versatile player," Barkley said of his strengths without a hint of cockiness as he prepares to jump to the next level. "I think I've shown on film that I can run the ball. I can run it between the tackles or outside. I can catch the ball out of the backfield. I can pass-block. And I can play special teams. I want to continue to grow my game and continue to be a complete player."
Though a back has gone No. 4 overall in each of the last two years, no runner has gone with the No. 1 overall pick since Penn State's own Ki-Jana Carter in 1995. Barkley embraces the idea of being in consideration for the Browns top pick, but isn't really worried where he'll end up.
"That would be awesome," Barkley said of going to Cleveland. "Any team that wants to draft me and bless me with the opportunity to play for their franchise is a blessing. You grow up as a little kid dreaming of playing in the NFL. If it's the Browns, if it's the Giants or whoever, I'm gonna come in with my head low and ready to work."
While Barkley, who impressed with 29 reps of 225 in the bench press, will assuredly be the first back taken and among the first handful of players regardless of position, the next two guys with a chance to go in the first round are LSU's Derrius Guice (5-11, 218) and USC's Ronald Jones (6-0, 200).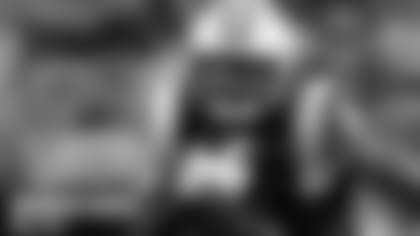 Guice is a powerful runner coming off consecutive 1,200-plus-yard seasons for the Tigers, tallying 26 rushing scores over those two years while averaging 6.5 yards over his three college campaigns. Jones had 1,500 yards for the Trojans last fall and notched 39 rushing scores over his three years at Southern California, including 19 in 2017.
Though there is the chance the Patriots could target a running back as early as the first round, they might be more likely to look at the position in the middle and later rounds to take advantage of the class's depth.
Names slotted to go the second or third rounds would include Auburn's Kerryon Johnson (5-11, 212), Georgia teammates Sony Michel (5-11, 215) and Nick Chubb (5-10, 225), San Diego State's Rashaad Penny (5-11, 224), North Carolina State's Nyheim Hines (5-8, 197), Tennessee's John Kelly (5-9, 205) and Notre Dame's Josh Adams (6-1, 225).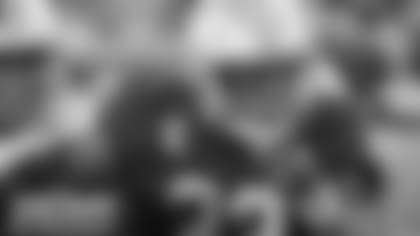 Plenty of good backs have entered the NFL in the middle rounds in recent years, something that the Irish's 1,400-yard rusher Adams was quick to point out after averaging 6.7 yards per carry over three seasons in South Bend.
"It depends on the player and who they are," Adams said of finding elite production at latter points in the draft. "Who's willing to work and put the hours in? Great players come in all different selections in the draft. I can't wait to see what happens."
Michel and Chubb split time in the Bulldogs backfield right through the college football playoff, spending years sharing the load. Michel had two 1,000-yard seasons while Chubb, a three-time team captain, had three and finished his career with 44 touchdowns.
Plenty of teams in the NFL split the load the backfield or, like the Patriots, use a committee approach. The powerful Chubb understands that and already knows he can shine in such a role.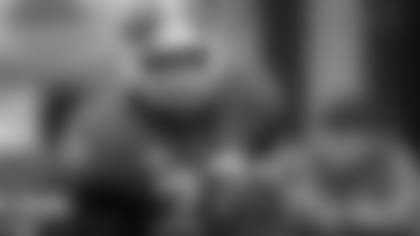 "I'm used to it. I'm ready for it. And I had production in it," Chubb explained, before going on to describe his spot in the crowded class of runners.
"There's a lot of competition here. It's an honor to be with these guys. I'm gonna work hard every day. I'm going to give you everthing I've got every day."
While Chubb proved his mettle in the SEC, Penny, whose brother Elijah plays for the Cardinals, has to try and convince some that his 2,200 yards and 23 touchdowns weren't just a byproduct of playing a lower level of competition.
"I really have no comeback for it," Penny said of the questions. "I just have to go out and prove it at the end of the day. I know people are going to say that so I really don't focus on all that. That's all negative comments. I just come out here and try to prove myself still."
He also has to answer for questions regarding fumbling issues during Senior Bowl week, but believes his patient style and elite production have him well equipped as one of the top prospects in the class.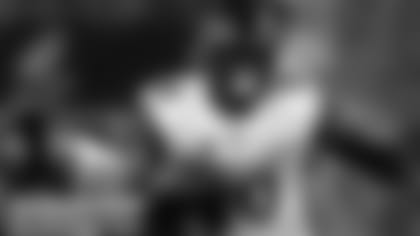 "I definitely feel I'm in the top five," Penny said. "There's a lot of great running backs in this draft, and I'm glad I was able to be a part of this class because it's all about going out there and competing, and I think that's the most important thing that a lot of guys see as well. Us going out there and showing off our skill set, and just see where we rank among the best."
Though White's presence in New England would seem to indicate the team might look for a true runner in the draft, Hines is a guy who's versatility has had many labeling him as a possible Patriot. He's undersized and spent two seasons as a receiver, now bringing that route-running ability to his role as a versatile passing back, though he did rush for 1,100 yards and 12 touchdowns last fall for the Wolfpack.
"I hear that comparison to the Patriots a lot," Hines said, acknowledging that he'd already spoken with New England at the Combine. "I think that's why I think I'm a predominant back in this draft class. Maybe a lot of people don't realize that I have a foundation at receiver and not many running backs have that. No many running backs do kick return and punt return or could even have the skills to play gunner. I think that's what really makes me different."
The later rounds offer versatile undersized options as well as bigger brutes. The first category would include Miami's Mark Walton (5-9, 205) as well as Iowa's Akrum Wadley (5-10, 188) and Jacksonville State's Roc Thomas (5-10, 193). The latter includes bruisers like LSU's Darrel Williams (5-11, 229) and Texas' underused Chris Warren III (6-1, 252).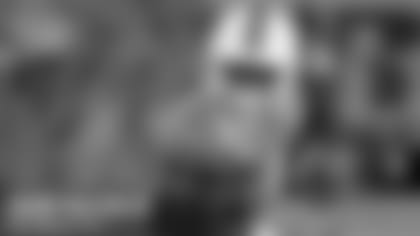 Walton played in just four games for Miami last fall after a sophomore campaign that saw him run for 1,100 yards and 14 touchdowns. He's brings an interesting personal story to the NFL as the father of a young daughter who has had to mature through the years after his father was murdered when he was just seven and his mother passed away last spring.
After struggling through an ankle injury that made for a "depressing" season, Walton still decided it was time to turn pro. He already met with Patriots running backs coach Ivan Fears this week in Indy and has been compared by some to both Lewis and White.
"I watched both of those guys," Walton said. "They gave me the comparison to James White, I think. I think both of those guys have a hell of a job with that type of offense, with Tom Brady, that guy, the GOAT, the legend, passing the ball. But also when they get on the ground, they do a great job of taking advantage of creases and popping huge lanes free."
Wilton has delusions of grandeur and is more than willing to work his way up from mid- or late-round pick at the next level.
"Listen, I just want to get an opportunity," Wilton declared. "I don't care what round I go in. My mindset is, once I get an opportunity with a team, the team that gets me they're going to get a hard worker, a competitor and a guy who loves the game. Time will tell itself."
Thomas transferred from Auburn and is coming off a 1,000-yard season but knows his chances to make it to the next level rely on him showing his can contribute all over the field. He, too, looks at Lewis as a guy to model his game after.
"I watch Dion Lewis. He's diverse," Thomas said. "He can get between the tackles. He can get outside. He can catch. I feel like I can do all that."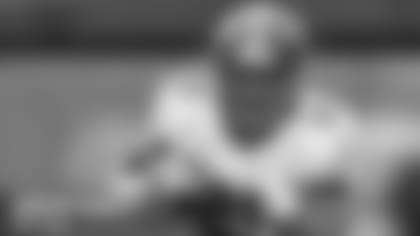 Wadley had consecutive 1,000-yard seasons in Iowa's pro-style offense under former Belichick assistant Kirk Ferentz and his son, offensive coordinator and former Patriots assistant Brian Ferentz. He admits he had a tough start in the Hawkeyes program but comes out the other side a better player and man for it.
"Very often, almost every interview I do, coaches ask about, how is your relationship with coaches? And coach Ferentz is a really good guy, great coach and I always thank him for giving me the opportunity to play at Iowa," Wadley said. "I don't have nothing to hide. I always talk about how when I first got to college I made some poor decisions. You know, young. And me and coach Ferentz's relationship was bumpy at times, mainly the first two years. Over the years I started to mature up and our relationship grew better."
Wadley hopes that honesty and his athleticism earn him a shot in the NFL.
"I'm not the biggest back, but I've got things that make up for it big-time," Wadley said. "Like I said, I can catch out of the backfield. I can make defenders miss in the open field. I can do it all."
That's a description that probably would aptly fit the 2018 Combine running back class as a whole. It's a deep, impressive group that includes obvious stars and hidden gems. It offers opportunities for teams atop the draft to try and inject instant life into their offense or teams like the Patriots to add depth to an already impressive cast of weapons.
It wasn't long ago that teams supposedly shied away from investing in running backs, but recent draft classes have shown that high picks at the position can pay off immediately and later selections can bring surprise contributions.
The NFL may be a passing league driven by star quarterbacks, but the importance of running backs both in the draft and in regular season production is making a pretty impressive resurgence. This year's Combine group hopes to continue that upward trend.