INDIANAPOLIS –For most of the season the Patriots offensive line was one of the best stories of the year. The return of Dante Scarnecchia solidified the struggling group, and particularly down the stretch the unit performed well beyond its years.
Then the playoffs came and many of the same old concerns showed themselves once again. In the divisional round win over Houston, the Texans were constantly in Tom Brady's face as Jadeveon Clowney and Whitney Mercilus made life difficult while rushing through the interior.
Three weeks later in the Super Bowl things were even worse. The Falcons, who weren't particularly adept at getting after the passer during the regular season, hounded Brady early and often. Atlanta finished with five sacks, three from Grady Jarrett, who tortured Shaq Mason inside, and the pressure was largely the reason the Patriots were forced to mount the biggest comeback in Super Bowl history.
Now Bill Belichick and Scarnecchia are faced with an interesting question: Were the postseason struggles simply growing pains for a young group or a sign of a larger problem? We will likely get that answer in the coming weeks and months when the Patriots begin free agency and the draft. If significant resources are used on offensive linemen, then it's a pretty good indication that the coaches viewed it as an area of need.
If that's the case, the draft doesn't set up to be an especially appealing avenue to fix things. Most draft followers feel the offensive line class as a whole is down, particularly at the tackle spot.
"The offensive line depth in this draft probably isn't as good as it has been," Steelers GM Kevin Colbert said. "Traditionally, interior lineman, for whatever reason, guards and centers — there's never a great number. There are always great players, but just not a lot of numbers. The tackle numbers are down this year, for whatever reason. There are some great players in the class; just not as many as maybe there have been in recent years."
According to some experts, the proliferation of spread offenses has impacted the readiness of the guys up front. NFL Network's Mike Mayock is among them and agrees this is not a strong tackle class.
"We spend way too much time talking about how difficult the conversion is for quarterbacks and not enough time talking about other positions and one of them is tackle," Mayock said. "And we've had a bunch of tackles that have struggled to play until about the third year at a certain level. Greg Robinson came out of Auburn, and he's as gifted a tackle as you could find, but he was never in a three-point stance in his life.
"So you start looking at these tackles that are always in two-point stances, never have to get in the three-point, pass game is different, the ball is out quickly, you're not doing multiple pass protections. So I think two things happen to these guys. They're not used to the physicality of the NFL game in a three-point stance, and they're not used to how complex the pass protections are, and I think it slows them all down. Jack Conklin (Michigan State) and Taylor Decker (Ohio State) came in from more conventional offenses. I think they've got a better chance of playing day one."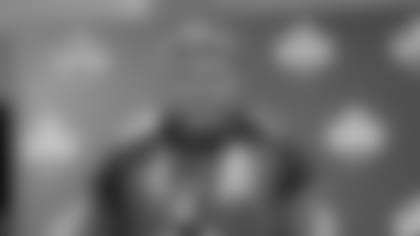 NFLDraftScout.com lists 26 tackles as potential draft picks but just two with true first-round grades plus one – Utah's Garett Bolles – as a possible first-rounder. The Patriots could be in the market for a tackle with an eye toward the future. Right tackle Marcus Cannon was locked up to a long-term deal last season but the left side is a different story.
Nate Solder is entering the final year of an extension he signed in 2015 and is scheduled to become a free agent in 2018. Solder himself was drafted in the first round in 2011, a year before long-time starter Matt Light retired. The Patriots knew Light's career was coming to a close when they chose Solder, and they allowed him to serve as the swing tackle for a year before he was given the starter's job.
It wouldn't be surprising to see Belichick take a similar course of action come April depending on how the board lines up. Sometimes a lack of quantity at a position leads to teams looking in another direction and if that happens it's possible a talented player could be available at 32 for the Patriots to pounce on.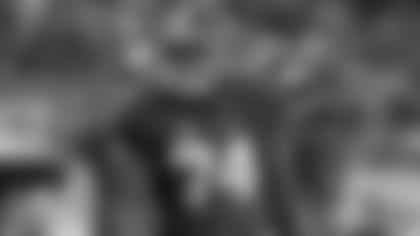 Wisconsin's Ryan Ramczyk (6-5, 314) and Alabama's Cam Robinson (6-6, 310) are considered the best in the class. Ramczyk is dealing with a hip injury that could affect his status, however. Depending on how he checks out medically this week, that could put him on the Patriots radar considering he wouldn't likely be relied on much as a rookie with both starters in place for 2017.
Robinson has elicited diverging views from some experts. Some are sold on his skills and have him going in the early teens while others believe he's more suited to play guard and don't see him going off the board until the end of the round. Of course having Nick Saban as his coach always puts him on the Patriots radar.
Robinson may be the most accomplish player at his position but that didn't seem to have much of an impact on his demeanor.
"I'll play whatever style any team that picks me wants me to play," Robinson said. "I think we get lost sometimes not remembering how big of a deal it is just to be drafted."
Bolles brings some baggage with him after some tumultuous teenage years. He was suspended or kicked out of five schools as drug problems and arrests threaten to deprive him of the opportunity to play football at the highest level. He was eventually kicked out of his house and living on the streets when his lacrosse coach, Greg Freeman, found him and took him in.
"The Freeman family came and took me off the street and made me the man I am today," Bolles explained with a no-nonsense tone of accountability.
That was the breakthrough Bolles needed. He eventually enrolled at Snow Junior College and then Utah, where he excelled both on and off the field. He fulfilled his mission work, got married and had a son and now is ready to enter the NFL.
"I just want the teams to see the man I am," Bolles said. "When you become a father you have to grow up. At this point I don't even know the old Garett. Teams want to see if I can take care of my off-field issues and I want to show them that I'm a changed man."
On the field, Bolles' uncommon athleticism will no doubt catch some eyes come draft weekend.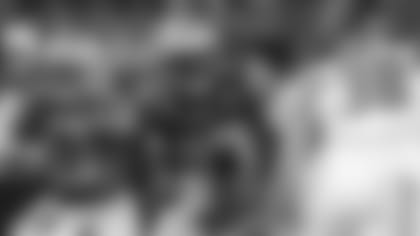 Florida State's Roderick Johnson (6-6, 308) is another highly-regarded tackle. He said he had an informal meeting set up with the Patriots Thursday evening but hadn't spoken yet to any coaches. Johnson did say he's been in contact with former FSU teammates Tre' Jackson and the Patriots guard explained to him the grind of playing in New England.
Western Michigan's Taylor Moton (6-5, 330) received a second-round grade from NFLDraftScout.com despite being one of the aforementioned tackles with limited experience playing in a conventional NFL offense.
"I know it'll be different adjusting to huddling up every play, being in a three-point stance and things like that," Moton said. "But I did it some at both guard and right tackle at the Senior Bowl and I felt that went well. I feel my versatility will help. Just about every team talked about me being able to play both guard and tackle."
Another tackle who could be on the Patriots radar is Vanderbilt's Will Holden (6-7, 313). Holden has experience playing in the SEC against some of the best edge rushers in the draft in Texas A&M's Myles Garrett and Tennessee's Derek Barnett but mentioned a couple of others when asked about his most difficult opponents.
"Every single week you're going against someone with immense talent when you play in the SEC," Holden said. "Auburn's Carl Lawson and Missouri's Charles Harris, really that whole Mizzou front, they just come after you, especially when they get you in those third-and-long situations."
USC's mammoth Zach Banner (6-8, 361) may have been the most confident of all the offensive linemen. Banner's weight was an issue at times with the Trojans and he's worked hard with nutritionists to keep it in check since the season ended, but he doesn't see it as a problem.
"I performed at a top level in college at 345 and I performed at a top level in college at 380, so college was not an issue. I dominated," said Banner, who projects as a mid-round pick. "I know there are people who eat themselves out of the league and that will not be me."
Indiana's Dan Feeney (6-4, 304) and Western Kentucky's Forrest Lamp (6-4, 305) are the only other potential first-round picks and both project as guards. Mayock was particularly impressed with Lamp.
"One of the guys that I think would be a great fit is Forrest Lamp from Western Kentucky," Mayock said. "He's a left tackle. He had the best single offensive line game I've seen against Alabama in five years. He played left tackle there. I think he's going to be a guard in the NFL, like a Zack Martin-type guard, that's how good I think he is."
"Teams have told me I could play tackle or guard, and I've never played center in a game but I've done plenty of snapping at practice," Lamp said before mentioning his performance against Alabama. "If I can block those guys I feel like I can block anybody."
Feeney also has some versatility to his game and like Lamp has even worked at center in practice.
"It's kind of up in the air right now but I think most people see me on the interior somewhere," Feeney said.
The top-rated center in the class is LSU's Ethan Pocic (6-6, 307), who NFLDraftScout.com rates as a second-rounder. Ohio State's Pat Elflein (6-2, 300) moved from guard to center and wound up winning the Remington Award as the nation's best last season.
"I think it helps that I can play multiple positions," Elflein said. "And being familiar with how to run conventional plays, even though we had a spread attack, mentally I think it just prepares you more. Whatever they ask I can do and play at a high level."
One last name to keep in mind is Bucknell's Julie'n Davenport (6-7, 310). Playing in the FCS Patriot League isn't exactly a conventional way to make it in the NFL, but Davenport performed well at the Senior Bowl and said he's been told he could go anywhere between the second and fourth rounds.
"I was able to play some right tackle in Mobile at the Senior Bowl so I think that helped a bit, and really just getting to play against the top competition was really all I could ask for," Davenport explained. "I know coming from a small school there are going to be questions about my ability, but I feel like I proved myself a bit there and I'm hoping for the chance to do that even more this week. I couldn't wait to get there and now I'm excited to continue moving forward in my career."
The Patriots offensive line made significant strides with the return of Scarnecchia but there's always room for improvement. Depending on how things fall, the draft might be a way to get that done.