ARLINGTON, Tex. - While the buzz about Baker Mayfield to the Browns keeps building, the most interesting thing I heard on the day before the NFL Draft opens was that New England worked out Louisville quarterback Lamar Jackson privately in South Florida two weeks before he visited Foxboro for an official visit to Gillette Stadium.
Who knows whether the Patriots really intend to target the former Heisman winner in Thursday night's first round, but Jackson seems intrigued with the interest shown to him by the five-time Super Bowl champions.
"When (Tom) Brady said I'm a beast (on Instagram), you know that surprised me,'' said Jackson Wednesday morning, following a youth football clinic held by the NFL outside of the Cowboys' AT&T Stadium, where the draft will be conducted. "I'm like Brady said that!? Brady doesn't really come out too much and talk, but he's somebody I've looked up to as well, playing football and just learning how to be a quarterback.''
Being the quarterback to some day replace Brady is at least more plausible given that New England has spent considerable time and energy scouting Jackson's one-of-a-kind playing style.
"That'd be cool to me,'' Jackson said of the possibility of being a Patriot. "I'm just happy that my name is on their mind, period. I'd like to learn, learn the X's and O's and even more about the program and the situation I'm in. Brady could probably help me develop even more as a quarterback.
"The Patriot Way? They're one of the best franchises in 2000s, and won five Super Bowls with the same head coach and quarterback, Tom Brady. That's a lot of honors. I'm humbled by it. I can't even tell you.''
Jackson said Patriots offensive coordinator Josh McDaniels journeyed to South Florida to work him out, a step only New England and Houston took. In addition, Jackson made five team visits, with the Patriots, Ravens, Saints, Browns and Bengals having him in.
Though he was almost awed to visit New England, Jackson has already crossed one substantial threshold as a potential Patriot: He made Bill Belichick laugh. Though he really can't recall just how.
"Just being there, then walking inside and looking at the guys on the wall - Deion Branch and those guys - it was like, 'I'm really in here?,'' Jackson said. "It's like, man, it's unreal. I'm in the Patriots facility about to meet Coach Belichick for the first time, and having him laughing with me and talking and stuff. I've always seen him so serious, even when he won the AFC championship, he just passed the trophy like he was so serious about it.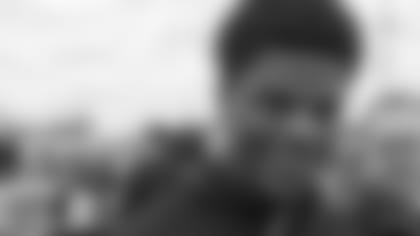 "So I was like he's probably going to be hard or something. But he was cool, laid back, and just wanted to talk. So it was pretty cool for me. I can't even tell you (how I made him laugh). We were just talking and having a conversation and he was trying to help me, and he like giggled and started laughing, and I said, 'Oh, snap!' ''
If the Patriots intend to snap Jackson up, it might entail moving up from their No. 23 slot. Some draft observers now have Jackson on the rise and making the first half of the first round, perhaps to No. 15 Arizona or No. 16 Baltimore. But if he lingers into the 20s, at least New England will have done its homework on the quarterback dubbed the "most electrifying'' player in the 2018 draft by NFL Network analyst Mike Mayock.
"I can't tell you (where I'm going to be picked), because I don't have any kind of feeling for it,'' Jackson said. But when asked if the top 12 or top 15 sounded like the right range, he quipped: "More like top five, top 10. I'd prefer one of those.''
Though he didn't get to meet Brady during his visit to Foxboro, Jackson said he was encouraged by hearing such "positive feedback'' from his time spent with the Patriots.
"I was surprised, the visit was like a surprise, because people didn't know I was going to visit the Patriots,'' he said. "So I was in the airport and people were taking pictures of me in Boston.''      
Jackson's dual-threat style of quarterbacking has been picked apart in the long and drawn out draft scouting process, with some critics saying he'd be an ill fit for New England, given Brady's track record and historic success as strictly a pocket passer. Others point out that Belichick's willingness to remain open-minded and consider Jackson's skill set as an intriguing and somewhat unconventional follow-up to the Brady era is an indication of his coaching expertise.
"Just my ability running (is different stylistically from Brady),'' Jackson said. "I can run differently than any other quarterback. But you've got to know how to throw that ball. When Coach Belichick is looking at you, you can't just know how to run it.''
Jackson said it's his hope to sit in AT&T Stadium Thursday night and hear his "name called early,'' declaring himself "ready to get it over with.'' The draft process has taken its toll. "Getting up early, catching flights, meeting teams, having to talk all day, it has been a grind,'' he said. "A real grind.''
As part of the grind, Jackson's pro quarterbacking potential was again put on trial this week, when an **NFL.com** report cited an unnamed offensive coordinator within the league questioning his throwing arm.
"He's an awesome athlete,'' the source said, according to **NFL.com**. "He will not be able to play (quarterback) in this league - mark my words. When he throws, he hopes.''
Jackson had his response to that report ready on Wednesday: "I'm throwing up hope? I've never heard that one before,'' he said. "I've never thrown a hope pass. Probably a Hail Mary, with the game on the line or something like that. But hope passes, I never did that before. I wouldn't have came this far, I don't think. But it is what it is.''
It is what it is. Come to think of it, Jackson sounds a bit like a Patriot already.