It looks like Patriots center David Andrews may have recently converted a Buffalo Bills fan during a surprise appearance at Gillette Stadium.
U.S. Army Sergeant Brandon Korona, his wife Chelsea, and their dog, Ace, were visiting Gillette Stadium last Friday for an interview with WCVB News Center 5's Dough Meehan to share Brandon's story in advance of this year's Harvard Pilgrim Finish at the 50 road races at Patriot Place and Gillette Stadium on Wednesday, July 3.
This year's Finish at the 50 will benefit Brandon and Chelsea through donations to Homes For Our Troops from Harvard Pilgrim Health Care, the New England Patriots Foundation and Patriot Place. Homes For Our Troops, a nonprofit organization dedicated to building and donating specially adapted custom homes for severely injured post-9/11 veterans, will be building a home for Brandon and Chelsea.
Brandon, a native of Raynham, Mass., served in the U.S. Army as a combat engineer with the 2nd Brigade Combat Team, 10th Mountain Division for five years. He was severely injured during his first deployment in Afghanistan in June 2013 while on a routine clearance mission with his unit when his vehicle was struck by an improvised explosive device (IED) in Paktika Province, Afghanistan. The explosion knocked Brandon unconscious, breaking his right ankle and every bone below his left knee.
Brandon spent two years recovering at Walter Reed Medical Center in Washington, D.C. before returning home to Massachusetts. After four years of pain and low quality of life trying to keep his left leg, Brandon made the difficult decision to have the doctors amputate his lower left leg.
Homes For Our Troops learned of Brandon's story and informed him earlier this year that he and Chelsea would be the recipient of a specially adapted custom home. Harvard Pilgrim Health Care and the Patriots Foundation teamed up to donate $50,000 to Homes For Our Troops in support of building Brandon and Chelsea's home and Patriot Place will donate a portion of the Finish at the 50 race proceeds from each runner's registration to support the project.
"This house is completely life changing," Brandon told WCVB. "It gives us an opportunity to actually move forward with our lives."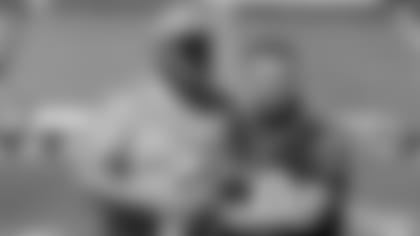 Near the end of Brandon's on-field interview, David emerged from the midfield tunnel with the Super Bowl LIII Lombardi Trophy in hand to surprise the U.S. Army veteran and his wife. David thanked Brandon for his service and invited him and Chelsea to attend the Patriots season opener and Super Bowl LIII banner unveiling on Sept. 8 vs. the Pittsburgh Steelers at Gillette Stadium.
Brandon, who happens to be a lifelong Buffalo Bills fan despite growing up in Massachusetts, may have become a Patriots fan, or at least a David Andrews fan, after the Patriots captain literally took the jersey off his back at midfield and gave it to him. Brandon, without hesitation, put the jersey on with a big smile.
You can watch Brandon's interview with WCVB here. And if you're interested in supporting Homes For Our Troops' efforts in building a home for Brandon and Chelsea, you can register for this week's Finish at the 50 road races at www.finishatthe50.com.