Bill Belichick does not always throw rookies immediately into the fray, so when Christian Gonzalez lined up at cornerback to start a drill on the first day of camp it was noteworthy. Three days later he remains a fixture at the spot alongside Jonathan Jones as part of secondary that has made life awfully difficult on Mac Jones and the offense.
In fairness, Belichick has put rookies in the lineup quickly in the past. Ja'Whaun Bentley started his first game. So did Ras-I Dowling, the second-round corner back 2011. And, of course, Mac Jones himself opened his first season as the starter at the game's most important position. So, to suggest that Belichick is breaking new ground by throwing Gonzalez into the fray would be false.
But watching Gonzalez operate over the first three days of camp was encouraging. He looked smooth and athletic in coverage, seemed to display an understanding of what his assignments were and made his share of plays. It wasn't perfect, but overall a solid start.
"I feel like I'm catching up to where the other guys are and learning the speed of the practice, which is much faster than in college," Gonzalez said after the workout. "I'm just keeping my head down and working as hard as I can, getting with the vets as much as possible and learning how they play."
So far the secondary has performed well. All of the work has come in the red zone, which should be an advantage for the defense given the tight quarters and lack of a running game, but the coverage has been airtight. Gonzalez had back-to-back strong plays during 7-on-7 work when broke up a slant intended for Tyquan Thornton, and then was tight on Kendrick Bourne in the end zone and nearly picked off Jones' next pass.
Most of the plays run on Friday were a struggle. Jones and Bailey Zappe found few open targets, and when a glimmer of light was created the throws were either late or slightly off target. Jonathan Jones did a solid job on a handful of snaps against DeVante Parker, who, as was the case a year ago, was targeted on a handful of back corner fades that resulted in 50-50 balls. None wound up as completions.
It was another struggle for the offense, but Gonzalez' presence with a secondary that included Jones and three safeties – Kyle Dugger, Adrian Phillips and Jabrill Peppers – was a positive sign. Marcus Jones mixed in with that group as well, giving the secondary the potential to have some pieces to mix and match with.
Beyond Gonzalez' strong first impressions, here are one man's observations on Day 3 of training camp.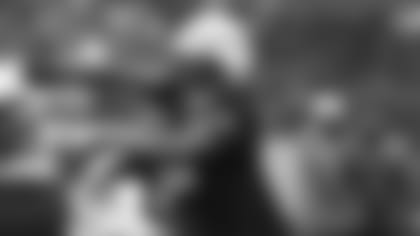 There were a couple of additions to the attendance list on Friday as Ty Montgomery and Christian Barmore were not spotted. Barmore posted pictures of his newborn daughter on Instagram Thursday night, which likely explains his absence. Montgomery got tangled up with linebacker Terez Hall on Thursday as he tried to catch a Trace McSorley pass that was low and behind him. Montgomery came away favoring his left leg and spent time with the trainers but ultimately was unable to finish practice. He was not spotted on Friday. Elsewhere, Mike Onwenu (ankle) and Cody Davis (knee) remain on PUP while Calvin Anderson is still on NFI
On a positive note, Matthew Judon was more active on Friday than he has been thus far in 2023. He remained with the team throughout practice rather than retreating to the rehab field as he did previously. While he didn't take a full role on defense, he did receive reps in 11-on-11 work in the subpackages as a pass rusher off the edge. He looked to be going full bore – or at least as close to it as a player can while wearing shells instead of actual pads. He spoke after practice and stressed the need to continue working on his conditioning.
The Patriots welcomed some college football coaches as guests during practice. Holy Cross head coach Bob Chesney and special teams/tight ends coach Drew Canan were on hand, as were several members of the Bryant University staff.
There were some changes to the offensive line on Friday as Conor McDermott replaced Riley Reiff at right tackle at times. Reiff swapped in behind Trent Brown periodically on the left side while second-year man Chasen Hines took some reps behind Bill Murray at right guard. Rookie Atonio Mafi also saw some time at right guard. It was the most substituting we've seen up front thus far.
Marcus Jones continues to receive high-level reps on defense in the slot. With Jack Jones' availability this season uncertain, it will be important for Belichick to establish some reliable depth in the secondary. It's been Jones and Myles Bryant receiving most of those opportunities as Jalen Mills appears locked into a safety role. Jones and Bryant have been competitive thus far.
Just before the start of the 7-on-7 period, the entire offensive line retreated to a trailer behind the end zone in the area next to where the big guys usually do their drills (formerly known as Dante's Inferno but now transitioning to the Yates of Hell, Fred Kirsch's moniker in honor of assistant OL coach Billy Yates). The trailer seemed to be serving as some sort of cooling station in the extreme heat, and it had the look of a clown car when a seemingly endless stream of players exited the door.
The special teams work consisted of kickoffs as Nick Folk and Corliss Waitman both took reps. Waitman's left-footed kicks were angled high toward the corner of the end zone, likely leading to touchbacks under game conditions. J.J. Taylor, Ed Lee and Demario Douglas handled the returns.
Hunter Henry came up with a nice touchdown grab on the first play of 7-on-7s. He made a tough grab while jockeying with Phillips for position in the back corner of the end zone. It was one few highlights for the offense as the secondary made life tough from then on – including in both periods of 11-on-11 reps.
Rookie receivers Kayshon Boutte and Douglas are starting to be more visible at practice. As I mentioned yesterday, Douglas continues to get plenty of work with frontline players and Mac Jones, and his quickness has been noticeable. He grabbed a shallow cross from Zappe as Bryant chased from behind in 11-on-11s, offering a glimpse of his explosiveness. Boutte had a terrific release on a red zone snap and got free in the end zone, only to have Zappe's pass arrive late and ultimately fall incomplete. Boutte hasn't had as many chances as Douglas, but on Friday he was involved more often and did a nice job running routes.
Folk was back in the spotlight and continues to show great accuracy on his field goals, making all five to close out practice. As was the case on Thursday, Folk made good on his attempts ranging from 33 to 44 yards from both hashes.
In addition to Gonzalez, Marcus Jones, Rhamondre Stevenson, Tyquan Thornton, Ja'Whaun Bentley, Mike Gesicki and Judon all spent time chatting with the media.
The Patriots will get their first off day of camp on Saturday and are scheduled to return to work on Sunday. Gates open to the public at 11 a.m. and practice is set to run from 12:30 p.m.-2:30 p.m. As always please check with Patriots.com for the latest updates to the training camp schedule.
DISCLAIMER: The views and thoughts expressed in this article are those of the writer and don't necessarily reflect those of the organization. Read Full Disclaimer