FOXBOROUGH, Mass. – Entering this summer, the Patriots appeared ready to welcome back the five incumbent starters on their offensive line: left tackle Isaiah Wynn, left guard Joe Thuney, center David Andrews, right guard Shaq Mason, and right tackle Marcus Cannon. However, Cannon's recent decision to opt out of the 2020 season for COVID-19 reasons suddenly opened up a void.
We've now had a chance to watch about a week's worth of training camp practices here in Foxborough, and it's not just Cannon's position that's up for grabs. Several other young o-linemen are vying for a handful of backup slots on the depth chart.
Let's start our examination, though, with right tackle, where thus far, returning veteran Jermaine Eluemenor and 2019 draft choice Yodny Cajuste have been fed a steady diet of reps. Another veteran, Korey Cunningham, and 2020 draft pick Justin Herron are also getting their share of snaps.
Eluemenor, a four-year NFL veteran, arrived in a trade with Baltimore late last August and contributed sporadically as needed on offense throughout the year, mainly as a guard and a tackle-eligible (an extra blocking tight end) in jumbo packages. He also appeared on special teams units.
"I've played a ton of positions my entire career in the NFL, from left tackle to left guard, right tackle, right guard. So, I'm familiar with all four of those positions," Eluemenor explained to reporters on an Aug. 19 video conference.
"As a pro, I feel like it's your job to be ready for any situation you're thrown into. Getting traded as late as I did last year, it was my job to catch on quickly… and obviously, I feel better this year [in the Patriots' system], having more time and with COVID quarantine, I had more time to dig into the playbook."
Cajuste, meantime, never quite recovered sufficiently from a quadriceps muscle injury that lingered from his college days and thus spent the entirety of 2019 on NFI (the non-football injury list).
Like Eluemenor, Cunningham became a Patriot at the end of last summer via trade with the Arizona Cardinals. Though he only saw action in one game last year, Cunningham is exhibiting position versatility to this point in 2020 training camp. Herron has moved around as well.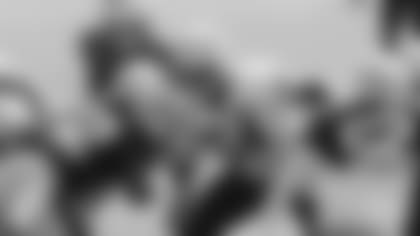 Similar to Cajuste, his 2019 draft classmate, Hjalte Froholdt sat out last season after being placed on IR at the end of August. Prior to that, he'd been working almost exclusively as a guard, but this summer, he's also getting quite a number of other opportunities.
"You've got to be able to do as much as you can for the team, and I want to play wherever they want to put me," Froholdt remarked during the same video conference. "If that's at center or wherever, it doesn't matter. I'm going to put my best foot forward and do the job to the best of my ability."
A native of Denmark, Froholdt (who turns 24 on Aug. 20) spent the entire offseason in New England. Since he couldn't return to Europe because of pandemic-related travel restrictions, Froholdt made the most of the unexpected opportunity by focusing on getting healthy and gaining a better understanding of New England's system. While he's still learning the nuances of his trade, it seems to be a comfortable move for Froholdt so far.
"I've been in this system for a little over a year now… taking a step back last year, I really tried to hone in on all the little details, and now just being able to go out and execute on the field is what matters. That's all I'm trying to do," added Froholdt. "The system's come a little bit better to me [this summer], I feel like, but at the same time, there's still a lot to learn. There are some great guys in front of me who've played for a very long time."
Another 2020 draft pick, Michael Onwenu, and a pair of recent signings – 2019 holdover Tyler Gauthier and veteran free agent Ben Braden – are also seeing action along the interior of the offensive line.