He may be retired, but Devin McCourty isn't yet rusty when it comes to pregame pump-up speeches.
The retired New England Patriots legend served as the Boston Renegades' honorary captain Saturday, hyping them up for a dominant 69-0 win over the Tampa Bay Inferno.
"All experiences are better with a win," said McCourty, as the Renegades played out the final minute of their fifth-straight win.
"There's 13 minutes to go in the fourth quarter and it's 69-to-zip. Gronk would love that. It's been awesome to watch these ladies and be on the sideline. It's really cool to see the camaraderie and them cheering each other on. It's maybe made me miss the game a little bit seeing their interactions. I've had a lot of fun."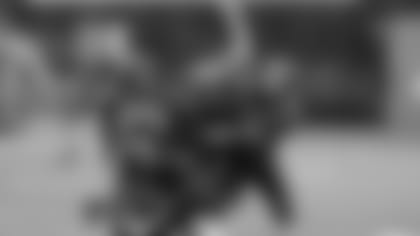 The team was informed of their special guest at practice a few days prior, and their reaction was captured in a video posted to the Renegades' official Instagram account.
For second-year player back Kara Gailiunas, who plays defensive back and wears No. 32, it was a chance to meet a role model.
"It was such an honor," Gailiunas said after the game.
"It's an honor for me to wear his number, 32, and it was an absolute honor to have him here supporting us, cheering us on, and giving us pep talks. I have nothing more to say than it's an honor."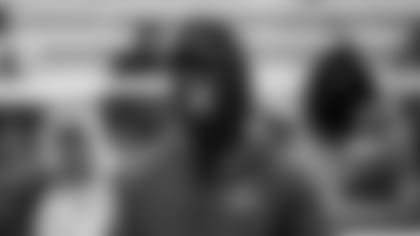 In addition to offering support and pregame hype, McCourty also got some reps in before starting his new media gig with NBC Sports by conducting a halftime interview with head coach Johnny Johnson.
"I truly am probably the grumpiest person out here, but today I actually had a lot of fun seeing him out here and seeing him talk to the team," Johnson said of McCourty.
"It was just really, really fun. I'm a big fan, I've loved his play for years and I love watching him play. To have him out here affecting our team with his enthusiasm and energy was awesome."
Johnson's team certainly showed out for McCourty.
The Renegades had five passing touchdowns, scored five more on the ground, and forced five turnovers in the win over Tampa Bay.
It was their third shutout of the season and their final home game before closing out the regular season in Pittsburgh.
"I've said this before, they're the most dominant team in New England with what they've done," McCourty said. "The mentality I saw being in the locker room at halftime, everyone was focused on what they could do next. It was 48-to-zip at the half, there was I think one first down given up from a defensive standpoint. When you have that kind of mentality and focus, that's why they're champions."
The Renegades take on the Pittsburgh Passion on June 10 before turning their focus to the Women's Football Alliance playoffs.
The team has an opportunity to finish the year with a third-straight undefeated season and a fifth-consecutive championship, and McCourty had some advice to help them pull it off.
"Go win the championship, go bring it home," McCourty said. "That's what it's all about. You've been doing it all year."