Q: What are your thoughts on trying to improve the third-down defense with new players in a new year?**
DM: When you look back at last year, a lot of things go to straight Xs and Os. You can't focus so much on last year because like you said, some of the people, when we are watching film, aren't here this year. It's just trying to improve scheme things, what some of the guys did last year that are still on the team – how to view things, how to see it better, how to anticipate it better. So, for third down that's always a key in every game. A lot of the times it comes down to your season being on third down in key situations. So, we'll definitely watch that and try to improve, like Rob [Ninkovich] was saying, with screens and different plays that happened to us. You always want to look at those things and see how you can get better and that started in the spring, trying to develop those things and look at them, just so all the players know what hurt us last year and what we need to be ready for this year.
Q: How do you prepare to get better against the screen game?
DM: It's just different things you can work on. I think one of the greatest things about playing here is that we have coaches that find any and everything we can do to get better. One of the big things is just getting to the ball. It's a play where you try to get the linemen up field, guys are dropping in coverage. Just effort and everything on that simple basis can help improve the screen game.
Q: Do you look at yourself fully as a safety now?
DM: I still try to look at myself just as a football player. I always feel like you never know what can happen. Being able to play safety and corner has helped me in my career so far, so I don't think I should get to a point where I should lose one of them. Just continue to focus on getting better as a football player. Offseason I'm always doing drills and stuff for both just to stay fresh and be a complete football player.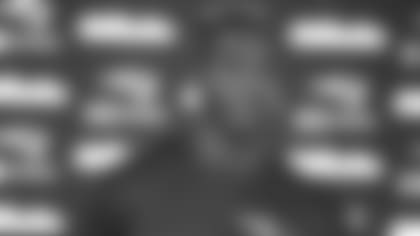 Q: Do you look at yourself now as the quarterback of that defense because of your experience?
DM: Yeah somewhat. I try to take some leadership role and with some new guys back there and some younger guys, I try to make sure that my experience is felt throughout the secondary just from being here for so long now where myself, Kyle [Arrington] – two guys that have been here for a good amount of time – we can step up and help guys out, get guys in the right position. I think that's key when you're trying to develop a good secondary, is have guys that go out there and try to line people up and get everybody set. I think that can be a key to our success and especially early in the season when guys are still learning, still seeing some things for the first time. When you have some guys that have seen some things and seen a good amount of football in this defense, it's key. You can help guys out and get them right.
Q: What are some ways you can accelerate that process of getting everybody comfortable in the defense? You've played back there with a lot of different defensive backs.
DM: Just be vocal. Try to help guys, whether it's on the field or off the field, when we come in and watch film, even when we are installing some things, putting it in. Just try to give a guy a heads up of what we could see out there. But a lot of times it's just the work that we have to put in, whether it's in the film room or on the practice field. Sometimes there's really no way to speed it up; it just has to get done the old-fashion way at practice working hard and honestly this time of year, just working hard through mistakes. Mistakes are going to happen. Sometimes it's just the repetition, keep doing it and it gets better over time.
Q: How beneficial was it to go out to train in Arizona with some teammates. Did you learn anything about Darrelle Revis while you were out there?
DM: No, I mean that's a little different. That's getting ready for the season, getting ready as individuals. A lot of that stuff we did was working on technique, working on your conditioning, being ready for training camp. It's not as much when we're up here going over scheme and all of that. I think it's always good when you work out with your teammates. You just develop a stronger friendship, a stronger bond. It was really good for all of us to be out there because we all got to work hard together and get better as player and doing it together as teammates.
Q: Did you see a maturing in Tavon Wilson this offseason? Did you maybe see some confidence growing as you spent time around him?**
DM: Yeah, I'm excited for him. I think sometimes guys get killed from the outside view and they're still putting in the work. That's why I'm excited. Tavon never budged at any second and just got down on himself and stopped working. This offseason in the spring time he's been working incredibly hard just to get out there and play more. I think that's his focus, just to get better as a football player and helping the team as much as possible, so it's an exciting time for him coming into training camp. Each year guys come in and it's a new year. You have new opportunities, new chances to get out there and play more. He's just one of those guys that have come in here and I think he's put himself in pretty good position to come in here and compete and try to get on the field.
Q: What observations have you made about Duron Harmon's progress this offseason and what are your expectations for him?
DM: Same thing like Tavon: a younger guy who works incredibly hard too. From the spring time until now going into training camp, he's pushed himself, he's done everything he could do just to be in this position and get himself a chance to be on the field as well. A bunch of guys on this team come back ready because they know if you don't go out there and work hard, there's somebody else on the team that's working hard to get on the field. I love this time of year. It's going to be so competitive at camp each and every day, not just one position, but really every position across the board. Guys want to get out there and play. I'm ready and I think Duron along with Tavon and other guys on the team have pushed themselves to be ready for training camp.
Q: What do you think makes the mix of veterans and youth in the secondary special?
DM: We'll see. I like to think it's special now but I think every year going in that we have a special secondary and a special group on defense, so I think right now we have a bunch of guys who want to work hard. The younger guys want to learn as much as possible from the older guys and the older guys want to lead. When you have that good mix of guys trying to show each other and guys trying to learn, everyone just going out there and working hard, you have a chance to be very good. Starting now we just have to put in the work and see where it lands. We can't think too far ahead and think of what the possibilities are, but just go out there and get after it.
Q: Do you look back at all and think about the way things ended in Denver? Do you look at that day as a benchmark or measuring stick of how good you have to be this year?
DM: No, I think it's not just looking at one game, but that's the focus of the defense. We have to stop any offense when they're operating at their best. Any given Sunday, you don't know what you're going to get. You can play a team in this league late in the season that has won two games, but if they're operating on all cylinders, you're playing the best two-and-whatever team at that point. Each game and each week we have to be ready to go out there and stop the offense's best. Coach Belichick tells us that every week. We can watch all the film in the world and it can be good football, bad football; the day we play them, that's what we have to stop. For us, it has to be our mentality to go into training camp every day and do our best to stop the offense every day. That has to be the start and then continue week after week against whatever offense we play.
Q: Does anything change for you going into a contract year?
DM: No, you just play football. Contract year isn't what everyone else talks about. For a player, it's just another year in the league. For me, it's my fifth year in the league. I still want to get better. I think like Ninko [Rob Ninkovich] was saying, as you get older and year-by-year, you just want to continue to get better using what you've learned mentally and get better physically. Luckily for me, I'm no as old as Ninko. He's 30, so I still have time to improve physically and get bigger, faster and stronger.
READ: Devin McCourty Bio & Stats