Dont'a Hightower is known for being a beast on the field. He is relentless, strong and determined. Off the field, he possesses the same qualities, but he is a quiet force. While he may not always be the loudest voice in the room, when he speaks up, it's clear he truly means what he is saying and feels passionately about it.
So when he grabs the microphone at his annual Monday Night Football Watch Party at Bar Louie to benefit the American Diabetes Association on Sept. 10, people listen. The matter, of course, is something he is passionate about because it hits so close to home.
Dont'a's mother, L'Tanya, was diagnosed with Type 2 diabetes, and he knew he needed to do something to raise awareness and money for research. That's when he started hosting an annual fundraiser.
"When we started doing this four years ago, I didn't know where I would be and how I felt about it," Dont'a said. "I had the right people behind me in my corner to motivate and push me to do something that was near and dear to my heart, which obviously that was my mom. She's my backbone."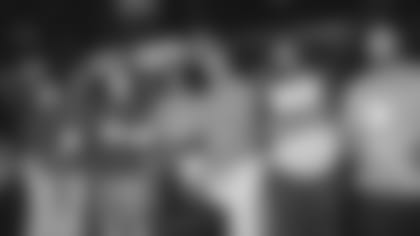 Among those people are Dont'a's teammates, and on Monday night, the Patriots show up in droves to mingle with guests and support the fight against diabetes.
Among the dozens of teammates are David Andrews, Devin McCourty, Patrick Chung, Stephon Gilmore, Marcus Cannon, Phillip Dorsett, Duron Harmon, Deatrich Wise, Eric Rowe, Malcolm Brown, Trent Brown, Danny Shelton, Lawrence Guy, Kyle Van Noy, Brandon King and more.
That support from the Patriots and the fans of the team who show up every year means a great deal to Dont'a. Though he didn't know what to expect from the region when he began this philanthropic journey, he said seeing the support other teammates have received over the years was encouraging.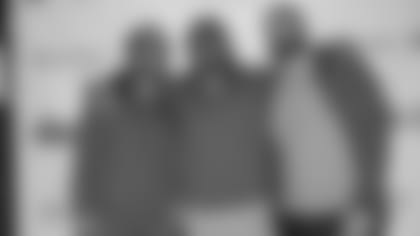 "The success that a lot of my teammates have had in the past, whether it was Vince [Wilfork], Jerod Mayo, Devin McCourty or [Julian] Edelman or [Rob Gronkowski], the community definitely stepped up. It helped with whatever the cause was," Dont'a said. "We have great fans; we have great supporters all throughout the New England area. I really appreciate it. It means a lot to me to have the same people who sit in those stands when it's freezing cold outside supporting me by being here tonight. The DMs, the tweets, that means a lot to me to see that support, not only from a football perspective, but what I'm doing off the field as well."
But people in the community aren't the only ones cheering on Dont'a. L'Tanya flies up from Tennessee for the event, and she wears her pride for her son openly.
"Finding out, even though diabetes was in my family, when you get the word for yourself, [Dont'a and his sister Quenette] helped me with the new information," L'Tanya said. "I was trying to grab everything I could. For him to start this, it just brings me back to my first day, and he's helping a lot of people, getting the word out there, bringing awareness to the learning part. It's just awesome for me and knowing he's helping others. He's always thinking about his mom and other people."