On this Veterans Day, it seemed only fitting that the Patriots pay tribute to one of their own true patriots, who happens to be an active duty member of the U.S. Armed Forces.
Since the summer, after graduating from the United States Naval Academy, rookie long snapper Joe Cardona has been balancing life in the military and the NFL. Cardona works four days per week at the Naval Academy prep school in Newport, Rhode Island, yet still manages to attend every Patriots practice session and meeting at Gillette Stadium.
"I think Joe has done a real good job of that," said head coach Bill Belichick, whose father was a long-time assistant coach for Navy, "managing his time and working as hard as he can on the things he needs to improve on… It's a big jump from what he did last year [in college] to what he's doing this year and the precision, the execution and the timing and so forth. So he's done a good job of all those things and I still think if he continues to work hard and continues to work on the things that he needs to work on, I think he's got a real good future."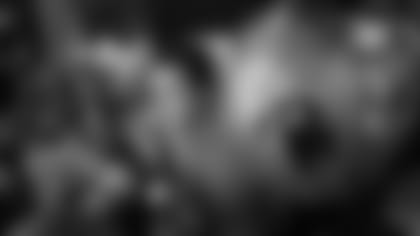 Veterans Day might be a holiday for most Americans, but not for Cardona and the rest of the Patriots. It's a normal Wednesday for them as they prepare for their next opponent, the New York Giants.
At the end of the work day here in Foxborough, Ensign Cardona spoke at length with reporters about his unusual working arrangement and how special this particular day is for him.
"I take a tremendous amount of pride wearing our country's uniform," he began. "Just as an American citizen, it's a great day to reflect upon the sacrifices that are made by our military and those that serve and protect us."
The California native smiled when asked how often his military colleagues ask him about his "other" life in the NFL.
"I field quite a bit. It is New England. There are a lot of great fans out here. When I'm there, everybody's aware that I have a job to do just as they're doing their job. [Some] playful banter, but ultimately, it's all supportive, cheering me on."
Cardona insisted he has never felt overwhelmed by having to balance two very demanding lifestyles.
"The preparation that the Naval Academy has given me has prepared me really well to take on the responsibilities on both ends. You learn to compartmentalize. There [at Annapolis], you really have a heavy emphasis on academics, military bearing, as well as athletics for anyone on a sports team. The biggest thing is showing up, doing your job the best you can in every single aspect of whatever you've got to do. That really prepared me for what I'm doing now.
"It's given me a good perspective on just what's really important in life," Cardona added, "and I appreciate our nation's service members so much, especially being able to take pride in counting myself among them. Ultimately, that's the uniform I put on first, and when I get the opportunity to go out on the field and play, I take that as a blessing every single day."
White place, White time
With Dion Lewis now out for the season with a left knee injury, the task of filling his running back role in the Patriots offense could very well fall to second-year man James White, who has been mostly a spectator thus far in 2015 as he was in his rookie campaign.
This week's opponent offers White an opportunity to face the man behind whom he toiled last season – Shane Vereen, who's now a member of the Giants.
"I learned a lot. Shane's a complete running back," White told reporters. "[He can] pass protect, catch the ball, run. I learned a lot from him on and off the field."
One area where Lewis was particularly strong, despite his diminutive size, was in pass protection for QB Tom Brady.
"Oh, it's very important," White agreed, "for any back on the field. It's always going to come up. So, you're not going to be out there unless you can do it. I did it a lot in college, so, it wasn't a big learning curve for me."
Practice Report
The Patriots held a rare Wednesday walkthrough practice, perhaps because it's midseason and the injury list is beginning to grow.
OL Sebastian Vollmer did not attend just three days after suffering a concussion against the Redskins. Neither did LB Jamie Collins, who didn't play against Washington due to an illness. OL Marcus Cannon (toe) and rookie OL Tre' Jackson (left knee) also did not take part as they continue to nurse their respective injuries.
On a positive note, however, DE Jabaal Sheard (ankle) made his first on-field appearance since sustaining his injury against Indianapolis in Week 6.