NFL Draft analyst Rob Rang offers his evaluation of the top defensive end prospects in the 2019 NFL Draft class.
Nick Bosa, Ohio State, 6-4, 266, 4.79
Strengths: Carbon-copy of his older brother, Joey, a rookie Pro Bowler for the Chargers. Quick-twitch explosiveness to explode out of his stance as well as excellent snap anticipation. Stalks his target like a lion on the prowl, deftly moving through traffic and pouncing on his prey with startling speed and explosive power. Compliments his exciting physical attributes with terrific technique, including an array of pass rush moves. Plays with terrific knee bend and pad level to play bigger and stronger at the point of attack than his frame would suggest.
Weaknesses: Looks maxed out physically and already plays with stellar technique, raising some question as to how much better he can get in the NFL. Just average length to disrupt quarterbacks while being blocked, forcing just two fumbles and deflecting just two passes in 29 career games. Played in just three games in 2018, undergoing surgery to repair torn core muscles near his abdomen and groin that abruptly ended his college career.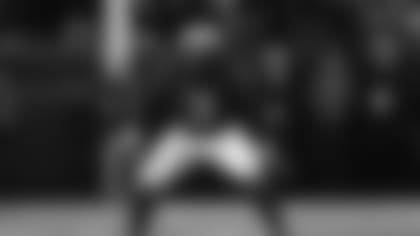 Rashan Gary, Michigan, 6-4, 277, 4.58
Strengths: Exceptional size-speed-power combination. Varies his burst off the snap, showing impressive initial quickness and lateral agility for a man of his size. Simply rag-dolls opponents at times, personifying the coaching expression of "stack and shed" with dynamite sticks for hands. Understands leverage, sprawling out his legs to anchor, showing blue-collar toughness in the running game. Possesses the strength and size to slide inside on passing downs, rush out of the two-point and even drop into coverage, giving creative defensive coordinators quite the weapon to create advantageous matchups.
Weaknesses: Guesses at the snap. Too often appears willing to read and react to the action, rather than pinning his ears back and exploding upfield. Shoulder injury which sidelined him for multiple games in 2018 requires a closer look by team doctors. Needs to show greater awareness of passing lanes, failing to tip a single pass in three seasons at Michigan.
Clelin Ferrell, Clemson, 6-4, 264, 4.85 (est.)
Strengths: Built like he was cut from a mold for an NFL defensive end. Good balance and flexibility to dip under the reach of would-be pass blockers and incorporates his hands into the rush, slapping away at tackles' reach and showing a very effective up-under rip move to complement his speed. Generates impressive power as a bull rusher. Steady development in his awareness of the ball, registering all five of his forced fumbles over the past two seasons, including three in 2018.
Weaknesses: Feasted on one-on-one matchups with teammates drawing plenty of attention from blockers. Does not possess ideal quick-twitch burst to consistently win with his speed rush. Shows normal but not extraordinary acceleration to close in pursuit.
Montez Sweat, Mississippi State, 6-6, 260, 4.41
Strengths: Prototypical combination of height, length (35 5/8-inch arms) and speed. Twitchy off the snap, showing impressive initial burst for a defender of his size, as well as the knee bend to get low and the core flexibility to tightly scrape the corner without sacrificing speed. Easy mover with flexible ankles, greasy knees and loose hips to change directions very well for a man of his size with remarkable straight-line speed. Understands how to use his long arms to keep would-be blockers off of him, extending with a powerful initial punch that can knock opponents onto their heels and good strength for the drag-down tackle.
Weaknesses: "Minor" heart condition discovered during Combine medical evaluations requires vetting, as does his transfer from Michigan State. Needs to show more of a plan of attack as a pass rusher; still learning to sync his upper and lower body. Disappointing awareness of passing lanes, failing to tip a single pass or kick over his college career.
Joe Jackson, Miami, 6-4, 275, 4.80 (est.)
Strengths: Good initial quickness off the snap, showing enough burst to cross the face of tackles. Loose-hipped, showing the ability to turn the corner like Saran-wrap, making him faster around the edge than others who may run better for the stopwatch. Terrific effort in pursuit, chasing ball carriers to the sideline and often yards downfield. Uses his praying mantis-like arms to snatch ball carriers seemingly out of his grasp, demonstrating impressive strength to drag them to the ground. Works to fight through blocks, spinning himself free and toward the ball carrier.
Weaknesses: More quick than fast, with some wasted motion off the snap. Just average straight-line speed to chase down ball carriers despite good effort. Good strength but negates it, at times, by playing too high and losing the leverage battle.
**Anthony Nelson**, Iowa, 6-7, 271, 4.82
**Charles Omenihu**, Texas, 6-5, 280, 4.92
**L.J. Collier**, TCU, 6-2, 283, 4.91
**Jaylon Ferguson**, Louisiana Tech, 6-5, 259, 4.85 (est.)
**Maxx Crosby**, Eastern Michigan, 6-5, 255, 4.66
John Cominsky, Charleston, 6-5, 286, 4.69