As seems to be the case every offseason, the Patriots are still in the market for a big target at wide receiver to compliment the team's corps of more diminutive pass catchers. Last season's attempt was veteran free agent Donald Hayes, but with Hayes sent packing this winter the team could re-visit the position in the draft, although the free agency route still remains a possibility with the likes of Oronde Gadsden and Marcus Robinson among others still on the market.
]()
            At this time New England has six wide receivers on the roster. Of the six, none of the top three targets, Troy Brown (5-10), David Patten (5-10) and second-year player Deion Branch (5-9), clear the six-foot mark. And the rest of the group, including NFL Europe allocates T.C. Taylor (6-3) and Scott McCready (6-0), and 2002 seventh-round pick David Givens (6-0), have a total of nine NFL receptions, all coming from Givens in his rookie season.  

While Brown, Patten and Branch are all locks for roster spots, Givens would also appear to have a solid chance a making the team again in 2003. Considering his valuable contributions in the kicking game and his injury-forced elevation to the third wide receiver slot last year, the Notre Dame graduate appears to be on his way to a solid career.
That leaves at least the one roster spot held by Hayes last season open for an addition at wide receiver. Should New England choose to attempt that spot on draft day there are a number of options, many of which have the necessary size that might be a factor in the Patriots draft day decisions. While top prospects Charles Rogers and Andre Johnson will fly off the board, the relatively deep wide receiver crop will allow for a number solid receivers to slip later into day one or even day two of the draft.
Of that second crop of receivers, the two most prominent names are Tennessee's Kelley Washington and Florida's Taylor Jacobs. Washington (6-3) has the size and abilities to warrant a possible mid-to-late first-round pick, but also has an injury history and limited college experience. The Patriots have spent significant time with the former Vol and he could be an option at number 19 of the first round, but likely won't be around for any of the team's later picks.
Other wide receivers that could be around in the mid to later rounds of the draft include Illinois' Brandon Lloyd (6-0), Florida State's Anquan Boldin (6-1), Middle Tennessee State's Tyrone Calico (6-4) or even bigger late round prospects such as San Diego State's Kassim Osgood (6-5) and Washington State's Mike Bush (6-5).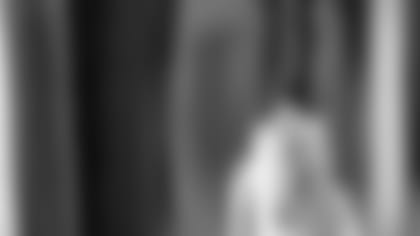 ]()
            In terms of tight end, New England believes it has its tight end of the future in last year's top pick Daniel Graham. Graham was the best tight end in college football at Colorado and despite an injury-filled rookie season he showed flashes of athleticism that could make him a unique weapon in Charlie Weis' offense. Graham finished his disappointing rookie season with 15 catches for 150 yards and one touchdown in 12 games.  

And while Graham is the tight end of the future, veteran Christian Fauria is the present. He played in all 16 games last season grabbing 27 passes for 253 yards and was one of quarterback Tom Brady's go-to guys in the red zone where he finished with seven touchdowns. If healthy again in 2003 the eight-year NFL veteran is a more than serviceable presence in the passing game.
The two other tight ends on the roster are 10-year NFL veteran Fred Baxter and current NFLE player Rodney Trafford. Baxter was brought in for the last game last season when Graham was placed on injured reserve. He re-signed with the team this offseason. Never a real offensive threat, Baxter has just 100 catches for 1,008 yards and 12 touchdowns in his career and Trafford is more of a blocking tight end who played a minimal role in the offense in his college career at South Carolina.
But even though the team seems to be set for both the long term and the present, the injury histories of its top-two tight ends and the departure of veteran Cam Cleeland could point to a possible later-round tight end selection. With the athleticism of both Graham and to a lesser degree Fauria, the team may look to find a more dominant blocking tight end as well.
After the top two tight end prospects, Tennessee's Jason Witten and Iowa's Dallas Clark, there seems to be a bit of a drop off in this year's crop. By the time the Patriots might be considering a tight end selection some of the names that may still be available are Oregon's George Wrighster, Rutgers' LJ Smith, Morgan State's Vishante Siancoe, Mississippi State's Donald Lee, BYU's Spencer Nead, Oklahoma's Trent Smith, UCLA's Mike Siedman, North Carolina's Zach Hilton and Doug Ziegler from Mississippi.
One interesting player in the draft that is a sort of hybrid tight end/wide receiver is Stanford's Teyo Johnson. The 6-5, 247-pound Johnson is expected to go on the first day of the draft and will be a big, unique target for whatever team selects him.
Monday we will look at the offensive line.