No scoring to discuss in the first quarter, so, we'll look at some individual performances.
…DE Chandler Jones had a missed tackle on a DeMarco Murray run on the opening drive. Murray should have been dropped for a loss of several yards, but because Jones didn't wrap him up, Murray was able to bounce outside, turn the corner, and gain 7 yards.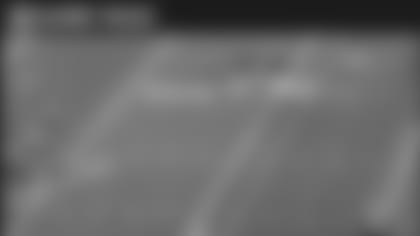 …CB Malcolm Butler had a nice pass breakup on that opening drive. He twisted his body around intended receiver Nelson Agholor and swatted down the pass from QB Sam Bradford.
…Referee Pete Morelli's officiating crew missed a pretty obvious false start by Eagles left tackle Jason Peters on 2nd-and-4 from the 49. Peters started backpedaling in pass protection a half-second before the snap, and was the only Eagle moving for a moment. Looked pretty clear that he had started falsely, but no one on Morelli's crew threw a flag. To be fair, Philly was penalized eight times for nearly 100 yards on the night, triple what New England incurred.
…Newcomer Damaris Johnson looked anxious to contribute in his Patriots debut. The diminutive receiver/returner was given the ball on New England's third play from scrimmage, on a play that we normally see Julian Edelman run – the wide receiver handoff. The receiver goes in motion from one side of formation to the other, passing through the backfield, and as he does, Brady takes the snap, wheels around, and hands off quickly to the motioning player. Johnson showed some burst on this play, even though he gained only six yards.
…Brady was sacked on the next play, a 2nd-and-4 from New England's 37. DE/OLB Connor Barwin came hard on a stunt from Brady's left side. Barwin was originally lined up over left tackle Sebastian Vollmer. At the snap, he took a step forward toward Vollmer while a teammate to Barwin's left engaged with LG Josh Kline. That player drove Kline to the left into Vollmer, and as this happened, Barwin ducked behind them and shot through a gap between Kline and center Bryan Stork. Instead of passing the other Eagle off to Vollmer and picking up Barwin, Kline kept his hands on the defender, and Vollmer reacted by double-teaming that player. Barwin, now uncovered, shot straight through the hole and brought Brady down just as the QB was turning in that direction.
…Safety Nate Ebner saw significant time Sunday evening, not just on special teams. He was thrust into a sub package corner role in the first quarter, lining up in the slot to help defend when the Eagles went with four wide outs. He missed a tackle on RB Darren Sproles on 3rd-and-11, but slowed him down enough to allow teammates to come in and stop him short of the sticks to force a punt.
…Good job by RB LeGarrette Blount to improvise and cut back his runs several times in the first quarter when his o-line failed to open up designed holes for him. Blount averaged just shy of 6 yards per carry on five rushes in the first quarter, mostly after he'd decided to change direction.
…Brady's second sack of the game came on 3rd-and-13 from his own 27. Barwin again was the perpetrator. From the same spot as before, Barwin this time decided not to rush, but to stay put at the line of scrimmage at the snap. Vollmer backpedaled in anticipation of Barwin's rush, but it was delayed a few seconds because Barwin was allowing his teammates on the far ends to pressure Brady from each side. TE Michael Williams, lined up next to Vollmer, took on OLB Brandon Graham at the left edge of the o-line, and right tackle Marcus Cannon engaged DE Vinny Curry. Both defenders closed in on Brady at the same time, with Curry beating Cannon and diving for Brady's feet. This forced the QB to step up in the pocket, and as he did, Barwin, watching it all from the line of scrimmage, charged forward and drove Vollmer backward. Brady stepped right into Barwin's arms and was brought down easily.
SECOND QUARTER
…Brady's first touchdown pass was to RB James White on 2nd-and-goal from the Philly 4. White was in the shotgun to Brady's right and at the snap, he flared out of the backfield and ran a short out at the 2. TE Scott Chandler, lined up on the right end in a three-point stance, helped open up some space for White by occupying two defenders, LB Mychal Kendricks and CB Walter Thurmond, neither of whom could decide until the last moment whether to stay with Chandler or go to White. Thurmond eventually decided to pursue White, but at that point, it was too late.
…The next Brady TD came on the following possession, 1st-and-10 from the Eagles' 11. Blount, who'd been running well, was alone in the backfield. Brady was under center, with WR Danny Amendola wide left. WR Brandon LaFell was in the left slot, with WR Keshawn Martin the flanker to the short right side. Amendola motioned to the left hash marks, putting himself between LaFell and Vollmer. Philly had Thurmond and Eric Rowe covering LaFell and Amendola man-to-man, but as Amendola motioned, Rowe backpedaled, putting him deeper than Thurmond. At the snap, the defenders switched off, with Thurmond, playing tight at the line of scrimmage, taking Amendola. Rowe came back up to cover LaFell, who ran a short out pattern. With Thurmond playing inside technique, Amendola ran a deeper corner route to an empty space in the left corner of the end zone. For good measure, Amendola head-faked like he was going to run a post, to give himself some extra separation from Thurmond, before cutting to the corner. Brady's pass was a bit overthrown, but Amendola did a great job of extending for it and keeping both feet in bounds.
…Here's where the game got turned on its head. The ensuing kickoff, K Stephen Gostkowski, as usual, went to place the ball on the tee. Instead of doing so, though, as he leaned down, he sprang back up and tossed the ball to Ebner, who's normally on the kick coverage team, but was standing only a few feet to Gostkowski's left, instead of five yards back with the rest of the coverage unit. Ebner, a former rugby star, then executed a dropkick, with the intent of putting the ball in a huge vacant area behind the Eagles' front line of their return squad. The idea was to allow Ebner's teammates to run under the ball and have a chance to "out-rebound" Philly for the jump ball. Problem was, Ebner's kick was too low and shallow, which gave the Eagles plenty of time to react and smother the ball before any Patriots had a chance to get to the spot. Poor execution, but an even poorer decision to unveil such a play up 14-0 in a regular season game. This is the kind of surprise the Patriots should have been smarter to hold onto until they absolutely needed it in the playoffs, like they did last season with their trick plays against Baltimore.
…Bradford and Philly immediately capitalized on their windfall of positive field position, driving down to the NE 5. On 3rd-and-4, TE Zach Ertz was lined up in the slot with safety Devin McCourty covering him man-to-man. McCourty gave Ertz a good jam at the line at the snap, but Ertz was able to maintain his balance and get to McCourty's outside shoulder, faking like he was going to run an out across the goal line. Instead, Ertz cut up and behind McCourty, who stumbled after he bought the fake and tried to recover. Bradford's pass went just over the fingertips of LB Jonathan Freeny, who was in the end zone in pass coverge, and into the hands of a now wide open Ertz.
…Philly tied the game with a blocked punt that never should have happened. It looked like rookie Geneo Grissom should have released from his player to take Chris Maragos, who was standing just behind the line. At the snap, Grissom's man was engaged by rookie long snapper Joe Cardona, but Grissom stayed with him for what amounted to a double-team. Maragos then stunted behind them to gaping hole to Grissom's left. Had Grissom even turned to chip Maragos, that might've been enough to slow him down or even prevent him entirely from getting to punter Ryan Allen. But Maragos had a clear path and delivered a textbook, clean punt block. Najee Goode scooped up the loose ball and with no Patriots in his way, scampered the short distance for the end zone. Brilliant execution by the Eagles.
THIRD QUARTER
…If ever you needed proof that football is a game of inches, look no further than New England's second drive of the second half. There were a few plays that, had they been in New England's favor, would have changed the complexion of the game entirely. One was Danny Amendola's dropped pass on a busted play. It was very close to being ruled a catch and fumble, and perhaps it would have been better for the Patriots had that been the case, given the outcome of the drive. Instead, New England kept the ball and continued to march.
…Another play that nearly changed the game in the Patriots' favor was James White's 24-yard catch and run. White gave Thurmond a great stiff-arm to avoid being tackled, and it would have been just enough for White to score had his feet not grazed the shin of Thurmond. That tripped White up and he was ruled down at the 1-yard line.
…Very next play, Scott Chandler appeared to choose the wrong player to block on White's hurry-up rush attempt. Rather than use his height and weight advantage to smother safety Malcolm Jenkins at the line of scrimmage, Chandler went to the next level of the defense to take on a linebacker that wasn't an immediate threat to tackle White. This left Jenkins free to dart into the backfield and bring White down for a 4-yard loss.
…Two plays later, Brady's ill-advised throw into double-coverage led to a tipped pass that was intercepted by Jenkins and taken the length of the field the other way for Philly's go-ahead score. At around the Eagle's 15, Cannon made a diving attempt to tackle Jenkins, but the DB hopped over Cannon's arm, which grazed Jenkins' foot, but not enough to make him lose his balance. Cannon was in position just to keep running toward Jenkins and didn't need to dive. He probably could have just crashed into Jenkins and the play would have ended right there. All of these examples were the result of the ball or the body being just a fraction off, but that was enough to make a significant difference.
…Brady was sacked a third time in the game on the following drive when Graham beat Vollmer with a delayed speed rush. Graham hesitated at the snap, almost as if he were about to stunt inside, before he darted around the corner on Vollmer, who was late to react. Brady had no chance to escape the pocket as Graham bore down on him.
…Maragos made another great play on Darren Sproles' 83-yard punt return TD. Originally lined up over Cardona, Maragos immediately turned and sprinted downfield to catch up to Ebner, Allen's personal protector, who was unblocked all the way to Sproles around the Philly 20. Maragos arrived just as Ebner was about to tackle or slow down Sproles and he just put himself in the way of Ebner on the Patriot's right side. Then Matthew Slater came flying in from in front of Sproles – a play we've seen him make a hundred times on punts and kickoffs – but Slater missed the tackle. The rest of the Eagles return team did an excellent job of blocking their assigned guys properly, giving Sproles room to negotiate the sideline. Allen, the last Patriot to have a legitimate shot at Sproles, made a half-hearted effort to wrap him up and the speedy returner broke free.
…Brady's 36-yard reception from Amendola on a reverse was a well-designed, perfectly executed play. Again, I just wish the Patriots had kept that one stashed in the arsenal until the playoffs, when it may have been more desperately needed.
…Brady's deep ball INT at the end of the quarter looked like he was expecting LaFell to run a deep slant into the end zone, but the receiver decided to cut his route short around the 13-yard line. By that time, Brady had already decided to go long with the ball and the only players in position to make a play were Eagles.
FOURTH QUARTER
…It sure looked like Butler got the wrong end of the stick on his pass interference call in the early fourth quarter. LB Jamie Collins clearly tips Bradford's pass near the line of scrimmage, which, by rule, then makes it legal for any player on the field to make contact with any other player. Butler was unjustly flagged on that play.
…Bradford's second touchdown throw was just a simple route by WR Jordan Matthews. From the left slot, he ran a shallow cross, with Butler in close coverage. Bradford's throw was low and behind Matthews, but he did a good job of sliding and adjusting his body to make the catch. Butler was a few inches away from swatting the ball down.
…Chandler's touchdown catch from Brady was nothing more than a simple corner route. He just beat LB Kiko Alonso with his speed and Brady had to do little more than make a precise throw, which he did.
…The Patriots were very fortunate to have recovered the ensuing (traditional) onside kick. It should have been fielded by Ertz, a member of the Eagles hands team, but the ball went right through his hands.
…After Brady scored on a QB sneak (he's the best I've ever seen at those), New England tried yet another unconventional onside kick, again with Ebner doing the honors. Gostkowski approached the ball as if he was going to strike it to the right, but at the last second, he veered away and Ebner came in and struck it perfectly with his left foot. The ball took a sharp, high bounce and came down just where you'd want it to be, but Eagles WR Riley Cooper elevated and swatted the ball out of bounds. Really nice job by Ebner to give his team a chance at recovering the football. Just an even more heads-up play by Cooper, because Brandon Bolden was close enough to come down with the football had it not been deflected away.