INDIANAPOLIS - The NFL is a passing league these days. As such, passers and pass rushers have become some of the biggest stars in the sport.
So while the quarterback class at this year's Combine is leaving many less than impressed, the guys hoping to make life difficult on those passers at the next level are drawing plenty of praise.
Many believe that edge rushers may be the deepest, most talented group of players in Indy this week. They will clearly be well represented early and often come draft weekend, beginning with the potential No. 1 overall pick in Texas A&M's Myles Garrett right through the final selections of the seventh round.
That talent and depth could be a very good thing for a Patriots team that likely lists defensive end among its top needs heading toward the 2017 NFL Draft. In the last year New England's youth, talent and depth at defensive end has dissipated for a variety of reasons.
Pro Bowl pass rusher Chandler Jones was trade to Arizona, where he's now the Cardinals franchise tag player as he works toward a potential huge-money contract. Jabaal Sheard somehow went from first-year playmaker in New England to a complementary player who was a healthy scratch at one point during the year and is likely to look elsewhere in free agency later this month. Chris Long was a complementary contributor to the Super Bowl title, but made it clear he's moving on after just one season in Foxborough.
That really leaves the defensive end depth chart at this point consisting of second-year breakout playmaker Trey Flowers and consistent, aging veteran Rob Ninkovich. Leading New England with seven sacks, all coming over the second half of that season, Flowers will be expected to continue the playmaking momentum into a larger role in 2017. Ninkovich, at the age of 33, probably can't be continued to be relied upon as a key cog on the defensive front moving forward.
So clearly the Patriots will be looking to add bodies at defensive end, likely through both free agency and with the abundance of talent at the position in the draft class.
"I think it's one of the best defensive drafts I've seen, and I think the defensive edge rusher is one of the best I've seen," NFL Network analyst Mike Mayock said, saying teams could get top edge talent even in the second or third rounds."
NFL talent evaluators agree.
"There are some really good pass rushers in this group." Falcons GM Thomas Dimitroff said. "For most of the league, who happen to be looking for pass rushers, it's a positive. I think more and more everyone realizes the importance of having one, two and three pass rusher that can affect the quarterback as we are very aware of that."
There are forty players listed as defensive ends at this year's Combine, though that bloated number includes many who'll end up as linebackers or defensive tackles at the NFL level. NFLDraftScout.com lists a group of 28 prospects at the position worthy of a potential selection on draft weekend.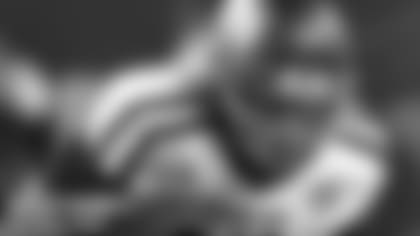 There is little question that Garrett (6-4, 272) is atop that list, and may end up as the No. 1 overall selection when things play out in late April. Despite battling injuries in 2016, Garrett earned unanimous All-American honors with 8.5 sacks and 15 tackles for a loss. That leaves his three-year total of defensive domination for the Aggies at 31 sacks, 47 tackles for a loss and seven forced fumbles.
"I feel like I'm the best player in the draft, and I feel like I'll prove that (at the Combine)," Garrett said.
There are obvious comparisons made between Garrett and former A&M and current Denver Broncos star Von Miller, a former NFL Defensive Player of the Year winner and Super Bowl champion.
"He probably has a little bit more skill than me. He's been doing it for a little bit longer. But I feel like I'm a little bit bigger, little bit stronger and I'll catch up in that regard to skill," Garrett, the same day he put up an impressive 33 reps of 225 pounds on the bench press.
Garrett certainly hopes to be the top selection in the draft even if he regrets jokingly saying he didn't want to play for the Browns, the team that holds that pick. He wants to be the best and knows the top pick, for now, is an indication of that.
"It shows I'm top dog, at least from the beginning," Garrett said of the value of the No. 1 pick. "Once I'm in the NFL I can't just, you know, hang my hat on that. I have to keep on rising."
Garrett is the first of what NFLDraftScout.com projects as a group of as many as six defensive ends who could go in the first round. That includes Stanford's Solomon Thomas (6-3, 273), Tennessee's Derek Barnett (6-3, 259), Michigan's Taco Charlton (6-6, 277), Missouri's Charles Harris (6-3, 253) and Auburn's Carl Lawson (6-2, 261). All bring different builds, strengths and skills sets to the field.
Thomas plays a more physical style that could make him almost an inside tweener, although he did have 8.5 sacks and 14 tackles for a loss last season for the Cardinal.
"I can rush anywhere. I can play anywhere," Thomas said, running down his attributes. "I play every down. I'm great stopping the run, great rushing the quarterback. I'm very versatile. I have toughness. I try to get after every (offensive) lineman and put the fear of God in them and make a play. I'm just trying to get to the quarterback every play and be destructful and wreak havoc."
"I have a (high) motor. I don't think no one gets after it like me. No one plays extremely tough like I do. I just try to show I'm the best I can be. That's my goal, to always be the best. You have to think you're the best to be the best."
Barnett is an intriguing player whose sack numbers grew from nine, to 10 to 13 while he notched 52 tackles for a loss over three seasons. He earned first-team All-SEC honors last fall after two years of second-team recognition.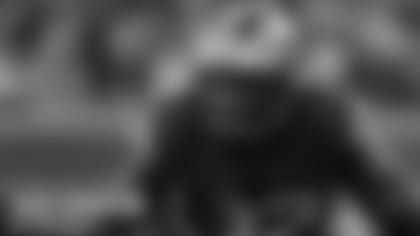 Charlton is coming off his first 10-sack season for the Wolverines, but his physique and upside are obvious. Beyond his clear physical attributes – he said he's studied longer NFL pass rushers such as Cincinnati's Carlos Dunlap and the former Patriots first-round pick Jones – Charlton also points to his versatility as a major strength.
"I play a little bit of every position, inside, outside. I've played heavy, I've played light," Charlton said. "The thing about me, too, is look at my pass-rush moves, I've done a little of everything. My arsenal is wide, I can stab, I can bull, I can spin, I can speed rush. So, the arsenal I have and the combination of all the positions I've played: three-tech, four-tech, five-tech, weak-side end, all of those things kind of add up to separate me a little bit."
After a breakout senior season in Ann Arbor, Charlton is confident his best work lies ahead.
"I'm happy to see all the hard work has paid off so people can see how good of a player I am and how good of a player I will be," Charlton said of his first-round projection. "You know, this is just the beginning. I'm a guy who, I'm just touching the tip of the iceberg with how good of a player I'll be. And I'm only going to get better with the more football I play, so like I said, I love the recognition I'm getting but I'm not satisfied. I won't be satisfied until people start saying, 'He's one of the best guys out there.' So, I'll continue to work. Anybody who works with me will see how driven I am. So, it doesn't stop. So, the mock drafts may say something, but in my head I'm an undrafted free agent guy. So, I'm happy but nothing's promised. I'll continue to work hard."
The next crop of ends projected as potential second- or third-round picks includes Florida State's DeMarcus Walker (6-4, 280), Ohio's Tarell Basham (6-4, 269), Youngstown State's Derek Rivers (6-4, 248), Kansas State's Jordan Willis (6-4, 255) and Illinois' Dawuane Smoot (6-3, 264).
Basham had 38.5 tackles for a loss and 27 sacks over his four seasons at Ohio, including a career-high nine sacks this past fall. Coming from a somewhat smaller school, he knows he's working to sell himself to teams as being as worth as talent out of places like the SEC.
"That I'm very well capable of doing whatever they need me to do," Basham says of his sales pitch. "That I'm ready to come in and play. I'm not trying to come in and be a backup. I just do whatever I need to do to get to the quarterback and make plays."
Rivers has even more selling to do coming from the FCS level despite his 14.5 sacks last fall, the second time he topped 14 sacks in the last three years. Playing for former Patriots assistant and Nebraska coach Bo Pelini is what Rivers believes helps prepare him for the big jump to the next level.
"It's an NFL-style defense," Rivers says. "It's helped us a lot."
Walker was second in the nation with 16 sacks for the Seminoles. As a bigger body he's also a bit of an inside tweener. He likes to emphasize not only his physical strengths, but he cerebral approach to the game breaking down opponents and their playing styles.
"I love this. I love football," he gushed.
He believes he can be a versatile weapon for a defense, comparing himself to Seattle's Michael Bennett, although he knows there are some who doubt his athleticism.
"I love proving people wrong," Walker said. "I love when people doubt me. Just prove 'em wrong and smile."
The well-put-together Willis had an impressive, career-high 11.5 sacks in his fourth season for Kansas State. He's more of a linebacker tweener that teams have talked to about dropping into coverage, something he did on a limited basis for the Wildcats.
"Obviously I may have dropped once or twice a game," Willis said. "If I was put on some teams, I might drop. But the majority of the time and my purpose is to rush."
Even if the Patriots were to hold off until the latter rounds, the depth of the defensive end class presents a slew of options still to be had. Villanova's Tanoh Kpassagnon (6-7, 289), Chattanooga's Keionta Davis (6-3, 271), Florida's Bryan Cox (6-3, 265), Penn State's Garrett Sickles (6-3, 261) and Notre Dame's Isaac Rochell (6-4, 280) are among the many talented options expected to be available to close out the draft.
Kpassagnon is a mountain of a man also proving his FCS work is enough to prepare him for the NFL. He notched 11.5 sacks last fall and then had a solid showing at the Senior Bowl that is a necessary part of the process for a Division I-AA player.
"The big question was whether I could hang with the better competition. I think it helped me out. I showed I could," Kpassagnon said.
The son of a chemical scientist and an economist, Kpassagnon already has his degree with a double major in accounting and finance. Sometimes teams wonder about such intellectuals, but the big end is clear what he wants to do for his first job out of college.
"I tell them, yeah, I love the game," Kpassagnon said. "This (playing football) is probably the first thing I did for myself. Grades and everything else was instilled in me by my mom. And that was something I was doing to make my mom happy. But football is something I'm doing for me. I mean, to make her happy too. But it's really for me.
"Hopefully I'll be able to make this into my profession. I want to be the best defensive end there is."
Cox is the son of the former Patriots linebacker with the same name. He battled injury to just 10 career sacks in four seasons with the Gators, but he hopes to bring some of his dad's trademark passion to his own NFL career.
"I would say it's a big advantage, playing as long as he did and having the success he had in the NFL," Cox said of having an NFL dad. "It definitely gives me a little jump start on the whole process and being able to deal with the different situations that I'm going to face."
Asked about his dad's playing career, Cox said he remembers very little. That little does includes being at the Patriots win in Super Bowl XXXVI after the 2001 season.
"For the most part, I was too young, but I remember a little bit," Cox said. "Especially like when he won the Super Bowl with the Patriots. I went on the field, so I remember that for sure. I was real young. I remember that moment. Confetti, him pulling me down there and just being on the field."
Rochell is a bigger end from a big program. He had just 4.5 sacks and 21.5 tackles for a loss over four seasons with the Irish and is well aware that he needs to convince NFL teams that he has upside as a rusher.
"The game is becoming such a pass oriented game. Developing my pass rush (is something he's working on)," Rochell said. "You have to be an elite pass rusher to stay in the game. At the end of the day we are who we are. My athleticism is what it is. Ultimately I think I have the skill set and ability. It's just about putting it all together and being able to display it."
That's something that so many of the defensive end prospects are trying to do this week in a talented, crowed draft class. They are well aware that the NFL is a passing league and so many teams, including the Patriots, are in need of youthful pass rushers on the defensive line.