NEW YORK - Gene Steratore was an NFL game official for 15 years, the last 12 of those as one of the league's most trusted and high-profile of referees. During his dozen years in the spotlight, he became very familiar to Patriots fans, serving as the referee in a whopping 16 games in which the Patriots' Tom Brady quarterbacked, including three Brady-Manning Bowls (in 2010, 2012 and 2013).
Steratore retired from NFL officiating after calling the memorable Super Bowl LII last February in Minneapolis, launching a new television career as the CBS Sports rules analyst this season. I spoke with Steratore recently at the NFL on CBS media event in Manhattan, and asked him to reflect on and recount what it was like to officiate games involving Brady and the Patriots from 2003-on.
Q: Do you have any favorite memories of being the referee in games involving Tom Brady?
A: I had to dig Tom out of pile one time against the Jets and wound up getting a bloody nose for it. In a (2011) New York Jets game there was a fumble and a pile underneath. I think the Patriots were inside their 5-yard line, coming out. It was a quick fumble and Tom was underneath a pile of Jets players and as a referee you're always concerned about your quarterback if he gets hit. And when he's underneath a pile like that, even more so. Not only are you digging out to find out who has the ball, you want the guy you're protecting to be okay under there, things could happen underneath a pile where you really can't put an arm with a body.
So I was clearing things out, getting defenders out of there and Tom kind of turned his head really quick underneath the pile and my nose being so small, it got in the way, and when he turned his facemask it just clips my nose. I didn't know it, but he cut my nose actually with his facemask.
One of my crew-mates came over and said 'Gene, you got popped on the nose, do you want to put a bandage on your nose?' And I said, 'No, I'm not going to put a bandage on this nose, it's already big enough to draw attention.' So that was one time when Tom hit me, but I know it wasn't intentional.''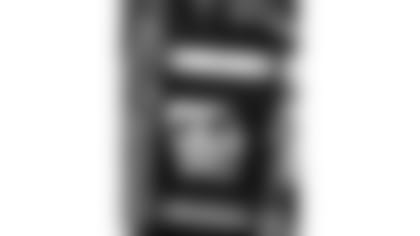 Q: Did you relish the chance to ref the three Brady-Manning games you were assigned?
A: Actually my first was when I was a downfield (field judge) official and Bill Carollo was my referee in a Patriots-Colts playoff game in Foxboro (in the 2004 AFC Divisional round). I believe that was the game where the snap went through Peyton Manning's legs, and there was this great picture of Bill Carollo and I walking in opposite directions. And Peyton is standing between us, and it was a really classic still shot because it looked like he was pleading with two officials who were both trying to get away in different directions. It was really a great photo.
Q: Any particular Brady-Manning Bowl memory stand out in your mind?
A: One of the real memorable Brady-Manning games I had was in New England in 2013 — and it always seemed like we had a lot of night games in New England as well — and I believe (Denver) may have gone up 24-0 in the first half. They were really hot, which doesn't happen in Foxboro too often.
But we came back out to start the second half and New England got the kick, and Tom went right down the field and they scored. And then Denver turned the ball on the next series real quick and it was surreal that the Broncos had worked so hard to build a substantial lead and then all of a sudden it was gone. It was completely gone, and I do remember looking a couple times and seeing Coach (John Fox's) face and it was like, "Is there anything we can do to beat him?''
It was just that kind of matchup. Just to have two of maybe the greatest quarterbacks ever to play this game, as a referee in that position, when you have players like that you just get in and then get out of the way and they handle the tempo of the game. You just want to make sure nothing happens to those kind of guys in the game.
Q: Brady is known for being a perfectionist, as Manning was as well. Both were pretty effective lobbyists of the officials. Any recollection of Brady working you in rare form in any particular situation?
A: I always respected the fact that with a lot of the great ones, Tom naturally being one of them, none of them like being hit. And we're really close to them, so when they are hit with the level of intensity that they're hit with, their natural knee-jerk reaction when they're on the ground is to turn and look at us, and say that it was illegal or that's a flag, whatever the case may be.
But I never took that personally because in the moment you have to understand and appreciate what just happened to them and where they are, and Tom was no different in that. Very rarely would he want me to help him up when he was knocked down either, that was a sense of his pride.
Q: Did he think it was bad optics, you helping him up?
A: I always wanted to get over my quarterbacks to let them know, A., the hit was legal, and B., make sure they were okay. And then if I was in their vicinity I would offer them a hand every once in a while to help them up. I don't think it was an optics things, I think Tom was just Tommy. He's just such a competitor, "Nope, I'm going to get up on my own,'' and that's the way he was. Again, he's very similar to a lot of quarterbacks in that he would turn and look and complain, that maybe that was a late hit or something.
But then inevitably, what I love about him, the series would end, then when they'd come back out for the next series, because he had probably looked at every play of the previous series, he'd start back onto the field and want to let me know that nothing was there. And I used to try and stop him at that moment knowing that he was going to complain again at some point, because he was going to get hit again, so it was kind of like "Yeah, let's do this at the end maybe, and we'll wrap it all up with one (conversation)?''
Q: Did you ever truly find yourself on the wrong end of his wrath?
A: He's a competitive man and I understand to be at that level you have to carry that intensity. But a lot of times more so than not, if he would get adamant about something, in all honesty it might be because something occurred downfield where he felt like someone was held prior to and it broke his rhythm. He knew there was a foul he thought I might not have seen, so he would turn and definitely let me know exactly what he felt about that non-call.
Q: As a perfectionist and a noted fierce competitor, did he require a lot of explanation of your calls?
A: No. I felt like I had such a wonderful relationship with him in an atmosphere that's not easy to have a real friendly relationship during those times. But as you said, not only was he striving to constantly be a perfectionist, I know he understood that's what we were striving for as well. But the human element is in there and naturally neither of us would think he ever played the perfect perfect game or I ever reffed the perfect game.
Q: Did he ever let you off the hook after a blown call?
A: I'll tell you the one that probably really struck me the most with him in that vein. We had a Monday night game about three years ago with Buffalo and New England (in 2015) and one of the officials on my crew had an early whistle, had an inadvertent whistle. It was a play that Tom was going downfield on and it was a completion that probably went for about 45 yards. But the whistle occurred right when the receiver caught the football, so by rule we had to stop the play there and the yardage after the reception was not allowed.
The crowd in New England was going completely nuts, and rightly so, with an inadvertent whistle that aided Rex Ryan's Bills. It was surreal that as the crowd continued to boo, Tom stood near me as we went through the explanation of what we had to do. He wanted them to stop booing so his teammates could hear his cadence, and I remember Coach Belichick coming out on the field a couple steps at that time to try and quell the crowd as well.
But then I remember seeing some of the excerpts in the post-game from Tom, and he spoke so highly of how our crew usually worked. It was in defense of us, a little, and at that point I always respected him so highly and really I mean that. After that postgame and seeing what he said, even more so.
Q: Your final game as an NFL referee was in Super Bowl LII, when the Eagles upset the Patriots in Minneapolis last February. What moments will you always remember from that game?
A: Three things in that game strike me and they're all related to Tom. I think the biggest call of the game wasn't the Philly Special that everyone's talking about, I think it was the 4th down at the 40-some yard line. Coach (Doug) Pederson in some way knew that every time Tom touched the ball in the second half they scored, and I think he knew if they punted the football, it didn't matter if they had 95 yards to go or 5 yards to, when he got the ball back the (Patriots) were going to score again.
I remember that going through my mind when I thought how crazy this 4th and 2 or something from mid-field was. Then looking back on it, as crazy as it was I understand it now because of the way Tom was playing, the whole game in the second half was just unconscious, so that struck me.
I remember after Philly went up and he came back on the field with 2-plus minutes left and 80 yards to go, and that stadium kind of erupted with the feeling that, almost for the first time that day, 'Oh my goodness, Philadelphia might win this game.' And you could feel that, as we went to commercial.
I remember though when we came back out of television and he started to run back on the field, it was like you could hear a pin drop in that stadium, because I think everyone in that place believed they were going to go 80 yards and win the game. Now, I don't think the Philadelphia Eagles defense believed it, but looking across the line at that time, I could tell that was definitely in their mind. It was almost like they had too much time, and it was all real, and it was all because of who he was.