The doors to the Patriots ProShop didn't open until 9 a.m. on Friday, but that didn't stop fans from lining up outside for hours and, in some cases, all night to ensure they would get their hands on the limited edition Nike Air Force 1 Ultraforce Low.
For the third year, Robert Kraft and Nike teamed up to design and create a limited edition sneaker with the proceeds benefiting the Boys and Girls Clubs of Boston.  Last year, the shoe sales raised about $250,000, and this year, the shoes are expected to raise about $500,000 to Boys and Girls Clubs throughout the city of Boston.
Nicholas President and CEO of Boys and Girls Clubs of Boston Josh Kraft said the money raised through his father's efforts is crucial for the mission of his organization.
"Through the shoes, through people putting on the shoes, it's investing upwards of a quarter of a million dollars into our programs, opening our doors so kids can get in our buildings and have access to opportunity, be it educational opportunity, athletic, artistic, anything and everything," he said. "It's really just because of the generosity and creativity of Nike, the Patriots and my dad. Through them all coming together, they create this unbelievable opportunity in our buildings for thousands of kids in the city."
As fans entered the ProShop on Friday morning, Mr. Kraft shook hands, signed autographs and handed out pins to each customer. Mr. Kraft also surprised fans who had preordered the shoes at Bodega, a store in Boston, on Thursday night. When people came to pick up their sneakers, they were excited to find Mr. Kraft, Rob Gronkowski, LeGarrette Blount, former Patriot Jerod Mayo and Hall of Famer Andre Tippett to greet them and celebrate the launch.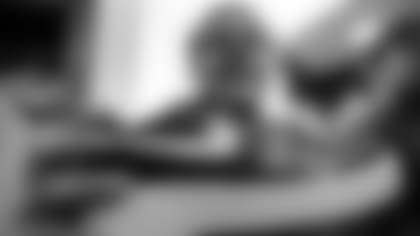 Mr. Kraft said he wears sneakers everywhere on every occasion, and he was happy to see he wasn't the only one who appreciates a good sneaker.
"I've gotten a lot of positive comments on the little refinements with the laces and the buckle, but I didn't realize how many 'sneaker heads' there are in this country," Mr. Kraft said. "It's great. I enjoy wearing sneakers every day and I guess there's a lot of people that do too."
Some like Moisses and Alfonso Delgado of Providence, R.I., stood outside starting at 11 p.m. Thursday night to make sure they were able to get a pair. They have been camping out for three years in a row.
"We've got the routine down," Moisses said. "We like sneakers for one, and obviously we want to help the cause. We're huge Patriots fans."
Courtney Nottebart of Walpole is no rookie, either. She comes out each year to get a pair of shoes for her father, and last year, she wasn't able to physically take her shoes home the same day and had to come back to the ProShop the following week to pick up her order. While she was in line, Courtney was talking to the man behind her. He had flown in from California for a Patriots game and, because of his flight back home, wouldn't be able to pick up his sneakers.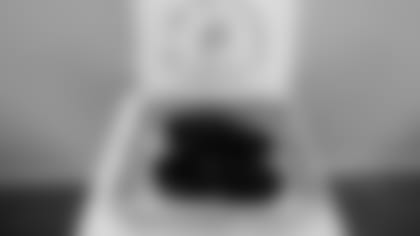 Instead of letting this man walk away empty handed, Courtney offered to ship his pair out to California, and though she went to Bodega with her father Thursday night to get his pair, she waited again in line Friday morning to buy sneakers for the man she met last year.
"I met him for 20 minutes in line last year," Courtney said. "I think it was pretty cool, and it was kind of special to know that people can be friendly like that. It was trust on both sides that we were going to get them and ship them to him."
As he met with each fan at the Patriots ProShop, Mr. Kraft couldn't help but admire the dedication of Patriots fans and "sneaker heads."
"It's unbelievable to me that these guys, three years in a row, they come before midnight and hang out here all night to be able to get them … It's nice to see the passion our fans have to support the team any way they can. We're very blessed."
For more pictures, check out the photo gallery below.
Patriots Chairman and CEO Robert Kraft launched the third edition of his signature sneaker, the Nike Air Force 1 Ultra Force, at Bodega in Boston on Thursday, Nov. 10. Rob Gronkowski, LeGarrette Blount, Jerod Mayo and Andre Tippett attended the event. The shoes went on sale at the Patriots ProShop Friday morning. All proceeds benefit the Boys & Girls Club of Boston.