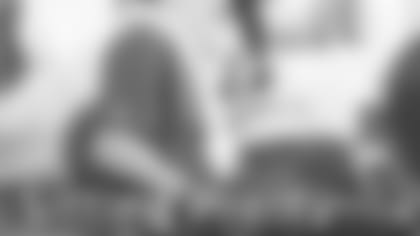 ]()
            That's what the New England Patriots said to a group of fans brought in for a tour of CMGI Field Wednesday morning. The past winners of the Fleet Fan of the Year Joseph R. Mastangelo Memorial Trophy were brought to southwest end zone of CMGI Field to be the first people to sit in the new seating that will fill the stadium.  

Among those in attendance were 2000 award winner David Brooks, who brought his son Justin for the event. In addition to being a rabid Patriots fan, Brooks does work for the March of Dimes and Salvation Army. He was thoroughly impressed with the progress of the new stadium.
"Last time I saw it was when I got Fan of the Year on Christmas Eve," Brooks said. "I like it. You can see everything from up here. When we were riding up through the concourses we could still see the field from there. This place is going to be better, much better."
The Fan of the Year award started when Joe Mastangelo, the son of the man for whom the award is named, wrote to then-team owner Billy Sullivan to start the program. Since then, fans who are devoted to the team and who do strong work in the community have been nominated and honored by their fellow fans.
"I want to acknowledge the Patriots organization for recognizing the fans," Mastangelo said. "The honor for my dad started when I wrote to the owner, Billy Sullivan, back in 1986. Fleet Bank got involved and has done a great job with it. It's a very unique award, the only one of its kind in all of major league sports. There is a sadness here for me because I would have loved to have my dad here with me to see this stadium, which is long overdue."
Mastangelo pointed out fellow fans and past winners of the award who bring the spirit of his father back to the stadium where he left so much of himself. People like 1999 winner Mike Schuster, who drove residents of Foxborough to the polls to help swing the approval for the construction of the new stadium, and 1989 winner Diane Casserino, a 6th grade teacher in Connecticut who keeps a Patriots statistics board in her classroom for her students to update, are who CMGI Field is being built for.
"My dad was a season ticket holder since 1960," Mastangelo said. "He was a typical football fan, where football was part of his everyday culture. He had his family; he had his work; and his recreation was the Patriots. He lived and died with them. Before 1986, there were some miserable times, and his whole week would be miserable when they lost on Sunday.
"It's honorable in the sense that my father has become the every fan. He has become a symbol of fan loyalty and devotion, and those are traits of each of the people here today."