He still looks very much like an Olympian.
Sunday morning, sporting Team USA regalia – a navy blue Nike ball cap with large, white USA letters in the front, a royal blue t-shirt with an American flag on one sleeve, and white shorts by official outfitter Polo Ralph Lauren – Nate Ebner sits on the folding chair in front of his Patriots locker.
The Rio 2016 Summer Olympics conclude Sunday with final events and closing ceremonies in Brazil at night, but Ebner will not be able to take part in them.
He's no longer a rugby player. The Team USA alumnus returned to Foxborough last week to rejoin his Patriots teammates. Ebner actually suited up for the Bears game, but didn't play, as he is still working his way back into football shape.
When approached, he stands, smiles, and begins to share some of his experiences from Rio de Janeiro. Although they amounted to little more than training for the handful of matches in which Team USA appeared, the 27-year-old was a part of the Parade of Nations during the Opening Ceremonies, which he describes as a "pretty awesome" and "memorable" experience similar to running out of the tunnel before the Super Bowl.
"Just being part of the Olympic Village and seeing all the athletes and superstars out there was pretty cool. We went out there to do a job and when it was over, I came back the next day. It went by quick, you know."
He got a chance to see the U.S. men's basketball team, featuring numerous NBA stars, in one of their practices, but because USA Rugby faced a schedule that had them playing two or possibly three games in one day, his squad trained multiple times a day to prepare. That gave Ebner and his teammates virtually no free time to explore the city or soak in the overall Olympic environment in the first week.
Many of his rugby teammates have since stayed behind once their matches concluded (the USA did not qualify for the medal round and played just five games), but he needed to return to his fulltime job here in Foxbrough.
"I wish I could have [stayed], though," Ebner admits. "Some of the guys have been telling me about their experiences and they're having a great time."
The safety and special teams ace took part in some of the joint practices with the Bears last week, mostly doing conditioning work with strength coach Moses Cabrera to transition back into football training. He's in peak physical condition, of course, but the type of workouts he had to do for rugby differ significantly from the gridiron. He wouldn't hazard a guess as to when he might be ready for game action again.
"I'll have to answer that once I get back into things more," he grins. "Right now it's focusing on today, then tomorrow. One day at a time."
Looking a bit slimmer than he has in the past, thanks to all the running he's done for rugby, Ebner acknowledges that he "did change a little bit," in terms of his physique, "but it wasn't as dramatic as I thought it would be or has been in the past when I played rugby. Nothing crazy."
Rugby has long been part of Ebner's life. As a youth, he was introduced to the sport by his father and soon became an elite player. He represented the United States on the nation's under-19 and under-20 World Cup squads between 2006 and 2008. A year later, as a student at Ohio State, he walked onto the perennial powerhouse football team, having never played the game before. He made team, played predominantly on special teams, and eventually won a scholarship before the Patriots drafted him in 2012.
This offseason, when his rookie contract expired, Ebner re-signed with New England on a two-year pact and was immediately granted permission to pursue his longtime dream of playing in the Olympics. He trained in California with other hopefuls, then embarked on a worldwide tour – Hong Kong, Singapore, London, Paris – during the preliminary stages of competition in order to make the final U.S. Olympic roster.
In Singapore, Ebner registered his first "tries" (what touchdown-like scores are called in rugby) in international competition in Singapore before twice scoring in Brazil during the Olympic Games.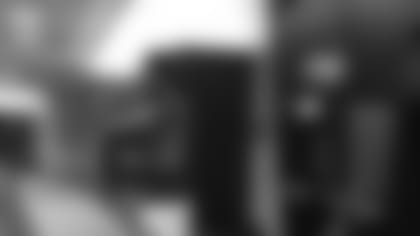 "That was cool, too," he adds, "because it was on the world circuit and I hadn't done that before, but just knowing it was in the Olympics added a little something special."
Another special Olympic memory Ebner will keep involves his jersey. Though he wears No. 43 for the Patriots, Ebner wore jersey number 12 in Rio, signifying the inside center position he played (numbers in rugby are assigned based on position). That digit held sentimental value to Ebner, whose late father also wore that number when he played the sport.
Asked if the Olympics lived up to his expectations, despite losing out on a medal, Ebner asserts that he didn't know what to expect.
"I haven't been to an Olympics before. I didn't know what it would be like. Cool experience I've never had before. Lots of different athletes from all over the world. It was crazy to just see tons of different athletes speaking different languages. We were all going to the same dining areas. We had our own hotel building, if you will [in the Olympic Village]. It was unlike anything I'll ever experience again, probably."
Which begs the question: Does Ebner have any desire to try again for the Tokyo Olympics in 2020?
"I have no idea," he replies. "I'm worried about getting back on track here with the football team."
A football team that thoroughly backed Ebner every step of the way. From Patriots teammates keeping in touch with him for the past several months, to head coach Bill Belichick and his assistant coaches wearing bespoke Ebner Olympic tee shirts at one training camp practice, Ebner, it's safe to say, has lived what he once only dreamt.
"The support that I was shown through the whole experience was amazing," he remarks wistfully. "Can't say enough about that. It meant the world to me."
And surely, it always will. No matter what else happens to him in life, Nate Ebner will always be an Olympian. But now, he knows he must get back to work with the Patriots. So, he excuses himself.
As he turns from his locker to walk back into the training room, Ebner can't help but stop when someone wants to ask again about Rio.  PFW