HOUSTON - If there is ever any sense of closure remotely possible between the New England Patriots, their rabid fan base, and Roger Goodell in regards to the bitter and contentious Deflategate saga, Wednesday afternoon provided no sign of it.
Going tie-less with a business casual look and effecting a relaxed, "nothing to see here, move along'' tone when peppered with questions about the messy state of his relationship with the AFC champion Patriots and their legions of followers, the NFL commissioner gave no ground and broke no news in his annual state of the league news conference at the Super Bowl. Other than when he announced New England will leave the country to take on the Oakland Raiders in Mexico City next season as part of the NFL's five-game international series.
But that was not the trip that was on the forefront of the minds of several Boston-area media members, who queried Goodell on why he has not visited Gillette Stadium since the Tom Brady-ball inflation melodrama began in the 2014 AFC title game against Indianapolis, and when he might ever return?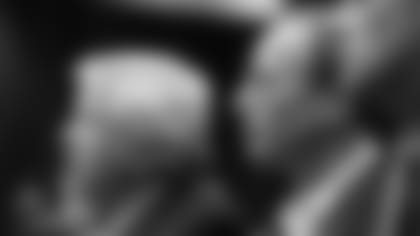 They say the first step toward getting past a problem is admitting you have one, and on that front, Goodell barely acknowledged the fact that he has become persona non grata in Foxborough, and still faces a serious fissure with one of the league's 32 teams.
"If I'm invited back to Foxborough, I'll come,'' Goodell said, later adding, "I have no doubt if I asked Mr. Kraft, he would welcome me back."
Patriots owner Robert Kraft was seated in the front row for Goodell's news conference, but I couldn't see if he flinched when the commissioner explained his lack of attendance in New England and the back-to-back journeys to Atlanta this postseason with a breezy "that happens.''
What didn't happen here, if anyone really expected it, was some grudging admission by Goodell that the league's long Deflategate chapter went on too long, rose to too great a level of importance in the league's eyes, and produced a punishment that seemed to wildly, well, over-inflate the crime. In short, that the price paid by everyone involved was too high.
"We had a violation,'' Goodell said. "We went through a process. We applied the discipline in accordance with our process. It was litigated extensively and validated by the Second Circuit court of appeals. So we're moving on from that. That's part of our history, but it's something that we're comfortable with, the process, the decision, and we're focusing on the game now."
Nice try, but Goodell wasn't near past the pressure points of his Patriots-centric news conference at that early juncture. The Brady-Goodell sub-plot is the elephant in the room at this year's Super Bowl, but the commissioner repeatedly chose to sidestep the pachyderm, even it meant having to take the long way around.
"I would tell you that it's not awkward at all for me,'' said Goodell, of his damaged relationship with all things New England. "We have a job to do. We do our job as I said. There was a violation. We applied a process and discipline and we came to a conclusion that was supported by the facts and the court. We understand the fans that are passionate about a team object and don't like the outcome. I totally understand that and that's no issue for me.''
While some in the room at the George R. Brown Convention Center were over-dramatizing Goodell versus the Patriots as "a war,'' the commissioner opted for understatement, terming it "a disagreement,'' not unlike those he has at times with every team in the league. The description strained credulity, but it did hue to Goodell's narrative that he has let bygones be bygones. While waiting for the Patriots to do the same, or pretending they already have.
"Listen, we had a disagreement about what occurred,'' he said. "We have been transparent about what we thought the violation was. … I continue to respect and admire Robert, Jonathan and the organization. They're extraordinary people in my view.
"But I'll be honest with you, I have disagreements with probably all 32 of our teams. I'm not afraid of disagreement. It doesn't lead to distrust or hatred. It's a disagreement. You take the disagreements … and you move forward. It's not all personal in nature. It's about doing what's right in the long term."
Way off in the long term is still where any potential lessening of tensions between the Patriots and Goodell exists. They might some day put the pieces of their relationship back together, getting beyond what some consider this current point of no return. But it sure didn't happen on Wednesday in the middle of Super Bowl week. The sun remains out here in Houston, but between the Patriots and Goodell, the chill in the air lingers.