(Jan. 23, 2002) -- While most Pittsburgh Steelers fans considered last week's 27-10 romp over the Ravens "Round 3," perhaps this week's AFC Championship Game against the New England Patriots is more deserving of that title.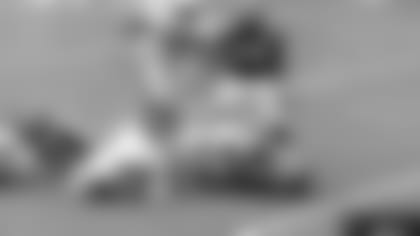 ]()
             For the third time in six seasons, the Patriots will face the Steelers in the AFC postseason, and the series is split at one win apiece. In 1996, the Patriots toppled the Steelers 28-3 in New England, and in 1997 the Steelers came away with a 7-6 playoff win at Three Rivers Stadium.  

Both games featured well-recognized players expected to play in Sunday's duel, including Steelers QB Kordell Stewart, RB Jerome Bettis, and Patriots kicker Adam Vinatieri, who nailed two clutch field goals last week against Oakland to give the Pats this chance.
Vinatieri had little to do with the 28-3 thrashing the Patriots gave the Steelers in their Divisional Playoff Game on Jan. 5, 1997. On a foggy, 46-degree day at legendary Foxboro Stadium, Curtis Martin cracked the Steelers defense and led the Patriots on their postseason march.
Martin, a Pittsburgh native, was good for three touchdowns and 166 rushing yards, setting a Pats postseason record. Martin's three TD runs were from two, 23 and 78 yards out, proving his mettle as a goal-line runner and as an every-down back, something that has stuck with him throughout his career.
"He's the type of runner that takes advantage of all of the opportunities that are given to him," Pittsburgh linebacker Jason Gildon said following the game.
The Patriots' other score came on a Drew Bledsoe-to-Keith Byars 34-yard pass. Byars led all Patriots with four receptions, but it was Terry Glenn who led the team in receiving with 69 yards. Bledsoe, playing in only his second playoff game, completed 14 of 24 passes for 164 yards.
The victory was the Patriots' first in the postseason since they upset Miami 11 years before en route to Super Bowl XX.
"There's a lot of blood that went into this, there's a lot of sweat. Hopefully, we can go a little further," said then-head coach Bill Parcells, whose Pats went on to lose to the Packers in Super Bowl XXXI, held in New Orleans.
The Steelers finished that game as a battered team. Bettis, who admitted his health wasn't 100 percent, rushed 13 times for only 43 yards, with his longest run being 11 yards. Stewart got some playing time as well, rushing four times for 19 yards, but also went 0 for 10 passing. Still, Stewart had a higher quarterback rating than starter Mike Tomczak, who went 16 of 29 for 110 yards and two interceptions.
"We didn't have enough," Steelers coach Bill Cowher said. "They had three big plays for 150 yards in the first half. You couldn't overcome it. ... They were the better team."
While the Patriots were the better team on that Sunday, the Steelers changed that the following postseason.
For the second consecutive year, the Steelers and Patriots met in a Divisional Playoff Game. This time, the final score wasn't as lopsided, and defense ruled. It was Jan. 3, 1998 -- almost exactly one year after the Pats' first win.
Stewart emerged as the Steelers' offensive hero that day, rushing for Pittsburgh's only touchdown, from 40 yards out in the early stages of the game. Stewart outrushed everyone with 68 yards, including teammate Bettis, who had 67. Stewart also had a satisfactory passing day, completing 14 of 31 tosses for 134 yards as the Steelers starter, easily improving on the previous season's nonexistent numbers.
"They're doing things that don't let Jerome get yards like he always gets," Stewart said following the win. "We have that extra running ability with me. I can keep the offense moving and that's a plus."
The same thing rings true now with Stewart, who will be looking to burn the Patriots again this Sunday.
That would normally go double for Patriots longtime QB Bledsoe, but there's hardly anything normal about New England's 2001 season. With Tom Brady leading the team, Bledsoe will be watching from the sidelines -- something he might have been interested in doing on that cold day in Pittsburgh in 1998. With star RB Martin injured, the Patriots had only 36 rushing yards. Bledsoe finished with 264 yards on 23 of 44 attempts, with two interceptions and two fumbles. Bledsoe did find receiver Shawn Jefferson quite a bit, hooking up with him nine times for 104 yards, but they never found the end zone.
"We knew coming in we had to throw it to win," Bledsoe said after the game, "and unfortunately we didn't throw well enough. Our defense stepped up and played a great ballgame, but when you only score six points, it's hard to win. We put our defense in a terrible position. We didn't hold up our end of the bargain. We knew their defense was great against the run, and without Curtis, we weren't going to run it a bunch."
"Yeah it was ugly, but yeah it was a win," Bettis said. "Would you rather win ugly or lose pretty?"
The Steelers went on to play the Broncos for the AFC Championship the following week; they lost to the eventual Super Bowl champs 24-21.
Though both games were competitive, this Sunday's contest will be with a Super Bowl berth at stake. Furthermore, both of these teams are virtually the same as when they met the past two times in the playoffs. The Steelers still rely on a stiff defense, while the Patriots use their quarterback to guide the offense. The Steelers still have Bettis to provide a solid running game, while the Patriots secondary is one of the league's best.
Unlike the two previous playoff meetings, the Steelers have developed a high-profile passing game whereas the Patriots have a stout front-seven to go after Pittsburgh's backs.
Should make for a very interesting playoff rubber-game between the two teams