JAMAICA PLAIN, Mass. - The Second Annual "Football For You" clinic, put on by the New England Patriots Alumni Club (NEPAC), took place on Saturday, June 23 at Boston English High School. More than 100 Boston children had the chance to learn football fundamentals from the former Patriots. Master of Ceremonies Andre Tippett kept things running smoothly throughout the day, and his staff of 11 alumni players, including NEPAC president Peter Brock, got to work one-on-one with the kids.
In addition to learning from the pros, the kids also received coaching from the staff of St. John's High School in Shrewsbury, Mass. Former Pats linebacker John Andreoli, now the head coach at St. John's, led the coaching. He brought his three-time high school Super Bowl Champion staff with him, and they worked together with the rest of the alumni.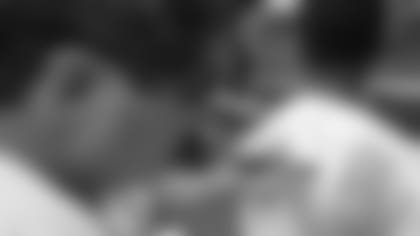 "The second year doing this football clinic, overall, was awesome," said Tippett. "We had tremendous support from the alumni coaches especially John and his staff. Of course the City of Boston and Mayor Thomas Menino were a great help to us. We saw a ton of talent from the young athletes in the City of Boston that, if they continue to follow this course, should have a promising career in Pop Warner, through high school and beyond."
The kids arrived at 12:30 p.m., and after having a snack, stretched out with their new coaches before splitting into groups. The groups rotated through each skills station, with the kids getting a chance to learn the fundamentals of every position on the field. One of the six stations was solely dedicated to recording the kids' Punt, Pass and Kick numbers, with winners earning the opportunity to advance to sectional competitions.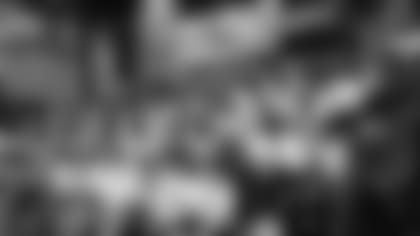 Then, the kids re-convened at midfield to hear some words of encouragement from Tippett before breaking out to learn about special teams. The coaching wrapped up with seven-on-seven and 11-on-11 drills, in which the kids got to practice their newly acquired skills against their peers. The weather couldn't have been better, and approximately 30 parents and family members hung around to watch the clinics and have a BBQ after all the football festivities ended at 5:00 p.m.
"It was fun working with the kids, especially these kids, because we saw a lot of not only talent, but also discipline and a lot of respect being shown to the staff and the alumni guys," said Tippett. "It says a lot about their parents and who they are as young people.
"I think all of us – as former players – we all have the ability to coach and with this opportunity we are able to give back to our community, and help the young people. It's an awesome opportunity for us to give back to the community in this way."