It was an unlikely friendship from the start, but then again, many of the best are. 
A 6-year-old boy and his favorite University of Nebraska running back spent a day together in the fall of 2011 -- eating lunch, touring the football facilities and racing on the field. As a kid growing up in Nebraska, Jack Hoffman looked up to Rex Burkhead as his role model on the football field, but just months after his family gave him his first Burkhead jersey, Rex would come to mean so much more.
When he was just five-years-old, doctors found a brain tumor and were unable to remove the entire tumor safely. So before Jack's second brain surgery in Boston, his family took a chance.
They reached out to the University of Nebraska to see if Jack could meet Rex, and that afternoon together cemented a friendship that neither could have predicted. 
Six years later, Rex runs as an NFL player, still wearing the red bracelet Jack gave him the first time they met that reads, "Team Jack Pray." Jack and the Hoffman family still play a huge role in Rex's life and vice versa, as Rex sits on the board of directors of the Team Jack Foundation, and last Sunday when the Patriots took on the Los Angeles Chargers, the Hoffman family was there to cheer him on.
Jack had another MRI scheduled in Boston, and his dad Andy said they planned it so they could be at Gillette Stadium, their first time at a football game in Foxboro. As the skies opened up before the game, the Hoffmans stood on the sideline, putting on ponchos and taking in the moment.
"It's really just an amazing experience to be able to tie all of this together. Rex has been a very special part of our journey as a family. He's been with us starting with some of the darkest days of our lives," Andy said.
Back in 2011, just days before Jack's second surgery, Rex and the Huskers were trailing to Ohio State late in the game. With Jack as his motivation, Rex pushed himself, scoring two fourth quarter touchdowns to help Nebraska comeback with a win.
And while the Patriots didn't need a comeback on Sunday, Rex had one of the best games of his NFL career, catching all seven passes thrown his way for 68 receiving yards. He career highs in both of those categories, and all with Jack and his family cheering from the stands.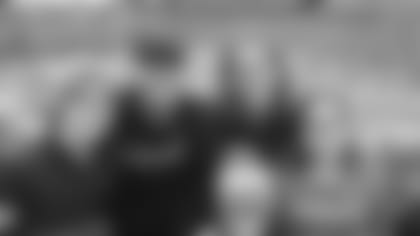 For Rex, the friendship he has forged with Jack and his family has been an inspiration.
"It means everything. For me, it's an encouraging and inspiring thing just to see how Jack is battling," Rex said the following day. "He knows what he is going through, but he continues to fight and stay positive and enjoy his life. That's special and a huge inspiration for me if I have anything going on in my life to look at it a lot differently."
The connection goes far beyond the football field. As a board member for the Team Jack Foundation, Rex has used his platform to raise awareness for pediatric brain cancer, hosting fundraisers and even using the NFL's My Cause My Cleats initiative to shine a light on it.
"I can't even really put it into words. He's been so supportive throughout our whole journey," said Jack's mother, Bri. "I can't really put a price tag on what he's done for our family and for our foundation. It's been amazing."
"What he's done with his platform is simply amazing," Andy said. "To me, Rex sets the example of what others could do … It doesn't matter what the cause is. I would encourage all athletes to look at Rex Burkhead and try to emulate him. Even as a grown adult, I need to be more like Rex Burkhead. He's someone everybody should look at and say, 'That's what you should be like. You should grow up and try to be like him.'"