FOXBOROUGH -- New England Patriots Chairman and CEO Robert Kraft, wife Myra Kraft and Josh Kraft, President of the New England Patriots Charitable Foundation, toured the Foxboro Branch YMCA and its Phase II construction site with other lead donors Tuesday.
The site will soon be home to the Kraft Family Center when work is completed in September. The Kraft Family Center is part of an ambitious expansion project at the Foxboro Branch that will effectively triple its size, adding more than 30,000 square feet of multi-purpose space.
"Coming here and seeing the leadership of the staff and seeing how it's serving so many different parts of the community, I was really overwhelmed because there's something here for everyone and it's open for everyone to be able to come here," Robert Kraft said.
Highlights of the Kraft Family Center will include a new aquatics center including a lap pool and a family fun pool, a new full-sized gymnasium with a suspended multilane tack, an expanded community wellness center, a Kids Gym and Child Watch area, and a new teen program center and state-of-the-art youth and teen wellness center.
"We've been welcomed here so much that we want to do everything that we can to make this community and the surrounding communities thrive," Robert Kraft said. "We want to do whatever we can do in a small way to try to make the quality of life better here."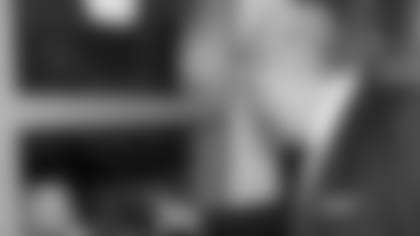 Unlike the first phase of the Foxboro Branch, the second phase expansion has relied on broad philanthropic community investment. The initiative was headed by the Hockomock Area YMCA's largest individual philanthropic gift made by the Robert and Myra Kraft Charitable Foundation in the amount of $1 million in 2006.
The Hockomock Area YMCA serves nearly 30,000 members throughout 15 Massachusetts communities.
Also on hand at the event was Patriots defensive end Ty Warren. Although he grew up in Texas, the tour of the Foxboro Branch reminded Warren of the places where he spent a lot of free time in his younger years.
"I was a kid that grew up at the Boys & Girls club and the YMCA and the thing I thought about when we walked through the facility, and seeing a lot of the great things that are about to happen here, it's a huge deal to see 15 communities coming together," Warren said. "There's a lot of camaraderie in the communities when there are things like this happening. It's great to see that."