There is a difference between showing some fight and fighting for show.
For the second time in just three days fighting was the topic of the day in Foxborough as the spirited, physical afternoon session included a pair of brawls. After the second, Bill Belichick sent the entire roster on three consecutive penalty laps around the goal posts.
The team was then called together, at which time Tom Brady led a players' only discussion about what was transpiring on the field.
Afterwards players either downplayed the issue, refused to talk about it or chalked it up to heat, football and competition.
Regardless, this has certainly been the most fight-filled training camp of Belichick's 13 seasons in New England. The question of whether that's a result of competition, limited practice action or simply the cocktail of personalities and talent involved may not be answered for some time, if at all. But it's certainly made for interesting viewing for fans and media alike.
The first of Friday's two brawls came after an offensive lineman (Ryan Wendell?) seemed to take exception to Bobby Carpenter taking ball carrier Danny Woodhead to the ground at the end of an 11-on-11 rep. The lineman kept pushing Carpenter to the ground, then other players on both sides began to jump in and the fracas was on. The second fight just seemed to start in a couple places all at once, and that pushed Belichick to try and rein in the action.
Beyond the fisticuffs, here are one man's observations from the hot, humid practice fields behind Gillette Stadium:
After a few days of the team seemingly getting more banged up as the injury report lengthened, a few players returned to action for Friday. Nick McDonald made his first appearance after passing his physical and being removed from PUP. Nate Ebner also suited up for his first workout of camp. Jake Bequette, Will Allen and Brandon Lloyd returned after missing Thursday's workout. Both Deion Branch and Jabar Gaffney were in full pads a day after walking off the field and leaving practice early.
There were 14 players not taking part in the workout: Alfonzo Dennard, Tony Fiammetta, Spencer Larsen, Brian Waters (reserve/did not report), Markus Zusevics (pectoral/PUP), Matt Kopa, Logan Mankins (knee/PUP), Sebastian Vollmer (back/PUP), Jeremy Ebert (leg/PUP), Visanthe Shiancoe, Daniel Fells (shoulder/PUP), Jake Ballard (knee/PUP), Myron Pryor (shoulder/PUP), Jonathan Fanene.
Matthew Slater and James Ihedigbo remain in red, non-contact jerseys.
Near the end of practice, just after the laps following the fights, Dan Connolly was being attended to by the trainers. The offensive linemen seemed to be dealing with heat related issues on what was the hottest, most humid day of practice to date. * For what it's worth, I've noticed that Belichick and first-year defensive coordinator Matt Patricia often walk on to and off of the practice field together. Belichick also obviously spends a good portion of practice time focusing on the defense. * Punt return was the focus of the day on special teams. Returners Julian Edelman, Wes Welker and Aaron Hernandez took punts from the Jugs machine in pre-practice work. Stephen Gostkowski was the guy feeding the machine.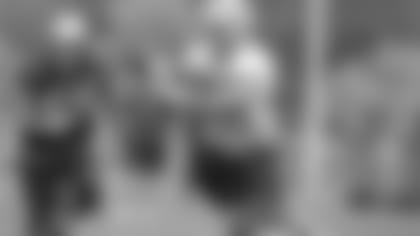 Rob Gronkowski jogged onto the field later than the rest of the players, running beside one of the team's massage therapists.
A day after the team claimed Dustin Waldron off waivers from Miami, the offensive lineman was on the field in full pad wearing No. 71 in white. Waldron is allowed to practice immediately because he was previously in camp with another team and therefore does not have to wait before donning the pads.
Have to be honest, I'm really pulling for undrafted rookie tight end Tyler Urban. The West Virginia product has had some good plays and some bad in camp. Really, I'd just like to see him star in a preseason game so we can use something like Urban Legend or Urban Development on the cover of PFW!
As is the case every summer, Brady was celebrating his birthday on the training camp practice field. No. 12 turned 35 on Friday. Fans in attendance sang him Happy Birthday a number of times and displayed signs with well wishes. Unlike previous years I didn't hear the team sing to Brady, or see any cake for him!
The skill players once again worked on ball security early in practice. They ran across the field with defenders draped on their shoulders trying to punch the ball out.
Though Lloyd was back on the field, he did not seem to take as many reps as had been the case in previous practices. During some group and team action he seemed to be absent on some deep throws from Brady, with those reps going to Slater instead.
During some group work the running backs worked on two-back routes with the quarterbacks. One back was a crossing receiver while the other was set up to break the pass catcher free with a post-reception block.
During early punt return work both Edelman and Welker muffed their return chances. Hernandez' was so short that the tight end couldn't come up far enough and to his left to field it. Hernandez got into the act later in team return action as he dropped a punt, trying to catch the ball at eye level. It was far too inconsistent a day for the punt returners, something I'm sure Scott O'Brien will be expressing to them in film sessions.
It's also notable that Hernandez continues to get reps as a punt returner. It doesn't seem like a gimmick at this point and will be interesting to see if he gets a chance to showcase his ability in preseason action. * Hernandez had an active day overall. Beyond his punt work he had his traditional offensive role as well as some reps lining up in the backfield. He lined up as a fullback on one play, motioning out to catch a pass. Later he took a direct handoff, as he did a number of times late last season. He said earlier this week that he's just a playmaker looking to make plays, and he seems to be getting more and more chances to do that all over the field in practice action. Hernandez also worked on handoffs with Brady after practice. * We like to think of the NFL as this multi-billion dollar industry with the best of everything. Which makes it funny to see a player using white athletic tape to keep his pants from falling down, as was the case with Sterling Moore midway through Friday's practice. * A couple of offensive linemen got embarrassed in one-on-one matchups with the defensive line. Nate Solder was pancaked by Justin Francis, with the rookie literally bending the tackle over backwards and forcing him to the ground. Solder took a lap after the exchange, leading me to believe that he may have jump offsides on the play and maybe that timing issue led to the poor performance. Maybe.
Later Vince Wilfork manhandled Robert Gallery, tossing the veteran newcomer to the ground.
After one decent bull rush by veteran newcomer Tim Bulman, he was immediately called to by Belichick. The head coach giving him some technique advice, and showing yet again that he never stops coaching when on the field. * During team sub action the front line consisted of Rob Ninkovich at left end, Wilfork and Kyle Love in the middle and Chandler Jones at right end. Jerod Mayo and Dont'a Hightower were the linebackers. Jermaine Cunningham was the first end off the bench, coming in for Ninkovich. Brandon Spikes and Carpenter came in at the linebacker spots. * The first offensive line unit to take the field in team drills included Solder at left tackle, Donald Thomas at left guard, Ryan Wendell at center, Connolly at right guard and Marcus Cannon at right tackle. Thomas has been getting more reps and higher level reps of late.
The second line unit had Darrion Weems at left tackle, Gallery at right guard, Dan Koppen at center, Jeremiah Warren at right guard and Kyle Hix at left tackle. Koppen has been seeing more time at center with this group in recent days. * Brady and Slater connected on one deep ball in team action, beating Tavon Wilson for a long touchdown. * Preceding the fights, there was an incident in team action in which Kyle Arrington made a nice pass defense against Edelman and then stood straddling over the receiver. Edelman didn't seem to care for it. And given the struggles that Arrington has had covering the slot receivers early in camp, it did seem a bit strange.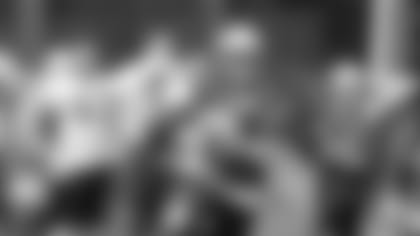 Brian Hoyer connected with Jabar Gaffney on a deep ball after a nice play-fake and fake end around. Though complete, Hoyer's throw was short and off the mark, causing Gaffney to change direction drastically to make the play.
Gallery had a tough day. Beyond the butt-whooping at the hands of Wilfork he also had to take a lap for a false start.
During the special teams open field tackling drill Patrick Chung brought down Stevan Ridley pretty easily. Hernandez shook both Josh Barrett and Moore without getting touched. Urban ran over Allen.
During the first reps of punt return Malcolm Williams and Sergio Brown were the vice guys on one side of the field with Wilson and Marquice Cole on the other side. The next group had Devin McCourty and Chung on one side with Arrington and Ras-I Dowling on the other.
Fashion update: Patricia returned to the black socks pulled up to his knees.
For what it's worth, it does seem that Chung is an early, active participant in most of the fights and scuffles. Maybe he's channeling his inner Rodney Harrison as he enters his fourth season.
During the penalty laps after the fight the backup quarterbacks actually lapped a number of defensive linemen who struggled mightily on the third time around the goal posts.
After the fight, laps and players' only meeting Brady led a two-minute scoring drive that culminated with a touchdown to Edelman in the back of the end zone, beating Dowling for the score.
The backups didn't fare as well in the two-minute drill. Hoyer threw three straight incompletions. Mallett then came on and completed a couple throws, but also bounced a would-be completion.
The players finished up with some conditioning work.
The Patriots will not practice on Saturday, as the players have the day off. The team will return to the practice fields behind Gillette Stadium on Sunday afternoon at 1:30 pm. As always be sure to check Patriots.com for any last minute schedule changes or updates.