Patriots Nation has known for years that Rob Gronkowski is a kid at heart, but during a visit to Boston Children's Hospital Monday night, his inner child reflected outward.
With pride and his signature smile, Gronk rocked a Patriots onesie to the hospital's pajama party as he helped draw and decorate pillow cases with patients. Lowering himself to sit in a chair meant for a child, not a 6-feet 6-inchest tall NFL player, Gronk planted his massive hand on a piece of paper and was quiet as he watched the 5-year-old artist diligently at work tracing the tight end's hand with a red crayon.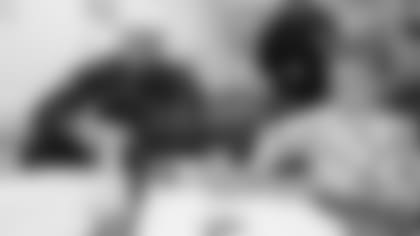 "That's how I catch footballs, with those hands right there," Gronk said once the drawing was complete.
While some patients watched in stunned silence as the Patriot signed autographs, others jumped right in to talk football with the tight end and his brother, Gordie Jr., who came along for the visit. Either way, Gronk was happy to be a positive force for the kids and their families.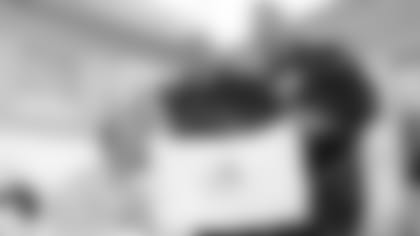 "It feels great just seeing the smiles on the kids' faces, hearing from their nurses and parents that this made their whole day," Gronk said. "[They were] just waiting patiently throughout their whole day to meet myself, which is really, really special and just keeps me wanting to do what I'm doing. It keeps me motivated to keep coming back."
From early on in his Patriots career, Gronk has been a frequent visitor at Boston Children's Hospital, and this year, the hospital is honoring him for his time volunteering and spending time with patients. Gronk was recently named the Boston Children's Hospital Champion Award Recipient. The award is given to a professional athlete in the community that is dedicated to bettering the lives of the kids at Boston Children's Hospital, and last year Devin McCourty was the recipient.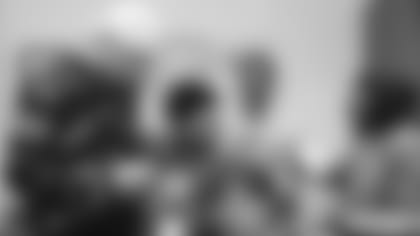 This dedication to giving back to kids in the community earned him the Ron Burton Community Service Award this summer. He said growing up with four brothers meant there was always someone there, and now as a professional athlete, Gronk hopes to spread that same kind of support.
"Whenever [my brothers and I] had injuries we were there for each other, even if we gave each other the injuries," Gronk said. "We had someone there to always put a smile on our faces growing up as kids. It'd be great to see to come back and see these kids down and put smiles on their faces and give them access to what they need to be successful in the world."
Gronk will be honored at Boston Children's Hospital's annual Champions for Children dinner on Nov. 29. For more pictures from his visit, check out the photo gallery below. 
Full Gallery:
Patriots TE Rob Gronkowski dressed up for a pajama party at Boston Children's Hospital on Monday evening, Oct. 7. Rob, joined by his brother, Gordie, signed footballs for the children and brought them books. The duo also helped decorate pillow cases.