The Patriots have a way of bringing fans together, no matter where they live. Many fans have their own stories of how the team impacted their lives, and Ray LaPrade and Jessica Burgess are no different. The Patriots are the reason the two met, fell in love and will soon be getting married.
It was nearly three years ago when the Patriots visited the Panthers for a Monday Night Football faceoff. Ray, who is from Virginia, noticed Jessica, who is from North Carolina, standing in line at a concessions stand during the game. She had made a dress out of a Tom Brady shirt, and the two struck up a conversation about their mutual love for the team, hit it off and exchanged contact information. 
The rest, as they say, is history.
When the couple visited Gillette Stadium for the 2016 home opener on Sept. 18, Ray surprised Jessica and popped the question outside of the stadium. At the home of the team that helped start their relationship, Jessica said yes.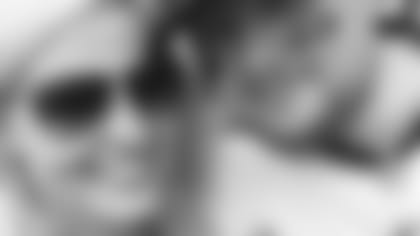 Asking Jessica to marry him at Gillette Stadium was a no-brainer, Ray said.
"If not for our love for the Patriots, we never would have met," Ray said. "I was thinking about the Patriots coming to Charlotte again [in the preseason], but at the end of the day, every time we're coming down Rt. 1 and you see the lights of the stadium above the tree line, it gives us goosebumps. It's a special place for us."
Ray and Jessica make the trek up to Foxborough a couple of times each season, planning their vacation time around the Patriots schedule. Jessica had no idea what was about to happen as they waited to meet Pat Patriot in the NRG Plaza before kickoff. As Ray got down on one knee, fans waiting to enter the stadium began to clap and congratulate the couple. 
"I was like, 'Oh my gosh. This is actually happening," Jessica said. "It meant so much to me because I felt like the Patriots, going to games, is a huge part of our lives ... There's nothing like going to Gillette Stadium. It's basically like being with family."
Despite the excitement of their engagement, the diehard fans were able to focus on the game as the Patriots beat the Dolphins, 31-24.
 "The game was even more exciting to watch," Jessica said.
With the engagement taking place at Gillette Stadium, it is safe to say the Patriots have cemented their already firm place in the couple's relationship. 
RELATED LINKS