…The game got off to a great start for the Patriots defense, which stuffed RB Chris Ivory on the first play, then caused a turnover on the second one. New England rushed just four defenders, but DE Chandler Jones used a strong bull-rush move to drive LT D'Brickashaw Ferguson back into the pocket. QB Ryan Fitzpatrick stepped up and tried to run through a hole up the middle, but Jones tossed Ferguson aside and lunged at Fitzpatrick. In so doing, he swiped at the QB's arm and dislodged the football. It squirted around on the ground and eventually wound up right at the feet of LB Dont'a Hightower, who fell on it for the recovery.
…New York's D had a strong start as well, having to defend the Patriots inside the Jets' red zone. New England came out throwing on its first three downs, and on the third, Tom Brady was in the shotgun with five wides and no backs. Brady's o-line, for the most part, did a nice job of forming a comfortable pocket for him, except right tackle Cam Fleming was beaten to the inside by DE Muhammad Wilkerson. Fleming never got his hands properly on Wilkerson, and as a result, Wilkerson had the advantage in leverage. He came charging up the middle on Brady and Fleming was not in proper position to stop him. Brady had no chance to escape.
…The Jets responded with a long drive that relied on Fitzpatrick's arm because New England did a solid job up front stuffing the running lanes. CB Malcolm Butler was locked in man-to-man coverage against WR Eric Decker, Fitzpatrick's target on a couple of key third down throws, and Decker was able to beat Butler both times on 3rd-and-10 to keep that drive alive. Butler was playing 10 yards deep on the first throw, which gave Decker an opening, but was up tight on him the second time. Decker, though, ran a nice curl route and Fitzpatrick stood in the pocket to deliver a precise throw that beat Butler.
…DE Rob Ninkovich was off to a hot start, timing his jumps perfectly to knock down a pair of Fitzpatrick passes on this same drive. Ninko would do more of this later in the game. Afterward, he credited the quick passing/low trajectory concept the Jets were using, but he didn't give himself enough credit for the recognition, timing, and athleticism necessary to make those plays and cause incomplete passes. Great job by Ninkovich.
…Also have to credit rookie CB Justin Coleman for breaking up another Fitzpatrick pass at the goal line later in the drive. WR Chris Owusu ran a slant from the right side against Coleman on 2nd-and-goal from the 2. Coleman was playing as tight as possible on the coverage and stuck his hand in front of Owusu at the right moment to tip the ball up in the air. The ball should have been picked off but it careened off Ninko's hands.
…DT Akiem Hicks should have had the second Fitzpatrick sack of the day when he came charging up the middle unmolested after beating his man. Hicks had the QB dead to rights, but Fitzpatrick calmly sidestepped Hicks and dumped the ball off to his fullback for a big gain.
…Fitzpatrick, on that same drive, once again looked to Decker on 3rd down and once again, Butler was the victim. Decker was originally the flanker to the left of the formation, with Butler playing him close to the line of scrimmage. Then Decker motioned to the slot, where he wound up in a stack formation behind Owusu, who was covered by Coleman. This forced Butler to play seven yards off of Decker, and that gave the veteran receiver space to operate out of his release. Owusu slanted to the outside while Decker ran down the seam before cutting outside. Butler never really had a chance on the play.
SECOND QUARTER
…The Jets took their first lead of the game on a Fitzpatrick-to-Jeremy Kerley TD toss early in the second. Kerley and Decker were Fitzpatrick's wideouts to the left, with Decker in the slot. The Patriots were in man coverage. At the snap, Decker and Kerley ran a criss-cross route, with Decker going a few yards deeper to clear out a space for Kerley, who ran a shallow cross. Patrick Chung would have been in position to help out as the safety near that side, but he was tasked with blitzing Fitzpatrick. So, the Jets got the coverage and the look they wanted, the o-line handled the blitz, and Kerley made the catch. He had inside position on Coleman, who tried to make a play by reaching his right arm in, but it was poor technique and Kerley maintained control of the ball and his balance to waltz into the end zone.
…New England ran the ball intentionally just five times, discounting the four rushing attempts by Brady. James White had a pair of runs, LeGarrette Blount a trio. White's first one was nearly a touchdown, but he was tracked down by Jets safety Calvin Pryor. It was a 1st-and-goal from the 2, and White looked like he had the wide open corner, but Pryor came flying through the line and pursued him from behind to bring him down a yard short of the goal line.
…Brady finished it off three plays later with his diving-over-the-pile QB sneak. The Jets looked like they were expecting Brady to go low with the ball, like he usually does in these situations, but he fooled them by taking the high route, and it worked brilliantly.
…Butler was again beaten on a third-down reception by Decker, and again, it looked like the Jets' other receivers helped out by clearing space in front of him and getting in Butler's way, which gave Decker time to get open and make the catch. To his credit, Butler recovered and made the tackle after Decker did a good job of eluding him with a spin move. Were it not for Butler's determination, Decker would have picked up the first down. Instead, he was just a half-yard short and the Jets were forced to punt.
…Brady was brought down a second time by New York on 3rd-and-1 from the Jets 20. He was in a shotgun with White to his right, but before the snap, White motioned out of the backfield, leaving Brady alone. The Jets had six linemen/'backers on the line of scrimmage, so, it sure looked like a blitz, and while Gronk was in on the right side for double-team help for Fleming, no one accounted on the left for Calvin Pace. He had a clear path to Brady, and the QB pumped the ball but quickly tucked it back in and curled up to absorb the hit and concede the sack. Meanwhile, NT Damon Harrison had stunted around right guard Tre' Jackson, who was occupied with Wilkerson. The Jets DE slanted inside toward center David Andrews, who tried to follow Harrison, but Wilkerson and Jackson were in his way. Jackson should have picked up Harrison and Andrews could have taken on Wilkerson, but Harrison was left free and had Pace not been able to bring Brady down, Harrison would have been right there to finish him off.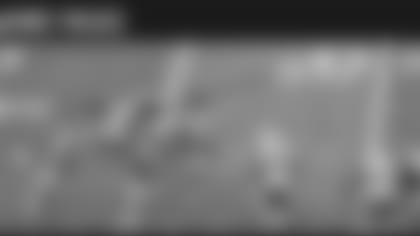 …New England's D got another Fitzpatrick sack on the next series. Hightower came up the middle on a blitz and bowled over center Nick Mangold. As Fitzpatrick dropped back, Hightower reached out an arm while falling to the turf and nearly brought the QB down in the process. But Fitzpatrick maintained his balance and spun out. LB Jamie Collins, followed Hightower up the middle and was initially stonewalled, but when Fitzpatrick rolled out of the pocket, Collins ran at a 45-degree angle toward him and as Fitzpatrick stumbled, Collins engulfed him for a 12-yard loss. But the play was really a direct result of Hightower's incredibly strong initial rush up the middle.
THIRD QUARTER
…WR Julian Edelman was relatively quiet against the Jets – 5 catches, 54 yard – but he would have been a little louder had he not dropped a sure touchdown on the opening drive of the second half. He was in the slot right covered man-to-man by CB Darrelle Revis. From the Jets 6, Edelman ran a simple slant pattern to the inside and got open by a step on Revis. Brady placed the ball precisely where only Edelman could get it, but the ball bounced off his hands, then his chest, then the ground. It was one of eight all-out drops by Patriots receivers on the day (some of the others that looked like drops were in fact nicely defended by the Jets). This would have been extra special had it been completed because I'm sure the Patriots offense would have loved to have scored on their old teammate, Revis. Just a human mistake by Edelman or else they would have.
…New York reclaimed the lead on what looked like a wide open pass to Ivory out of the backfield, but in fact, the credit goes to Decker. The receiver was lined up slot right with Butler, as always, on him tight at the line. Rookie WR Devin Smith was the right flanker, but pre-snap, he motioned over to the left side. This left the flat to Decker's right empty. Ivory was in the shotgun to Fitzpatrick's right. At the snap, Decker slanted inside and threw a nice block on Ninkovich, whose responsibility was to be the contain man and shadow Ivory. Decker's block slowed him up, however, and Butler recognized this and tried to follow Ivory, but Decker then released from Ninko and threw a block on Butler. This left Ivory wide open to make the easy catch, turn, and walk into the end zone.
…Brady got taken down again on the next possession when DE Sheldon Richardson came looping around from the right side. He chose to go outside shoulder to Jackson and the rookie guard never got his hands on Richardson properly. Brady felt the pressure and stepped up, but Richardson closed on him and swatted the ball out from behind. Luckily for Brady, Andrews came over and, either intentionally or inadvertently, kicked the ball back to Brady, who was on the ground and caught it mid-air to maintain possession.
FOURTH QUARTER
…Brady's 27-yard throw to Edelman on 3rd-and-17 was a simple case of Edelman finding a soft hole in the Jets' zone and not getting any pressure off the line of scrimmage. Edelman ran free through the defense down the seam and eventually curled inside, where Brady fired a relatively straightforward strike. Edelman made a sliding catch on one knee for the first down.
…Very next play, Gronk is helping out in pass protection once again on the right side. He's taking on Wilkerson and Brady is behind him in the pocket. As Brady feels heat from his left, he scrambles out to the right, and Wilkerson, seeing this, pursues. Gronk initially gives chase, but Brady yells to him to fire out into a pass pattern. No one is covering Gronk, so, it's an easy toss from Brady that allows Gronk to turn upfield and pick up 11 yards and another set of downs. Great improvisational skill on display there by QB and tight end.
…WR Danny Amendola's go-ahead touchdown  came on 3rd-and-6 from the Jets 8. He and Edelman were in the slot, with Edelman to the inside, and WR Brandon LaFell flanking left. CB Marcus Williams was playing soft, about four yards off Amendola, seemingly to prevent him from going deep into the end zone. Edelman took his route there, which opened up the goal line in the middle of the field, and that's where Amendola cut into. Brady fired the ball and even though safety Marcus Gilchrist came flying in from behind to take Amendola's legs out as the receiver jumped for the ball, Amendola hung on as he hit the turf on his back. Williams was never really a factor to defend the play.
…Normally, incomplete passes aren't compelling, but this one was because it led directly to New England's game clinching touchdown. Up 23-20 with 2:12 to go, Brady had five wides, with Amendola, LaFell, and Gronkowski to the right, Edelman and Aaron Dobson left. Gronk, however, was in tight next to Fleming as an extra pass blocker. He wasn't going to run a route. The Jets played man coverage on the other four receivers, and had two defenders in front of Gronk. If Gronk ran a pass pattern, one of them would be responsible for covering him, while the other would rush Brady. If Gronk stayed in to block, the free defender would blitz Brady. The latter is what happened. Feeling the pressure from that side coming right in his face, Brady fired a quick pass to LaFell, which went right through his hands.
…Just three plays later, the offense was in the same formation, only Gronk was now on the left side. Again, he had two Jets in front of him and again, he dropped back to pass protect. But instead of engaging OLB Quinton Coples, he released into a pattern.  Gilchrist, the safety, came on a blitz, and Coples, instead of following Gronk, kept going after Brady as well. There was no one in the second level of the defense to cover Gronkowski. All the DBs were busy covering the four receivers and had their backs to the play. Gronkowski cradled the lob pass from Brady and had nothing but 15 yards of empty artificial turf in front of him. Richardson tried in vain to catch him, but Gronk is just too quick to be raced down by a d-lineman. Easiest touchdown of the day, by far, for the Patriots, and it was a result of recognizing what the Jets were doing defensively when the Patriots were in that formation.
…Excellent return to game action for Hightower, who sat out all of the previous game and nearly all of the one before that with a rib injury. He played with a vengeance against New York, making some really hard tackles against the run despite that injury. He finished with 10 tackles, all of them solo, and many of them against Ivory. That helped limit the rusher to just 41 yards on 17 attempts. And at times, Hightower flushed Fitzpatrick out of the pocket with strong blitzes. Impressive effort all afternoon by Hightower.