In just three short years as a professional golfer, Jordan Spieth has notched Masters, U.S. Open and FedEx Cup Championships. He's spent time slotted number one in the Official World Golf Ranking, and in April 2016, Time Magazine named the 23-year-old one of its "100 Most Influential People."  But when Spieth found himself standing inside the New England Patriots locker room Wednesday night, even the 2015 Masters champion and PGA Tour Player of the Year wasn't immune to getting a little awestruck.
Joined by fellow members of the 2016 Ryder Cup team as guests of the Kraft family, Spieth and his teammates enjoyed a tour of Gillette Stadium, dinner in the end zone, and a closest-to-the-pin putting contest on the game field (championed by Phil Mickelson).
When the golfers stopped by the locker of Patriots quarterback, Tom Brady, Spieth couldn't help but snap a photo.
But the putting pro only admired from afar.
"I didn't touch anything there - he's got it pretty well made-up," Spieth said. "He's knows the position of everything. He's had some pretty good vibes throughout his career so I don't want to mess with anything there."
Spieth and Brady have developed a friendship over the years, often quipping jokes at each other or sharing advice and support towards their respective accomplished careers.
"We stay in touch here and there, he wishes me well," Spieth said. "He's somebody who, if it's a really off week, he'll be a guy that reaches out to try to help you rebound. He's been through it all. If it's a really good week he'll reach out and say keep it up.
"It's really cool to have a guy like that him, that I'm such a huge fan of, that seems to be in my corner and supporting," he continued.
Following the tour of the facilities, Captain Davis Love III and vice-captains Steve Stricker, Tom Lehman and Jim Furyk assembled on the field along with Dustin Johnson, Phil Mickelson, Brandt Snedeker, Jimmy Walker, Zach Johnson, Patrick Reed, Brooks Koepka and Jordan Spieth  to take a team photo with Patriots Chairman, CEO and host of the evening, Robert Kraft.
Mr. Kraft was joined by former Patriot Jerod Mayo, as well as former  Patriot and Hall of Fame linebacker Andre Tippett. Ryder Cup team member Patrick Reed said the experience was a pretty cool one.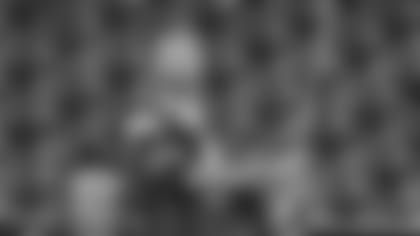 "It was the first time I actually – we were actually were able to come in, and it was the first time I ever went and did a tour around Gillette Stadium," he said. "Mr. Kraft was awesome. He was so much fun. You go out and you're just chatting with him as if he's an old friend. It was cool to see and it was just so much fun."
The team was also treated to video board messages of encouragement from Brady and Coach Bill Belichick.
"They were leaving yesterday, actually for a game down in New York/New Jersey, and they took the time to video tape messages to put on the big boards in the club house for our players," Love said on the Dan Patrick Show Thursday morning. "[They told] them how much they appreciated their games, but also - here's what we do. Here's why we're successful. It really meant a lot to our players."
In addition, Mr. Kraft showed the golfers the Patriots four Super Bowl trophies, and even let them try one of his four Championship rings.
But ahead of this weekend's Deutsche Bank Championship and the 2016 Ryder Cup at the end of the month, Reed said the experience was a great way for the group to spend time together in the presence of another successful team atmosphere.
"We're individual golfers," he said. "We have fun when we go to the Ryder Cup and we want to win. But building a team that's 12 strong is kind of tough to do. … We're an individual sport. We're trying to make a team out of 12 guys. But [being at Gillette] was so cool to be a part of and go see. Hopefully, we can do it again sometime." 
FUN GALLERY
The U.S. Ryder Cup team and former U.S.A. hockey player Mike Eruzione visited Gillette Stadium on Aug. 31, 2016. The group met Patriots Chairman and CEO Robert Kraft, former Patriot players Andre Tippett and Jerod Mayo, and took part in a closest to the pin contest.