The Patriots continued the five-day acclimation period with a similar practice structure on day two of training camp, which was another red-zone-heavy session for New England on Thursday. 
In another practice where the offense was forced to primarily pass the ball in a condensed area, the defense controlled the team periods during the 90-minute session in the early stages. However, when head coach Bill Belichick signaled to move the ball into the high red zone where there is more room to operate, quarterback Mac Jones, highlighted by his connection with newcomer JuJu Smith-Schuster, began to find a rhythm. 
First, the Pats starting quarterback completed his longest pass of camp so far when he found a crossing DeVante Parker for about a 20-yard touchdown pass off a play-action concept. Then, it was JuJu's turn to make his first notable play of the summer. With Jones in the shotgun, left guard Cole Strange pulled to simulate a run, getting the linebackers at the second level out of the passing lane as Smith-Schuster got inside of Marcus Jones on a skinny post for six. 
The touchdown toss from Jones to JuJu was precisely what the Patriots imagined when they signed the former Pro Bowler to a three-year contract in March. Although this was only Smith-Schuster's second practice in front of the media as he worked his way back from injury, the connection between quarterback and receiver has been building behind the scenes. 
Speaking to reporters after flashing on the field in Thursday's session, Smith-Schuster was upbeat about his health and the work he has put in with his teammates this offseason.
"I feel amazing. I feel great. This offseason worked really hard to get back to be with the team," Smith-Schuster said after Thursday's practice. "Just being out here with the guys working, putting in the hard work, and putting it all together is super exciting."
Although this is only the media's second day observing Smith-Schuster in a live practice setting, the Pats wideout reassured everyone that he has been working with his new quarterback plenty.
"Yeah, it's been a lot of good work. It's the second day for you guys to see, but we've been putting in a lot of work this offseason," Smith-Schuster told Patriots.com. "The guy [Mac Jones] is super intelligent, and his work ethic is the best. I've seen a lot of guys working, coming into the office early, leaving late, and he's one of those guys. The communication between me and him, he speaks up, he sees what he sees and talks about it, and that's what's great about us."
During his opening press conference of training camp on Wednesday, Jones highlighted Smith-Schuster's playoff experience as something that sticks out about his new teammate. Last season, the new Pats wideout won the Super Bowl as member of the Kansas City Chiefs.
"I'm not the young dude anymore on the team. I'm the vet with experience playing in the playoffs and playing in big games. I can help teach these guys what it takes," Smith-Schuster said.
Along with the smooth touchdown catch, Smith-Schuster also beat rookie corner Christian Gonzalez to the pylon on a flat route for another score, operating almost exclusively in the slot for Bill O'Brien. One would expect Smith-Schuster to continue running plenty of in-breaking and quick-hitting routes, with Director of Player Personnel Matt Groh comparing his game to Pats slot receivers from the past.
"We are used to seeing those kinds of players at his position around here, so I don't think with having JuJu in here, it's a new face and a new name, but I don't think that it will be a big deviation from what people around here are accustomed to seeing," Groh said.
As the Patriots continue to search for a top playmaker to lead their passing attack, a lot is riding on the team signing Smith-Schuster in free agency over fan and locker room favorite Jakobi Meyers this offseason. Meyers was a reliable and crafty route runner who developed from an undrafted rookie to a productive player in New England's slot role. There's some overlap in their route trees, but Smith-Schuster adds more explosiveness to the offense with better speed and considerably more production after the catch.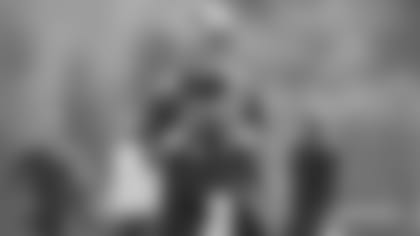 Patriots quarterback Mac Jones has been primarily working with an unsurprising group of pass-catchers in the early stages of camp. Along with Smith-Schuster, the Pats QB1 threw passes to DeVante Parker, Kendrick Bourne, Tyquan Thornton, Hunter Henry, and Mike Gesicki in the first two days. One semi-surprising receiver has also been cycling with the top group in rookie wideout Demario Douglas. Douglas's separation quickness as more of a jitterbug slot receiver has caught the eye, running routes underneath the defense where his short-area agility could offer the quarterback a quick-release style receiver.
As we wrote following the draft, the 5-foot-8, 179-pound Douglas worked with the Patriots coaching staff at the Shrine Bowl last January. After a productive week in the draft showcase, Douglas ran a 4.44-second 40-yard dash and posted impressive explosiveness scores at the NFL Scouting Combine. Douglas, who some scouts touted as the small-school Zay Flowers, has bulked up this offseason and is earning reps already.
The opportunity is there for Douglas to make the roster as the fifth receiver on the depth chart, while he can also bring a gadget element to the offense on things like jet sweeps and screens.
Elsewhere, we'll preach patience with WR Tyquan Thornton for now, especially since his game will shine more between the 20s than in the red area. Still, Thornton has only been targeted once through two practices, and the pass fell incomplete. Plus, there was a moment in Thursday's session where Mac had a quick discussion with Thornton after the young wideout appeared to run a route incorrectly. With the corner sitting outside him, Jones expected Thornton to break back inside, but he continued toward the sideline into coverage.
Again, it's day two of training camp. It would be unfair to make any sweeping proclamations about any player right now, and these are good teaching moments for Thornton. But the Patriots offense would benefit greatly from a year-two breakout for the 2022 second-rounder.
Although it's very early, the positive news is that the arrow is pointing upward for the Mac Jones to JuJu Smith-Schuster connection, a pairing the Patriots are heavily invested in this season.