Your life changes when you find out you have Duchenne muscular dystrophy. Your muscles drastically weaken around age 4, and life only gets harder from there. When this happened to Jett McSherry, his parents Christine and Stephen knew they had to step up and do something.
In 2001, Christine and Stephen started the Jett Foundation as a way to help kids and families like theirs. Disorders like Duchenne muscular dystrophy can isolate a child and cut them off from the rest of the world. The Jett Foundation has grown to connect affected boys and their families in a way that was never possible before. There's strength in unity, and the purpose of the Jett Foundation was to give boys like Jett the interaction and opportunities they wouldn't usually get.
"The foundation has direct service programs such as camps and programs for siblings. We raise awareness. We raise money. We try to have programs for kids who are losing muscles," Christine said.
According to Christine, in their 18-year history, the Jett Foundation has been partnered with the Patriots for eight of them.
"It gives me chills," she said. "They take very good care of us. They provide water and snacks for the kids while they're here. The players come over and meet with the children."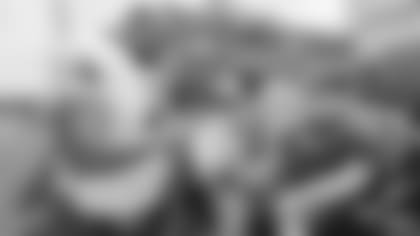 Despite the hard practice, Marcus Cannon, Tyler Gauthier, Cedrick Lang, Obi Melifonwu and Hjelte Froholdt arrived at the foundation's sideline tent with bright smiles. They were ready to sign autographs, shake hands, and take pictures with the boys and their families as soon as they arrived.
Another special guest stopped by too -- Coach Bill Belichick himself. Coach Belichick was all smiles as he stopped by everyone's seats to sign footballs and take pictures.
With Duchenne muscular dystrophy affecting boys at such a young age, they may never get the chance to experience sports. That's why players like Marcus and Tyler are such heroes to them.
"This may be the closest they ever get to people that actually use their muscles for a living. These guys are superstars to them. They're doing things that these kids could never do. The smiles on their faces are what it's all about," Christine said. "Just to see them smile."