Biggest send-off rally evah! That was the scene at Gillette Stadium this morning. Around 35,000 fans turned out to say bon voyage to the Patriots as they headed out on buses for TF Green Airport in Providence. That's more than a sell out for a Chargers game! This is the first time since 2011 the team left on a Sunday and the Patriots events team was on top of things, accurately predicting the crowd would dwarf last year's turn out. To accommodate, they had the fans inside the bowl instead of the NRG Plaza and the place was packed. On stage Robert and Jonathan led off the VIP portion of the show, followed by Bill Belichick and the Patriots captains, and ending of course, with Tom Brady who led a "we're still here" chant. By the way, last year Brady dropped the mic when he was done. This year Scott Zolak dropped the mic but only because he missed the throw from Brady. Not quite the dramatic effect of 2018 but that was the only thing that didn't meet and exceed any send-off rally we've ever seen.
Back in Atlanta we had our first live Patriots Right Now hit from Sidebar. Megan and Andy nailed it and then threw the proceedings to our partner, WBZ. You the viewer would not have noticed but we had a little set design snafu. I found two Rams helmets but no Patriots helmet. We wanted one of each behind the hosts. We'll get that fixed.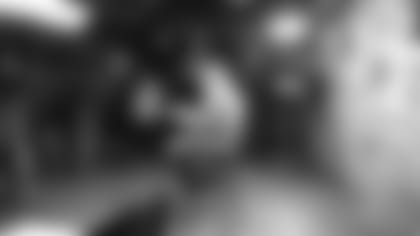 After the rally it was back to work where the Patriots talk never ends. Today, Matt "no socks" Smith* got into it with Andy Hart about who had the better career, Julian Edelman or Wes Welker. There's a lot to the discussion with points to be made for either side: better stretch of numbers, Welker; playoff numbers, Edelman; better punt returner, Edelman although Welker was pretty good too. One thing I find is that people forget about Welker's overall production. He had 50 touchdowns to Edelman's 30, almost 10,000 receiving yards to Edelman's 5,390 (and counting), 520 first down catches to Edelman's 270. But as we know, there's no matching Edelman's clutch plays in the biggest moments and they include not only catching the ball but as a runner and passer as well. Good stuff.
Along with the team, the rest of the content crew arrived today. It's a long day for them starting with the rally this morning and not getting to our workspace until the night. But they will be working on adrenaline and ready to go. By the way, I saw a guy get on all fours and kiss the ground this morning. It wasn't like he was glad to be in Atlanta, just out of his mind, but it reminded me that there's no other place to be right now.
*The nickname "no socks" comes from the fact Smith refuses to wear socks with dress shoes. He will, however, wear them with sneakers.
Check out our favorite photos from the Patriots SB LIII send-off rally at Gillette Stadium on Sunday, January 27, 2019.