PALM BEACH, Fla. – With a warm sun rising over his shoulder, a cool and salty air filling his lungs, and gentle waves from the nearby Atlantic Ocean conspiring to hypnotize him, Robert Kraft couldn't have found himself in a more relaxing environment.
Make no mistake, however. The Patriots owner made clear that he isn't taking it easy this NFL offseason. Not when it comes to helping assemble the 2022 version of the professional football team that he's built over the past quarter century into one of the most valuable franchises in all of sports.
Kraft sat outside early Tuesday morning, just before the start of the Tuesday session of this year's National Football League Annual Meeting at The Breakers in Palm Beach, Florida. Surrounding him, an invited group of reporters and videographers who cover the Patriots on a regular basis.
For the first time in more than two years, since the onset of the COVID-19 pandemic, Kraft had a face-to-face chat with the assembled media – an opportunity he used to emphasize that, while other clubs in the American Football Conference have been investing massive amounts of dollars and draft picks to acquire high-profile players, the Patriots aren't resting on their six-time Super Bowl Champion laurels.     
"After my family, there's nothing more important to me," declared Kraft, "than the New England Patriots and winning football games. I'm a Patriot fan big-time first, and it bothers me that we haven't been able to win a playoff game in the last three years. We had a period of two decades that were unbelievable. We have to find a way to sustain it, keep it going."
The Patriots owner pointed out that the NFL's salary cap has limited his team's ability to spend as freely as it did in 2021, when New England had more breathing room available beneath that cap to acquire recognizable names in free agency. He acknowledged that the most glamorous period of this year's veteran signing period has passed, but also insisted that the process of building a championship-caliber squad doesn't end once the biggest names on the player market find new homes.
Pointing to his club's first-ever title year, 2001, Kraft remarked, "We definitely didn't have the best headlines, the best talent, but we had the best team, and they came together. That taught me a lot."
He further maintained that teambuilding in this league begins with successful selections in the NFL Draft – a point he first stated publicly last year around this time. This year's Player Selection Meeting (as the draft is officially termed) takes place a month from now in Las Vegas, and Kraft is eager for his Patriots to sustain the momentum generated from the 2021 draft.
"It's the only way you can build your team long-term and consistently," added Kraft. "Those [big free-agent signings] are good for the headlines, but the headlines aren't the substance of what's happening. We have a lot of young players that are coming into their own. I'm happy we had a great draft last year … and I look forward to, hopefully, having a great draft this year."
In particular, Kraft gushed about quarterback Mac Jones, on the precipice of his second NFL season and first full offseason program with the Patriots, who drafted him 15th overall in the 2021 Draft. Jones went on to start every game for New England as a rookie last season.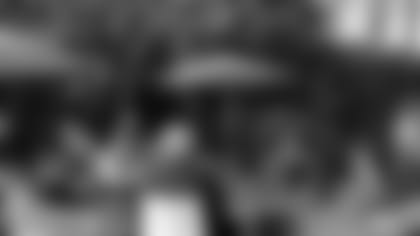 "He's such a good person and humble," Kraft continued. "I come in there sometimes on the weekend or early [in the morning] and he's there working out, watching film, just doing things. I wouldn't believe someone of his background would have that commitment, given his past [success in college]. The guys in the locker room really love him. All the guys. I actually believe he has a little more edge than we've seen. But he's been respectful of coming in as a rookie. I'm very high on him. The staff did a great job drafting him. We're lucky to have him for our future."
What the Patriots don't appear to have at the moment are offensive and defensive coordinators on head coach Bill Belichick's coaching staff, to help guide Jones and the other young players on the roster to whom Kraft alluded. The owner, though, placed his trust in Belichick, who's overseen all six of the Patriots' Super Bowl-winning seasons.
"Bill," Kraft observed with a grin, "has a unique way of doing things. It's worked out pretty well up to now. It doesn't sometimes look straight-line to our fans or to myself, but I'm results-oriented. I expect [the Patriots to contend for another title] as soon as this year. We've made the commitment as an organization, we have a lot of talent … there's a chance for them to grow and the team to come together.
"What's gone on in the AFC," Kraft allowed, "it looks like there's a higher number of top quarterbacks, but we really have to worry about our situation. Take care of our business. We have a chance. Because without a good coach and a good quarterback, no matter how good the other players are, I don't think you can win consistently. I believe we have both – an outstanding coach and a good, young prospect at quarterback ... This will be a good year."