Going back to school can bring dreaded emotions for both students and parents. For kids, back to school means summer is ending, and the fun, warm and carefree days are gone with it. For parents, back to school shopping can be a stressful experience.
Last week, Lawrence and Andrea Guy made the transition a bit easier on 150 kids and their families.
In partnership with Crossroads, a nonprofit dedicated to empowering youth in Greater Boston, Lawrence and Andrea donated backpacks filled with schools supplies, hosted a lunch at Gillette Stadium and invited his Patriots teammates to help in the delivery. Kids attending summer camp with Crossroads were surprised with a field trip to Foxborough on Aug. 10, Chief Operating Officer of Crossroads, Joanne Fay, said.
"It's a huge relief for their families. They're with us at camp until August 23, and when they go home for their families to know that it's already taken care of for them, it's definitely a big relief for them," she said.
Devin McCourty, Duron Harmon, Matthew Slater, Kyle Van Noy, Elandon Roberts, Phillip Dorsett, Keionta Davis and John Simon all spent a rare day off during training camp at Gillette Stadium to help their teammate and connect with the group. Not only do the supplies prepare the students for their next school year, Lawrence and his teammates offered them words of encouragement about pursuing education.
Before handing out the backpacks, the guys answered questions and used it as an opportunity to express how integral school was to helping them achieve their dreams in the NFL. Lawrence has been open about his struggles with learning disabilities, and his message to the group was that school may not always be fun or easy, but an education is the most valuable thing a person can have.
"No matter what you have in mind, what goal you have, you can do anything you put your mind to and nobody else could ever take that away from you. Education is the most important thing," he said. "If you believe in yourself and you have the drive to continue to go, to continue to fight for it, there are people out here like me and my teammates that showed up that truly care for you guys. They want to see you succeed."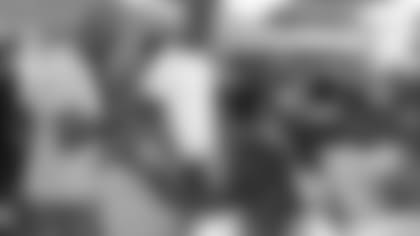 This isn't the first time Lawrence and Andrea have worked with Crossroads. They hosted a backpack giveaway last year, as well as a holiday shopping event. Many of the kids have already met Lawrence and Andrea, and this relationship building is a big part of why they have continued their work with Crossroads.
"Growing up in the inner city, it's hard to see people that come back. Nobody really wants to come back. They want to put their step in there and come back. I'm more, I want to be around. I'm not just going to show up one day and say, 'Hello, here's some stuff' and go. That's not what I'm trying to do," Lawrence said. "I'm trying to reach young adults and young children and kids, that there's somebody here that will care for you year in and year out. It's not, I'm going to make a pitstop and keep going. I'm going to stay here for a while to make sure you continue to succeed."