The crowd cheered as Solder lined up. Focus. It was pure focus. A lot was on the line.
Stepping back, Lexi Solder -- not Nate -- took a breath, ran and notched a field goal in front of an excited Gillette Stadium crowd. She ran over to the sidelines and jumped into the arms of a friend, and while she was happy her practice paid off, her successful field goal meant so much more.
Lexi, Vanessa Soto, who is in a relationship with Eric Rowe, and Briannon Lepman, who is engaged to Brandin Cooks, all participated in the Ocean Spray pregame kick contest, and for each kick the women made, Ocean Spray would donate $5,000 to the Jimmy Fund in honor of Nate and Lexi's son Hudson.
The Jimmy Fund holds a special place in the hearts of Nate and Lexi. Hudson is being treated for his Wilms tumors at The Jimmy Fund Clinic at Dana Farber Cancer Institute, so when Ocean Spray and the Patriots approached her about the pregame contest, Lexi was all in.
And so were the wives and girlfriends of the Patriots Women's Association.
"Obviously, I can't turn that down," Lexi said. "I sent out a mass text to all the girls and said first come first serve. I said, 'If you have an athletic bone in your body, and you're not afraid to make a fool out of yourself, join me on the field.'"
The response was overwhelming. Briannon said everyone was "fighting for that spot," and ultimately, Lexi had to pull names out of a hat.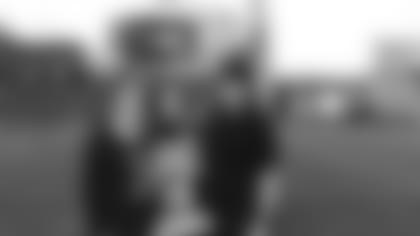 With up to $15,000 on the line Lexi, Briannon and Vanessa practiced their form, and Lexi even bought a kicking tee so they all could perfect their technique.
"They came over before we came to the game today, and we all got some last-minute kicks in," Lexi said. "We practiced in my front yard, and my dad was shagging balls."
Ultimately, only Lexi successfully kicked a field goal, but the group was confident going in. They knew they were kicking more for than their pride.
"That's all I'm thinking of -- Hudson," Vanessa said. "When I'm kicking the ball, I'm just going to think of his little face, and oh God, I hope I make it in."