Mac Jones was the first rookie starting quarterback in almost two decades for the Patriots, but as is the case with all young players, plotting a course of development is difficult to nail down. Certainly, Jones will make physical strides as he dives into his first full NFL offseason, but what about mentally? Will the game continue to slow down for him? What are reasonable expectations?
"I think all the first and second-year players as we've talked about before, it's always a big jump for them from year one to year two," said Bill Belichick this past season. "They come to camp and have much better understanding of our system, understanding of the National Football League, and understanding of the expectations and routine is. After you've been through it once, it's a lot easier to prepare and go though it the second time. I think that's true for all the second-year players."
"I think this offseason will be a big part of it, just getting stronger and cleaning up on my diet and all that," said Jones to ESPN prior to playing in the Pro Bowl. "There's a lot that's going to go into it before next season even starts, so that's the important part: attacking that, and then hopefully a lot of big changes will come, whether it's mechanics or the playbook. I have a lot of time now to kind of digest everything and kind of take it over how I want to do it."
"Quarterbacks gained an average of 136 DYAR between [their first and second season]," wrote Aaron Schatz. "The changes between years three and seven were close to zero. Around year eight, or roughly age 30, quarterbacks began to lose more and more DYAR each season, a lot of them from dropping out of the league altogether rather than playing both seasons but declining from one year to the next."
This past season The Ringer's Rodger Sherman looked at how best to manage rookie quarterbacks and found that those who were eased into the action had historically ended up having the most success. That's not to say Mac will devolve from his successful 2021 season, but there are some caveats that Sherman uncovered to consider.
"The relatively poor long-term performances of the players who were Week 1 starters is surprising—but not in the way you'd expect," wrote Sherman. "Critics of playing rookie quarterbacks too early imply that those players can be broken by early failures. I mean, maybe Kyle Boller would have turned into a star if he hadn't thrown three interceptions against the Chiefs in September of his rookie season, but many of the Week 1 starters actually played well in their first go-around.
"The problem is that many players in this group who started out strong didn't continue on that upward trajectory. Maybe this isn't about the debate of when to play rookie quarterbacks; maybe it's an indication that the most pro-ready QB prospects in a given draft class aren't necessarily the prospects with the highest ceilings."
Jones' development heading into his second season will be weighing heavily on Patriots fans, and former NFL quarterback J.T. O'Sullivan saw plenty of reasons for optimism in 2021. Since spending over a decade playing professional football, including a short practice squad stint with the Patriots in 2006, O'Sullivan has created The QB School, an online education forum for anyone interested to learn more about how the most important position the game is played.
O'Sullivan made multiple video scouting breakdowns of Jones prior to the draft, along with all the other rookie quarterbacks, and then featured some in-season breakdowns as the rookie continued to make strides. Here is a great one made after the Pats dispatched the Browns.
Overall, the QB coach was impressed with how quickly it all came together for Jones.
"I think that it took them a little while to kind of get their groove on a as far as maybe being a little bit aggressive down the field, while also making great decisions, protecting the ball, doing all the things that they're asking him to do," O'Sullivan told Patriots.com. "And then it felt like they really found their sweet spot there for a while. He was playing at a high level and then, maybe didn't play as well as they would've hoped down the stretch for whatever reason. But I think overall, you gotta be really excited to look across the landscape of the league and that your quarterback was a rookie and played that well."
O'Sullivan stressed it's important to look how far Jones has come and how quickly. In 2019 he was a backup at Alabama and quickly ascended to starting quarterback, National Championship-winner, first-round pick and then starting NFL quarterback.
When viewed through a two-year lens, Jones' recent strides look even more impressive.
"You're looking for comprehensive improvement from this being the first year that you're a pro for an entire year," said O'Sullivan. "I would imagine you're gonna see significant improvement in strength and explosiveness that will translate into maybe making a few more plays down the field, being a little bit more dynamic, but then become a master and conductor of what they're doing offensively and take that to the next level as well.
"Then that, coupled with what the staff can do to maximize his skillset and what they're probably going to get better on the perimeter to do all those things holistically. You hope that there's a massive surge in improvement and performance across the board."
But with a full season already under his belt, Jones is already light years beyond where he was just a few short months ago, before he saw everything NFL defenses had to throw at him.
"It's a mighty tall task to go into that organization and try to replace the player that he's replacing," pointed out O'Sullivan. "Certainly, just the football schemes, X's and O's, but I would unpack it even more to going on the road, the traveling, the bye week, the playoff preparation, the preseason, the length of the camp… you know, all those things compound to probably create a significant amount of anxiety for anybody. So, to eliminate some of that will just make him a more polished, more kind of pro's pro, not that he already isn't, but that will just continue to grow."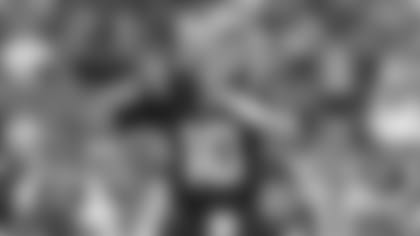 On the field, O'Sullivan broke it down how much experience can help even further.
"So much of it from the quarterback position is pattern recognition. So, whether they're asking him to play, you know, off the shell, off the type of defense, all the reps that he's gonna get against that defense will only make him better and better."
Lastly, he pointed out that Mac has access to the greatest football mind in the league, something that he found uncommon based on his experience around the league.
"The other thing that I always remember about that building that was different than any other building that I was in, and I was in a third of the league, was just the relationship that Brady had with Belichick," said O'Sullivan. "Not that it wasn't a special relationship with McDaniels, but I don't remember ever being in a building where the quarterback and the head coach met as much.
"I'm just assuming that that type of communication is still the norm, but to have access to that kind of information, those kinds of conversations, to me, that just continues to be unique, special ways that he can accelerate his play, his expectations to be just better and better and faster and faster."
All eyes will be on Mac this spring and summer as all signs point to this being a critical offseason for his development. Last season we saw second-year quarterbacks like Joe Burrow and Justin Herbert make significant improvement. If Jones makes the same, the Patriots should once again be back in the thick of it in the AFC.