FOXBOROUGH, Mass. - Patriots special teams captain Matthew Slater was selected as the recipient of the 2017 Ed Block Courage Award. The honor is bestowed annually upon a player who best exemplifies the principles of courage and sportsmanship while also serving as a source of inspiration. Slater and award winners from the 31 other NFL teams will be honored at the 40th Annual Ed Block Courage Awards Banquet in Baltimore on March 10, 2018.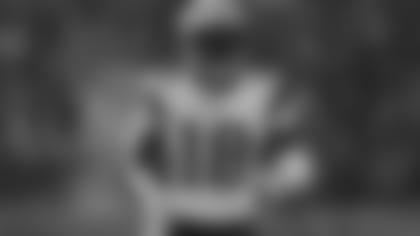 Slater battled through injuries throughout the 2017 season, but made a difference in the games that he did play, earning his seventh straight special teams Pro Bowl honor. He matched Steve Tasker (1987, 1990-95) for the most special teams Pro Bowl honors in NFL history. Slater is the only special teams player to earn seven consecutive Pro Bowls. The former fifth-round draft pick out of UCLA earned a roster position as a rookie in 2008 with his contributions on special teams. In addition to his Pro Bowl selections, Slater has been selected as team captain for seven straight seasons.
Some recent New England Patriots Ed Block Courage Award recipients include Nate Solder (2016), Jerod Mayo (2015), Rob Gronkowski (2014), Sebastian Vollmer (2013), Logan Mankins (2012), Marcus Cannon (2011), Wes Welker (2010) and Tom Brady (2009).
The Ed Block Courage Award is named after Ed Block, a long-time head trainer for the Baltimore Colts and a respected humanitarian dedicated to helping children. Recipients are often players who have overcome devastating injuries or tragedies in their personal lives to return to top-level competition in the NFL.
Officially organized in 1986, the Ed Block Courage Award Foundation is a 501(c)(3) charitable organization that is sanctioned by the NFL and the Professional Football Athletic Trainers Society (PFATS). The foundation is committed to heightening awareness of the plight of abused children in cities throughout the league. Proceeds from the annual Courage Awards event benefit the Foundation's Courage House National Support Network For Kids.
For more information on the Ed Block Courage Award, please visit http://edblock.org/.