Story originally published on September 10, 2019
It takes an icon to pull off a one-word name. Prince, Cher, Madonna. You get the idea.
If a Gillette Stadium identification badge is any indication, there is a new icon in Foxborough. He has one name, four legs and a whole lot of fur.
Boyd is a five-year-old border collie-husky mix, and though he is already popular among his coworkers, he has an important job to with the stadium field crew, where his human, Ryan Bjorn, was recently hired as the Gillette Stadium field superintendent. Before the team takes the field for practice each day, Boyd runs laps to ensure it's clear and ready for them to get to work.
As a herding dog, Boyd has made a career out of chasing geese off of practice and game fields. Ryan previously worked as the director of grounds and environmental management for Maryland SoccerPlex for more than eight years. Before Ryan's tenure began at the SoccerPlex, there was a border collie on the field crew to help patrol the 160 acres of land they cared for.
After that dog passed away, Ryan said they noticed an increase in geese on the field almost immediately. It was decided: the SoccerPlex needed a new crew dog.
Enter Boyd. Well, actually, enter Prince Charming.
"We adopted him right at eight weeks. He fit in both of my hands," Ryan said. "The entire litter was named after Disney characters. His adopted name was Prince Charming, and as somewhat accurate as it seems, we had to change that."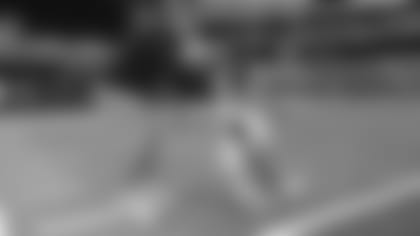 When Ryan was hired at Gillette Stadium just a few weeks ago, he knew Boyd had to come with him. Over the last five years, Boyd became a favorite among his coworkers at the SoccerPlex.
"It was tough for everybody to say goodbye, but at the same time, I think that everyone there realized it wouldn't have been fair to him to take him away [from his family] and they were happy for him to come up," he said. "I've gotten a lot of comments on social media [that] he deserves the call up to the big leagues."
For Ryan, making it to the NFL in his line of work is the pinnacle, he said. Originally from Maine, Ryan worked for the Red Sox in 2010. When the team's season was over, he finished that season with the Patriots, and returning for his hometown team makes it even better. Starting any new job, however, comes with a certain level of stress and anxiety as you get acclimated to a new environment, new people.
In this too, Boyd has helped Ryan.
"It's been a crazy three weeks, and as far as two overnighters with the preseason games and the soccer, knowing that he's always around. He's kind of, outside of my fiancé, he's my best friend and he's the one that keeps me sane most of the time," he said. "After a 30-hour shift, I can sit down with him and decompress for a couple of minutes. It doesn't bother him, whatever is going on in my life, whether it's professional or personal, he's the one that can kind of keep me sane.
"Man's best friend is a real thing, and he is that guy."
More than a best friend, Boyd will stand next to Ryan as his "best dog" when he gets married next week – formal wear and all.
They spend so much time together – from the house to their commute to the office – that Ryan admits there is some separation anxiety when he isn't around.
One of the first times he left Boyd alone, he returned to Maine for a family function, and Ryan's fiancé took after the dog while he was gone. She left the house for a couple of hours, leaving Boyd in the couple's bedroom.
"She came home, and he was in the kitchen sink howling. Obviously, he got out of the bedroom. The way he did, he chewed a hole through the door," he said.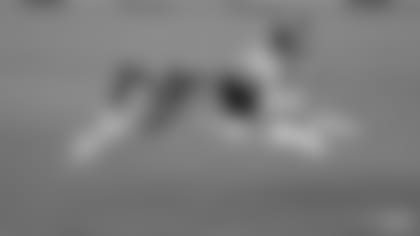 Boyd also managed to find and open a pack of tortillas, but instead of eating them, he had something else in mind.
"Two weeks later, we're sitting on the couch looking for the remote, and he had actually stuffed tortillas into the couch cushion," he said. "He was like doomsday prepping after being alone for two hours."
No matter the antics, Boyd has a great "on and off switch," Ryan said. He goes from sprinting around a field, bounding with energy to sitting by Ryan's side at a moment's notice. And as Ryan walks around the grass or through the Gillette Stadium tunnel, Boyd's eyes are on him.
And since they've arrived at Gillette Stadium, eyes have been on the duo.
"I think I've said the words 'border collie/husky mix' probably 300,000 times in the past week," Ryan said.
After Gillette Stadium's social media accounts posted pictures of Boyd on Sunday, it truly was game over. Ryan's dog is now a bonafide local celebrity. Though Ryan said Boyd is "trying to stay humble" about his new-found fame, he still finds it pretty incredible.
"I brought him out on the field Sunday before the game, and people were like, 'Oh, it's Boyd!' It's so crazy to me that people know my dog, but he deserves it," Ryan said. "He's a good boy."
You can check out more photos of Ryan and Boyd in the gallery below.
Meet Boyd, a border collie who's the newest member of the Patriots field crew.