Even with a full deck on his hands down in the bowels of Gillette Stadium, as the Patriots get ready for the pivotal "dress rehearsal" third preseason contest this weekend, Nate Ebner can't help but keep tabs on the impact fellow ex-rugger Jarryd Hayne is making some 3,000 miles away.
"What he's doing is awesome," Ebner said of Hayne, the 27-year-old former Australian rugby star who has captivated the nation this preseason with his brilliant play for the San Francisco 49ers.
Affably nicknamed the "Hayne Train", he was one of rugby's rising stars in his native land before deciding last October to give American football a try, ultimately signing with the 49ers last March. In each of San Francisco's first two preseason games Hayne has led the team in rushing. He's also dazzled on returns, including a 27-yard punt return last weekend against Dallas that started by hauling the catch in over his back shoulder.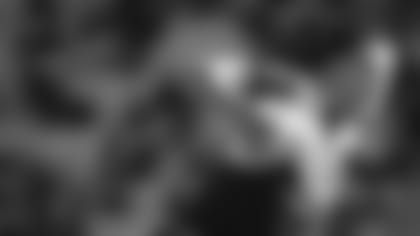 It's not the first time football's been infused at certain positions with a sprinkling of its distant cousin. Seven-time Pro Bowler Steve Tasker dabbled in club rugby while at Northwestern. Perennial Pro Bowl defensive tackle Haloti Ngata played a little in high school. There are countless examples of this kind of small sampling over the years.
But a full-out rugby superstar from half a world away coming stateside and giving defenses this much run for their money? We're entering uncharted waters.
"Obviously I've got a lot on my plate to focus on here, that's kept most of my attention," Ebner said. "But obviously the rugby world makes it known about what he's doing, so through various outlets I tend to catch up with what he's doing. He's mostly doing well, and I wish him the best."
For a player of his background, what Hayne has been doing this preseason is truly sui generis. Up until now, rugby's influence on the sport had been restricted primarily to the kicking game.
Twenty years ago, Australian Rules star Darren Bennett introduced the "rugby kick" to the NFL, an end-over-end style punt with plenty of backspin and a sand wedge-like drop that has supplanted the fabled "coffin corner" method as the preferred kick of punters looking to pin a ball deep in their opponent's end from midfield.
Bennett's decade-long run in the league – which included an appearance in Super Bowl XXIX, two Pro Bowls and distinction on the NFL's All-Decade Team for the '90s – led to a handful of other punters emerging from Down Under at the turn of the century, from Sav Rocca to Ben Graham.
Fast-forward to present day, and a new generation is taking the rugby influence a step further. More and more, teams are discovering the similarities between the two sports when it comes to angles of pursuit and open-field running. Ebner is part of a new breed of athletes that, perhaps, could open a number of doors for ruggers down the road.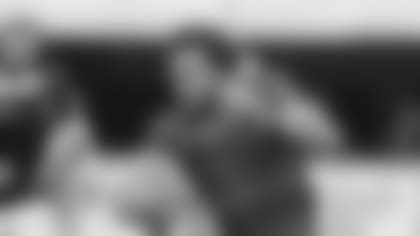 Ebner's ascent to the NFL is among the most unique. Selected in the sixth round by the Patriots in 2012 out of Ohio State, Ebner had impressive measurables, including a 40 time in the high 4.4s, though he had only played a mere three snaps in the secondary for the Buckeyes. Still, his special teams play was nonpareil in Columbus, registering 30 tackles in 36 games. Prior to walking-on at OSU as a junior, Ebner had never played football before, though he had a decorated background in rugby – including distinction as the youngest player ever to appear on the U.S.'s national rugby union team, the National 7s, at just 17 years of age.
His dogged, go-for-broke approach to kickoffs drew some colorful scouting reports coming out of the Buckeyes program, even moving one publication to compare him to "a heat-seeking missile". Entering his fourth year with the Patriots, Ebner has served almost solely on special teams, but has made himself a permanent fixture on the 53-man roster because of his aggression in the often-overlooked third phase. Within Patriots lore, Ebner is thus far most known for his muffed punt recovery that sealed the New England's wild 24-point second half comeback over Denver on Monday Night in 2013.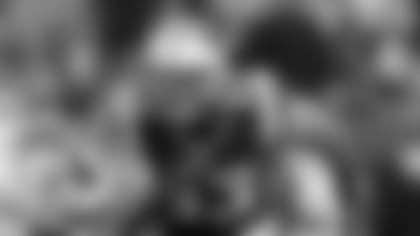 "Maybe it's the physical nature of what both sports bring that allows some transition there, but I think it all comes down to a personal mindset," Ebner said. "Whoever it is, I just think it's a personal mindset. The role you take, how you play the game. I think it depends on the person, man."
With the crackdown in recent years on helmet-to-helmet contact, form tackling has become a huge point of re-emphasis, the preferred "strike zone" falling between the shoulders and knees. This is where a sport like rugby, which penalizes high tackles and head shots to varying degrees of severity, can come into play.
Last year's NFC Champion, the Seattle Seahawks, educated players on rugby-style tackling in a much-publicized instructional video from head coach Pete Carroll. Last month the Arizona Cardinals hired the NFL's first female coach, Jen Welter, as a linebackers intern. In addition to her experience in various women's football leagues, Welter has over a decade of rugby under her belt, including a stint at Boston College.
"Obviously, there's no helmets," Ebner said. "There are situations as a rugby player where you have to protect yourself a little more. There's something that you can definitely take away from that."
The movement has had a trickle-down effect to the lower levels as well.
Last February, UMass signed 21-year-old Australian Travis Reynolds to its 2015 recruiting class; the 6-foot-6, rugby-rooted Reynolds played club football around his native Brisbane, and is reportedly a big fan of Rob Gronkowski. Locally, more and more high school football players around the Bay State are putting down baseball gloves or lacrosse sticks in the spring time and coming out for their school's rugby team; the sport is currently offered as only a club sport in Massachusetts, though there is a possibility the sport goes varsity in the next few years.
Meanwhile in Arkansas, nationally-renowned state champion high school coach Kevin Kelley – who has drawn numerous attention over the years for always going for it on fourth down and almost constantly kicking onside following scores – is now experimenting with incorporating laterals in his offense's base plays, for the rugby effect of spreading the field and getting the ball to the open space.
Ebner was deferential when asked about what kind of doors that players like Hayne, or himself, could open for future NFL hopefuls from the sport, saying, "I don't see it as paving the way or anything like that. I don't know, that's a tough one to answer."
Still, looking around, it's hard not to notice the ripple effects Ebner's own unique tenure here has helped foster.
"For me, it was something I followed my heart with," Ebner said. "From what I know about Jarryd, it's something he really wanted to do, and it didn't feel right doing what he was continuing to do, he wanted to play in the NFL so bad. Those were personal decisions, mine was for sure. I think any athlete good enough will get a shot to be looked at, if they improve their athletic ability."