Gregg Doyel](http://www.indystar.com/story/sports/columnists/gregg-doyel/2014/11/12/doyel-does-qb-andrew-luck-have-a-thing-for-patriots/18925985/) of the Indy Star thinks that the Patriots may already be Andrew Luck's arch nemesis. In Luck's first two games against the Patriots, he has seven interceptions and just four touchdowns. In both games, Luck finished with a passer rating lower than 64 and a completion percentage under 54%. Doyal its nothing to worry about right now, but admits Luck has to figure out the Patriots defense, the way Peyton Manning eventually did after six years.
"At quarterback they have an all-time great, early in his career, having an all-time great season," wrote Doyal. "Luck's first two games, his only two games, against the Patriots? They were both on the road. This thing, it isn't over yet. You could argue it hasn't even started."
The story everyone's focusing on this week is Brady vs. Luck, however, SI.com's Chais Burke says that it could come down to the running backs rather than the QBs. He believes that Shane Vereen and Ahmad Bradshaw are two of the better all-around running backs in the NFL and he's interested to see how they will be used Sunday Night.
"The quarterbacks will be in the spotlight Sunday night, yet the game may be decided by the complementary pieces around them," wrote Burke. "Bradshaw and Vereen are critical cogs in their respective offenses, both offering a multitude of skills on the field."
Lets break down the Patriots-Colts matchups this week, according to the Bleacher Report's James Christensen. He expects Tom Brady and the offense to move the ball with ease isomg different formations, misdirection and play action. After breaking down each position, Christensen believes that the Patriots have a solid advantage over the Colts. However, if Indy's receivers can get hot, it could create problems for New England.
Dan Riccio took an in-depth look at the Patriots new offensive tendencies and he says it's working with great results. According to ESPN Stats and Information, the Patriots use of two-back offensive formations has increased 11% this season, which is higher than any other team in the league. The team's two-back set keeps defenders guessing, which has resulted in a highly affective play action.
"One reason the formation is so difficult on defenses is because they see a lead blocker in the backfield, which traditionally signals a run play. The Patriots have used that misconception to their advantage to sell the play fake," explains Riccio.
The NFL Live crew made their predictions for Sunday Night's Patriots-Colts showdown and both Mark Schlereth and Jeff Saturday picked the Colts to pull it out at home. The New England Tailgate crew also made their picks last night on Comcast SportsNet. All three guys picked the Patriots to get their sixth straight win this Sunday.
"Patriots defense is a little better than the Colts defense," said Steve DeOsside on CSN's New England Tailgate. "This will be a high-scoring game, but I think the Patriots will win this one by seven to ten points."
For more expert picks, check out ESPN's panel for week 11. Eight of the thirteen experts picked New England to leave Indianapolis with the win.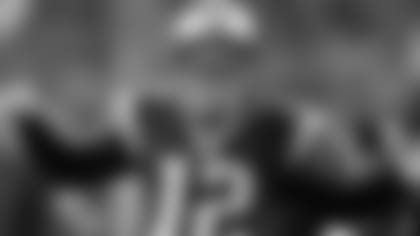 Fun Fact of the day: Tom Brady is a relentless trash-talker. Phil Perry of CSNNE.com talked to Darrelle Revis about the competition on the practice field and he said that Brady is one of the biggest trash-talkers on the team. Revis eluded to Brady's competitive edge and said that he does a great job at bringing out the best in his teammates.
"People might look at it differently because he's a quarterback and quarterbacks don't usually engage in those type of situations, but Tom will engage in those type of situations," said Revis according to Phil Perry's article. "It might throw you off if he do, but since I've been around him, it's kind of normal now."