For the first time of the season, Mac Jones faced some adversity. The rookie responded with his best game of his young career.
There's been a lot of talk about similarities between this season and 2001, Tom Brady's first year as the Patriots starting quarterback. Honestly, I haven't really felt there was much to the comparisons but Jones' stellar performance against the Browns did bring back some memories of that magical season.
After working his way through a mediocre stretch the last two weeks, Jones was hearing some talk about hitting the rookie wall and his play possibly having plateaued. In wins over the Chargers and Panthers, Jones mostly struggled while the defense dominated and put points on the board in each game.
In Los Angeles, Jones completed just 18 of 35 passes and posted his lowest rating of the season at 70.9. The following week in Carolina wasn't much better as he threw for a season-low 139 yards and posted his second-lowest rating at 85.2. The Patriots won each time thanks to timely pick-sixes, particularly Adrian Phillips' in the fourth quarter to put New England in the lead against the Chargers.
As the Patriots prepared to take on the Browns in a game with postseason implications, the talk centered on Jones' recent dip. Even offensive coordinator Josh McDaniels acknowledged the struggles when asked about his quarterback's play heading into the Cleveland matchup.
"I know we hit some stretches periodically in games where we've... you know, we went through a little dry spell there in LA, where we had a few incompletions that we would like to have hit," McDaniels said. "But I think Mac is working really hard to try to master and improve in all levels of quarterback play."
That work showed in the rout of the Browns as Jones was razor sharp throughout. He completed 19 of 23 passes for 198 yards and three touchdowns, with his most impressive work coming early on some key third downs. After Cleveland took the opening possession the length of the field for a touchdown, Jones faced third-and-8, third-and-6 and third-and-13. He converted them all, even overcoming a first-and-20 in the middle for good measure. His perfect 3-yard touchdown to Hunter Henry tied the score, and immediately grabbed momentum back from the visitors.
He continued his onslaught as the Patriots scored touchdowns on their next two drives and went to halftime with a 24-7 lead.
The performance conjured memories of similar talk surrounding Brady in 2001. After dropping a 24-17 game to the Rams to get to 5-5, the Patriots and Bill Belichick had a decision to make. Should he go back to Drew Bledsoe, who was healthy and practicing at the time, or stick with Brady?
History tells us it was an easy choice, but Belichick boldly declared that Brady would be his quarterback "for the foreseeable future" leading up to a visit from the Saints. There was a ton of speculation and criticism after that press conference, and the pressure was on the young quarterback. Then Brady promptly ripped New Orleans apart, going 19 for 26 for 258 yards and four touchdowns in a rout of the Saints. Belichick had his quarterback and never looked back. Those Patriots never lost again. The way Jones played on Sunday it would take quite an effort to beat these Patriots as well.
Today's game is very different from the style the 2001 team used, which is why I still don't love the comparisons between the two. But the heat that Jones felt heading into the Browns game was real, as was the case with Brady, and his response was the best indication yet for the future.
Last week we shared some thoughts on the Patriots first-half award winners and now with every team having played at least nine games we'll offer some quick picks for the league.
This would have been an easy pick before the Ravens got beat last Thursday night in Miami. But Jackson has almost single-handedly kept the banged-up Ravens afloat with his dynamic ability to bring his team back. The Ravens are flawed but Jackson makes them dangerous each and every week. 
Runners-up: Matthew Stafford, LA Rams, Kyler Murray, Arizona; Derrick Henry, Tennessee
Offensive Player of the Half-Year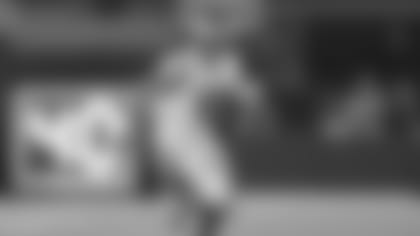 Kupp has been sensational all season, leading the league in receptions, yards and touchdowns. His job might become tougher now that Robert Woods is out of the season but he's been the focal point of a very potent passing attack.
Runners-up: Derrick Henry, Tennessee; Jonathan Taylor, Indianapolis; Tyreek Hill, Kansas City
Defensive Player of the Half-Year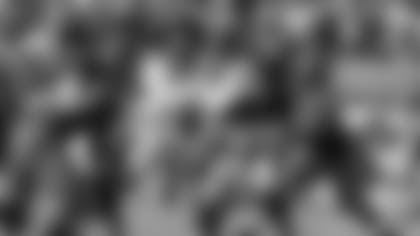 Want to know how good Garrett was in the first half? Watch how much attention Belichick paid to stopping him from wrecking Sunday's game. And Garrett still managed to add to his league-leading sack total despite the constant double teams.
Runners-up: Aaron Donald, LA Rams, T.J. Watt, Pittsburgh, Trevon Diggs, Dallas
Offensive Rookie of the Half-Year
Ja'Marr Chase, Cincinnati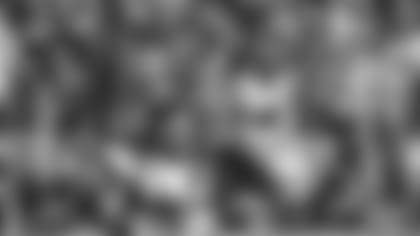 Chase shook off a shaky preseason and has exploded in Cincinnati. He's been productive down the field, shown toughness across the middle and averaged over 19 yards per catch.
Runners-up – Rashawn Slater, LA Chargers; Mac Jones, Patriots; Najee Harris, Pittsburgh
Defensive Rookie of the Half-Year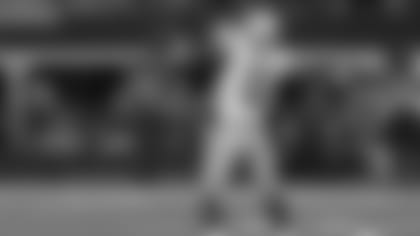 Parsons was asked to fill a variety of roles for a defense that was historically bad in 2020. Playing in the middle, off-the-line and on the edge, Parsons has delivered and the Cowboys defense has been more than serviceable.
Runners-up – Patrick Surtain, Denver; Odafe Oweh, Baltimore; Jeremiah Owusu-Koramoah, Cleveland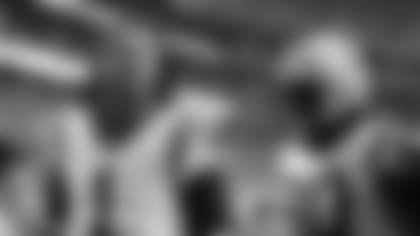 It didn't take long for Cam Newton to make his presence felt after re-signing last week with Carolina, as he ran for a touchdown and threw another in the first quarter of the Panthers upset win at banged-up Arizona.
Newton entered the game with the Panthers at the Cardinals 2 and he promptly called his own number with a touchdown run around the right side. On the next possession, he tossed a 2-yard touchdown pass to Robbie Anderson, helping to stake Carolina to a 14-0 lead in an eventual 34-10 victory.
Newton finished with three carries for 14 yards and completed 3 of 4 passes for 8 yards to go with the touchdown. He took part in nine snaps overall and helped the Panthers even their record at 5-5.
The Dolphins have been a mess for much of the season, dropping games to the Jags and Falcons in the midst of a 1-7 start. But suddenly Miami showed some life after beating lowly Houston by posting a Thursday night upset of the Ravens. Brian Flores used an aggressive, blitx-heavy approach to corral Lamar Jackson and now has his team at 3-7.
Although Flores and the Dolphins still have quite a hill to climb, the next four weeks feature winnable games with two against the Jets and home games with the Giants and Panthers. It's always dangerous to pencil in wins, but if Flores can get his team to 7-7 the last month of the season might have a much different feel in South Florida. …
The Chiefs have suddenly won three in a row and four of five, and Sunday night in Las Vegas they might have found their once-potent offense. After averaging better than 30 points a game over the first six weeks, Kansas City averaged just 12 over the next three. Then Patrick Mahomes exploded for over 400 yards and five touchdowns in a 41-14 romp of the Raiders.
Mahomes used a lot of quick, short throws to Travis Kelce and running back Darrel Williams in the first half before pushing it downfield more often after the break. The Chiefs defense has responded as well. After surrendering 29 or more points each of the first five games, the unit allowed an average of 15.6 over the last five. Don't look now but KC is back atop of the AFC West standings at 6-4. …
Nice response game for both Dallas and Buffalo. Each won easily after dealing with inexplicable losses to Denver and Jacksonville, respectively. The Cowboys mauled Atlanta, 43-3, while Buffalo took care of the Jets, 45-17. … The addition of the 17th game was supposed to all but eliminate the possibility of a .500 finish, but thanks to Pittsburgh and Detroit there's still a chance. The Steelers and Lions tied 16-16 on Sunday thanks to an overtime that featured a pair of Steelers turnovers as well as a missed 48-yard field goal for the Lions. Pittsburgh very much has the look of a team capable of finishing 8-8-1. At 0-8-1, Detroit managing the feat would be borderline miraculous. … Tom Brady sounded a bit like his 2019 version following the Bucs loss in Washington, the second straight defeat for the Bucs. Brady was very short with the media and seemed to show some frustration following another sloppy performance. … The attention in Los Angeles was on Odell Beckham but the real news came later when Robert Woods was lost fo the season to a torn ACL. That's a crippling blow to a Rams offense that relies heavily on Cooper Kupp and Woods. It's similar to 2018 when Kupp went down and the Rams offense slowed down the stretch. First impressions of things without Woods were not good, but in fairness Sean McVay had just the weekend to figure out some alternatives. It will be interesting to see how he's able to incorporate Beckham now with Woods gone.
Injuries and upsets continue to dominate the NFL landscape each week, making the task of coming up with a top five more and more difficult.
Green Bay (8-2) – The Packers defense has been superb, and assuming Aaron Rodgers can stay on the field they may be as good as anyone.
Arizona (8-2) – Not going to bury the Cards too much after a second straight week playing without Kyler Murray, although that was a particularly sloppy performance against the Panthers.
Tennessee (8-2) – The Titans keep playing playoff teams and they just keep winning. That's now five straight against teams that we in the postseason a year ago.
Dallas (7-2) – The Cowboys offense was back to looking like it did before the Dak Prescott injury.
LA Rams (7-3) – Rams will need to figure out offense without Robert Woods but Matthew Stafford will bounce back from recent skid.