INDIANAPOLIS — Musings, observations and the occasional insight as the quarterbacks took center stage Friday at the NFL's Scouting Combine....
Quick impressions of some of the top-level quarterback prospects based on their performances from the podium in front of the media: 
— Baker Mayfield believes in himself as much as any player I can ever remember coming through Indianapolis for this annual NFL job interview, but I think his swagger works well for him. He doesn't come across as cocky as much as utterly convinced. That he's good. That he's ready. And that he has what it takes to lead an NFL team at its most high-profile position.
"If any one is going to turn around the Cleveland Browns, it's going to be me,'' the Oklahoma quarterback said when asked about the prospect of being the next in a long line of failed Browns quarterbacks.
And you know what? That's exactly the right answer for facing down the most cursed position in the NFL. Whenever things finally do turn around in Cleveland, it's going to take a quarterback who believes he's a miracle worker. Because thinking the job may be too big for you is absolutely halfway to failure as a Browns QB. 
Mayfield called his personality and work ethic "infectious,'' said he wouldn't "settle for a backup job'' even as a rookie (are you listening No. 2 Giants?), declared "height doesn't matter'' for a passer, and proclaimed himself "the most accurate quarterback in this draft, by far.''
He also admitted he "has always been brutally honest,'' as if that needed saying. "Some people don't like that because it's rare nowadays, but I just go into these meetings and I'm just myself.''
Mayfield has a stone-cold conviction about himself, and I think there's going to be more than one team that falls head over heels in love with his "it factor'' and alpha-male personality, as well as the proven and productive game he put on tape in college. With top-six teams like the Browns, Giants, Broncos and Jets all needing quarterbacks, and looking to shake off the stigma of losing seasons, its hard to imagine one of them isn't going to let the confident guy in the bandana be the one to lead them into the future.
— The best thing I heard from UCLA quarterback Josh Rosen is his well-defined self-awareness. He admitted he "kind of'' needs to convince NFL team decision-makers here that he loves football, which goes right to the heart of questions about his dedication and commitment level to the game. Does he want it enough? Does he need it enough?
"I love football with all my heart and soul,'' Rosen said. "And if I didn't, I just don't think I'd be able to have made it through the grind of college. Football is an unbelievable team sport, and that's what so cool about it. I'm not playing exclusively for my own passions, I'm playing for all of my teammates.''
Rosen said his top goal at the combine is for teams to come away with an accurate perception of the real him, not the image they may have of him based on what they've heard, read or seen. In his 15-minute session with reporters, he came across as convincing, genuine and very aware that he has some work to do that extends beyond defending his game tape.
"I'm not going to present a fake image of myself," Rosen said. "I think you have to be yourself. You have to be authentic. You have to show that you've learned and grown over the years. You have to own your mistakes. I think that's what I'm trying to show.
"I'm trying to show who I really am, not who I'm trying to be, because I don't want them to draft someone they think they're getting and then not to get that guy. I think that's also what your teammates want. Your teammates don't want a fake shell of yourself. Teammates want you to be you every single day, so that you're that reliable rock they can count on."
On the field, Rosen said his strength is his quick decision-making and his ability to get through his progressions decisively. Unlike Mayfield, he said he's willing to be a backup for whichever team drafts him, if that's what it takes "to help the team win.''
— Well played, Lamar Jackson. Well played. The former Heisman winner from Louisville struck just the right playful tone when bombarded with questions about whether teams have asked him to work out at both receiver and quarterback this weekend, as NFL Network reported Friday. Jackson essentially laughed off the notion, giving the idea of a position switch the respect it deserves at this point.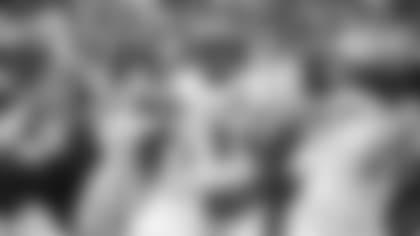 "No teams have asked me to play wide receiver,'' Jackson said. "I don't know where that came from. I'm strictly a quarterback….. Whoever likes me at quarterback, that's where I'm going.''
Later, Jackson called it "crazy'' to suggest he needed to give up his dream of playing quarterback in the NFL, quipping: "Man, I thought I did a good job at quarterback!''
While former Colts general manager and Pro Football Hall of Fame member Bill Polian made headlines recently saying Jackson should switch positions upon launching his NFL career, current league decision makers like Chiefs coach Andy Reid and Ravens general manager Ozzie Newsome have maintained they see Jackson as a quarterback only.
"I don't know what the other teams think about him, but on our board, he's a quarterback,'' Newsome said Friday.
— USC's Sam Darnold was rather laid-back in his session with the media, but hey, he's a Southern California kid, so that fits. Darnold has confidence, but he doesn't wear it on his sleeve like Mayfield. He opts for understatement and a pretty steady demeanor, and doesn't make big, bold pronouncements of any kind.
He did say he saw no reason to alter his somewhat long throwing motion for NFL talent scouts, believing he should stick with what has worked so far and gotten him to the point of being considered in contention to go first overall in the draft.
I also liked that he quickly brought up his issues with turnovers, saying a quarterback's No. 1 priority is to protect the ball. "It's not okay,'' Darnold said of his 22 turnovers in 2017, including nine fumbles lost. "I've been working on keeping two hands (on the ball) in the pocket at all times. The only time I let go of the ball is throw it. I've been working on keeping it tight when I tuck it and run.''
Well have yourself a day, Saquon Barkley. Good golly, the Penn State running back hit the ground running during his workout on Friday, and we mean running ridiculously fast. Barkley ripped off a 4.41 40-yard dash at 233 pounds and went 41 inches skyward in the vertical jump.
Those are freakish numbers and Barkley is the story of the combine thus far. It would now be considered a stunner to see him not go in the top five, and many believe he won't get past the No. 2 Giants.
On the opposite end of the workout spectrum was Oklahoma offensive tackle Orlando Brown, who has done nothing but hurt his draft stock thus far this week. Brown, the son of the longtime Ravens and Browns offensive tackle of the same name, only did a measly 14 reps on the bench press, calling his strength and upper body development into question. Then Brown's 5.85 time on the 40-yard dash clocked in as the fifth slowest at the combine since 2006.
Suddenly Brown seems unlikely to crack the first round, unless his Pro Day performance shows a marked improvement.
Will the 49ers' magic carpet ride ever end? Since starting last season 1-10, San Francisco hasn't lost. At anything. The 49ers won their final five games of the regular season — you might have heard, Jimmy Garoppolo started those games at quarterback — and they notched another victory on Friday when they beat out cross-bay rival Oakland in a coin flip for the draft's No. 9 slot in the first round.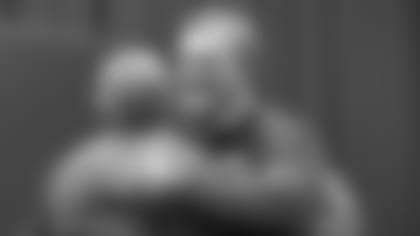 The Raiders will now pick 10th, and that figures, because in terms of positive developments of late they've been trailing red-hot San Francisco, even after bringing back Jon Gruden as head coach in January. Oakland and the 49ers both finished 6-10 last season, and the clubs had identical strength of schedule results, necessitating the league to flip a coin to break the tie.
The 49ers' victory Friday also affected the Patriots, since they now know they own the draft's 43rd pick overall, courtesy of the second-rounder San Francisco sent to New England in the Garoppolo trade. The Patriots would have owned the 41st pick if Oakland had won the coin flip (Miami was also 6-10 and the three clubs will alternate slots in rounds 2-7), so I guess that's two losses in a row including the Super Bowl for New England in 2018.
From listening to Vikings head coach Mike Zimmer talk about his team's game of quarterback limbo this offseason, I'd say Kirk Cousins has a great shot to land in Minnesota once free agency opens in two weeks.
The always-blunt Zimmer is never one to talk in riddles, but it was refreshing how direct he was Thursday when discussing his vacant quarterback depth chart, which features three likely free agents in Case Keenum, Sam Bradford and Teddy Bridgewater. Zimmer said what everyone is thinking, that Minnesota has no quarterback it can completely bank on, building nothing but momentum for the Vikings going after Cousins, the biggest QB prize in free agency.
"It's the $64,000 question with all three of these guys, right?'' Zimmer asked. "Can Sam stay healthy? Is Teddy what he was? Is Case the guy that he was last year or two years ago?''
Zimmer called Bradford's knee issues "degenerative,'' and made it clear he doesn't know if Bridgewater will ever return to the form he showed in 2015, before his own devastating knee injury of August 2016. As for Keenum, Zimmer didn't call him a one-year wonder after last season's breakthrough performance, but he came close to at least posing the question.
"The question is exactly what you're asking: 'Is he this guy? All three of our guys have questions. There's no doubt about it, and it's our job to do the very best we possibly can to figure out who is the right guy, the right fit.
"It's important for myself and (Vikings general manager) Rick (Spielman) and the organization that we pick the right guy that is going to help us to
continue to move forward. If we don't do that, then I'll probably get fired."
The buzz within league circles is that while Denver might be the most motivated team in their pursuit of Cousins, the former Washington starter, the Vikings are in the best position to seal a deal with him. Cousins has been clear that he wants to go to a team he can win with immediately, and Minnesota is seen as the obvious favorite on that front, thanks to their combination of a stout defense, bountiful play-makers on offense and the presence of Zimmer, who has led the Vikings to the playoffs in two of the past three seasons. Such a move by Minnesota would also return Cousins to the upper midwest, not all that far from where he played his collegiate ball at Michigan State.
With the Bears emerging as a potential trade partner in the Dolphins' shopping of franchise-tagged receiver Jarvis Landry, according to the Miami Herald, two words should be chanted incessantly in Chicago's direction: Buyer beware.
Landry is the first receiver in NFL history to log 400 receptions in his first four seasons, but how many of them produced highlight-reel material? Landry caught 114 passes last season and yet averaged a meager 8.8 yard per catch, somehow avoiding a 1,000-yard season (he finished with 987). His career average is a pedestrian 10.1 yards per catch. 
I get it, in that he's a reliable slot receiving option who can play the role of security blanket for second-year Bears franchise quarterback Mitchell Trubisky. You've got to move the chains. But defenses don't really fear the damage that Landry can do, because it's almost all underneath stuff with not much yards after the catch threat.
Landry reportedly is looking for a four-year deal in the range of $14-million-plus a season, and I can't see paying that and potentially giving up a second-round pick in trade compensation (the Bears own No. 39 overall) for a receiver whose impact comes in very modest chunks. All I can think of is that last year Chicago's major offseason veteran acquisition came off the roster of an NFL team in Florida (quarterback Mike Glennon), and it proved to be a costly disaster for the Bears. They could be in danger of letting history repeat itself with a deal for the underwhelming Landry.
As one NFL club personnel executive reminded me over dinner Thursday night, the Dolphins are shopping Landry because they don't want him. There's a reason he's on the market. That should tell the Bears plenty. If they're listening. It's simplistic, but true. Most of the league's best players get re-signed by their teams.
Zimmer got plenty of heat from some in the media and even in the coaching community this offseason for not allowing Vikings quarterbacks coach Kevin Stefanski to interview for the Giants offensive coordinator job, which would have reunited him with Pat Shurmur, New York's new head coach and former Minnesota OC. But Zimmer blocked the move, then explained his thinking in candid terms at the combine.
"I get criticized for blocking guys and stuff like that, but loyalty, to me, is a big thing, right?" Zimmer told local Twin Cities media members. "So I come in here four years ago and the offense is 29th, 27th, 26th. But I keep (my assistants). So the first time our offense is pretty good, then I'm supposed to let all my coaches leave? I don't think that's right. If I'm going to be loyal to them and not fire them after they don't have good years, then I don't think they should not be loyal to me."
Zimmer deemed losing both Shurmur and Stefanski to the Giants was a bridge too far for his offense to endure. And it's hard to argue that he's being unreasonable in reaching that conclusion. But he's fighting a losing battle in the long run, because the more you win in the NFL, the more your coaching staff is going to get raided in this copy cat league. Stefanski is still a Vikings assistant in 2018, but another big year in Minnesota and he'll likely get that promotion elsewhere.
LSU running back Derrius Guice sounds like he could be fun to have in the league. Asked if he thought his 224-pound frame and power running style would fit well in the cold-weather, rough-and-tumble AFC North, Guice didn't even try to fake it.
"You know what's crazy? I don't know what teams are in that division,'' Guice said. "I can't keep up with the divisions. It's kind of confusing to me.''
Guice did proffer one prediction for any team that passes on him, promising "If you don't draft me, I'm going to give your defense hell.''
Guice might not know the league's divisional alignment, but he knows which NFL running back he wants to emulate in his career.
"Beastmode. Skittle Man,'' said Guice, referencing the one-and-only Marshawn Lynch. "I see anger, man. I see somebody who refuses to go down. When I run, I really think about him every time. And when I go back and watch him, I'm like, 'Man, I really run like this dude. It's crazy.' ''