INDIANAPOLIS- Musings, observations and the occasional insight as the quarterbacks put the ball in the air Saturday at the NFL's Scouting Combine….
Quarterbacks at the combine always hold some kind of secret competition to be the guy who most convincingly declares himself "the best player in the draft,'' so I tend to like it whenever prospects playing other positions get in on the act.
North Carolina State defensive end Bradley Chubb wasn't just blowing smoke and practicing draft-season hyperbole on Saturday when he assigned himself the No. 1 designation in this year's lottery. He's the draft's best pass rusher, and probably as proven as any player up for grabs on April 26.
"My confidence level is going to say I'm the best player," said Chubb, who has been mocked to the No. 3 Colts aplenty this winter. "I feel like I put it on tape in four years. Just putting on tape good film, and I feel like I'm the best player. I'm not going to say one player is better than me. Saquon Barkley put up ridiculous numbers in the past couple of days. Josh Allen, Josh Rosen, just all the quarterbacks you're hearing about. A lot of great players. I just feel like I'm up there at the top."
More than a few NFL personnel evaluators would agree with Chubb's self-assessment. And with the Colts' need for more pass rush and defensive difference makers, the fit with Indianapolis seems ideal, meaning Chubb might already be making himself at home this week.
"A lot of people have been saying I'm going to the Colts, but you never know," Chubb said. "If that happens, I'll be happy, of course, to be drafted to such a great city. So I'm just looking forward to it."
While the AFC South might be his NFL destination, Chubb said he models his game after two of the game's premier pass rushers, both of whom play in the AFC West.
"I try to take Khalil Mack and Von Miller and put them into one person," Chuibb said. "Khalil Mack's the more powerful guy, probably the best long arm in the game right now. Von Miller's the speed, finesse guy. Just try to put both of those together, have some power moves, have some speed moves that I go to. I feel like I do both of them pretty well.''
Mack and Miller. In one body. Yeah that'll work.
Throwing against nothing but air, Wyoming quarterback Josh Allen wowed everyone and handily won the arm strength competition in Saturday's quarterback workouts at Lucas Oil Stadium. But then we knew he would, didn't we? Josh "Big Arm'' Allen is probably his legal name by now.
Allen flicked one bomb that traveled about 66 yards in the air and arched so high that NFL Network briefly lost radar contact with it. An audible buzz was heard around the dome. But all that really told us was that if it comes to Hail Mary time in the game, Allen is your guy. He'll never come up embarrassingly short on the desperation heave in the end zone.
https://twitter.com/NFL/status/969968094880858114
I get it. Chicks dig the long ball. And so do football scouts. But Allen's challenge will be to improve on the accuracy that led to his ho-hum 56.3 completion percentage last season, and there are some coaches who believe you simply can't teach accuracy. You either have it or you don't, and you're not going to suddenly find it once you reach the NFL. Is that right, Mr. Kyle Boller?
Maybe Allen's game will be special enough that his relative lack of precision won't doom his chances for a long career. But in a pass-happy era when quarterbacks are expected to complete roughly two-thirds of their attempts, being in the mid-50s probably won't cut it.
Allen is a good story, coming out of junior college football and making a name for himself at small-school Wyoming. He's no Boller, and I like a lot of what I see from him, as I do all five of this draft's top-rated quarterbacks. If I ventured a guess today, I'd say Allen, Sam Darnold, Josh Rosen, Baker Mayfield and Lamar Jackson will all have teams fall in love with their skill set and select them in the first round. It's a quality group that could make for some instant impact in the fall. 
But throwing the ball around the dome with no defense on the field never seals the deal in terms of whether a quarterback is really NFL ready. That only comes once the pads go on and the pass rush cranks to life. Scouting combine throwing competitions are just exhibitions, a sideshow of sorts that only offers a hint of the coming attractions. 
Might as well name the bench press drill at the combine after Shaquem Griffin, because no one's ever going to nail it like he did Saturday afternoon in the feel-good story of the week. Griffin, the inspirational University of Central Florida linebacker who had his left hand amputated when he was four years old, ripped off 20 reps of 225 pounds despite wearing a prosthetic on his left arm.
https://twitter.com/NFL/status/970016761029443584
It was a remarkable display of fortitude and determination, and if there's a football fan out there who wasn't moved by the sight of it, they ought to be drug tested.
"My adrenaline was going through the roof,'' Griffin told an NFL Network reporter afterward. "I ain't feel like I needed to stop. As soon as I heard 16, I was like 'Oh yeah, I'm going for 20….A lot of people didn't think I was going to be able to do the bench press."
Griffin is considered a third-day prospect, but he did nothing but boost his chances of some NFL team investing in his future with Saturday's feat of strength and will power. At a combine in which a highly-rated prospect like Oklahoma offensive tackle Orlando Brown managed just 14 reps, Griffin instantly became a workout wonder.
Sadly it has become a bit too familiar to see a prospect diagnosed with a heart condition, as Michigan defensive tackle Maurice Hurst was on Saturday, according to ESPN. Hurst, considered a possible first-round pick, was sent home from Indianapolis for more testing, with a medical red flag now attached to his name. He will not participate in the combine defensive lineman drills that he no doubt trained months for.
The specifics and severity of Hurst's condition are not yet known, and he'll get a chance to return to Indianapolis for a medical re-check with NFL doctors before the draft, if the results of further testing merit it.
Five years ago at the 2013 combine, Utah standout defensive lineman Star Lotulelei was diagnosed with a heart condition, but was later cleared to play in the NFL and got selected 14th overall in the first round by Carolina. 
But the NFL Network reported that it was New Orleans Saints doctors who discovered Hurst's heart condition, and that it bore some similarity to the  condition that prompted former Lions and Saints defensive tackle Nick Fairley to not be cleared to play in 2017. Fairley was released last month by New Orleans with a non-football illness designation.
USC quarterback Sam Darnold opted to not throw during the quarterback drills on Saturday and then somewhat predictably told NFL Network the competitor in him chafed at standing by and watching the rest of the QBs throw.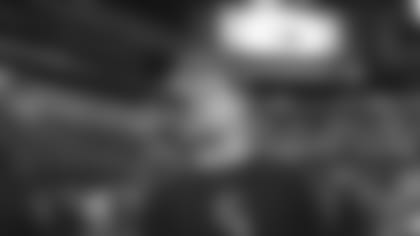 Darnold called it "the best decision for me'' to not throw, but didn't elaborate why, and I don't get the logic of how quarterback prospects arrive at that conclusion any more. How long has it been since a passer really hurt their draft stock with a less than scintillating workout at the combine? Teams know quarterbacks are throwing to unfamiliar receivers and in a less-than-game-like situation in Indianapolis, and they calibrate for that.
"Obviously I'm going to throw at my (USC) pro day,'' Darnold said. "I think that's a good opportunity for teams to be able to look at how I can spin it. I'm going to be throwing to guys I've played with. I think given all the information I had, I thought that was the best decision."
If you're a quarterback, I get skipping the 40-yard dash or the vertical jump or any of the other drills that seem less than essential for an NFL passer. But throwing the ball is everything for a QB, and why wouldn't you want to show off your most important skill every chance you get?
ESPN's Adam Schefter reported Saturday the Kirk Cousins sweepstakes in free agency is down to four teams: Denver, the Jets, Arizona and Minnesota.
Here's my personal reading of how those teams stack up in terms of their chances to land the former Washington starter, based on what we're hearing:
Minnesota is in the clear-cut lead, with the best team to put around Cousins and enough salary cap room to get something done if the Vikings are creative. Next up would be Denver, because, well, John Elway might not take no for an answer. The Broncos believe in making the big splash at quarterback.
Then it's the salary-cap loaded Jets who could make their best case with dollars and new offensive coordinator Jeremy Bates. Lastly, there's Arizona, and while the Cardinals can offer the chance to play with Larry Fitzgerald and David Johnson, with warm weather and a dome to boot, the sense is they still trail the rest of the pack as an aging team in transition.
Whichever team winds up drafting Josh Allen, they're getting a guy who's a bit of an NFL junkie in the process. Allen follows the league closely as a fan and knows his stuff, liberally sprinkling in names of NFL coaches and players during his 15-minute media session Friday afternoon.
References to Pat Shumur, Adam Gase, Dan Marino, Eli Manning, Tom Brady and more came easily rolling off Allen's tongue and he's said to be a sponge when it comes to all things associated with the NFL game.
"Coach Shurmur is a super bright mind, I like him a lot,'' said Allen of the Giants new head coach, sounding more like the NFL scout than the prospect. "I actually got the chance to talk to him in Mobile (at the Senior Bowl). Sat down with him for a little bit. He's a really good dude. If I was fortunate enough to play under him, I'd be super stoked.''
And sorry, Patriots fans, but Allen also knows his Super Bowl history pretty well, too.
"I've seen Eli Manning at the Manning Passing Academy, he's a super reserved guy and he knows his stuff,'' Allen said. "He's won two Super Bowls. Beating Tom Brady, it's a tough task, but he's done it twice in the Super Bowl. It would be a blessing if I got the opportunity to go there (to the Giants) and sit behind him for one or two or even three years and just learn everything that I could."
University of Texas punter Micheal Dickson is an Australian who learned his craft playing 10 years of Australian Rules Football, so he thought he was ready for anything funky thrown his way at the combine, thanks to his unusual journey from Australia to Austin to the NFL.
But then the Seattle Seahawks met with him and asked him to engage in a staring contest. For reasons unknown.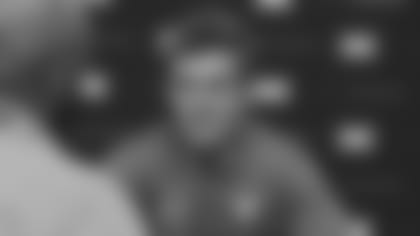 "I had to do a staring contest, and I had to see how long I could stare without blinking,'' he said. "I had a couple of attempts. I tried a few techniques, looking away from the light, trying to block any sort of wind coming into the eyes. That was a weird process.
"The first time I did terrible. I only lasted for 14 seconds, but my third time, I had figured out a technique to look around the room just to get your eyes a little watery, I guess.''
Take that, 3-cone drill. We now have a new winner for the strangest thing they do at the combine.
Reading the tea leaves after talking to NFL club officials in Indianapolis, Cardinals safety Tryann Mathieu's career in Arizona looks to be nearing an end. Arizona is likely to release the former LSU star, in part because he's due almost $19 million in guaranteed money if he's still on the roster in mid-March, and partly because the Cardinals aren't sure he's a high-value fit in the defense that new head coach Steve Wilks is installing.
Just connecting dots here, but Mathieu might be a decent target for the Patriots in free agency if his price tag isn't exorbitant. New England is thought to be interested in upgrading at safety and Mathieu is still only 25, logging a league-high 99.4 percent of the Cardinals defensive snaps in 2017, with two interceptions and 74 tackles.
Mathieu was once an X factor-type player that Arizona loved for his versatility and ability to line up in multiple spots on defense. But the Cardinals aren't sure he's going to have a big enough role to warrant his big contract, and it doesn't sound like both sides are open to a renegotiation.
"It's what we are doing right now with the coaching staff, looking not only at Tyrann but every player, and see how they fit," Cardinals general manager Steve Keim said this week. "How they fit what we are asking them to do schematically, and how they fit from a salary standpoint, all those things moving forward. And there are a lot of moving parts. What we are potentially doing in free agency, how it affects the cap, and I feel we have a pretty good grasp on that."
I saw where the NFL Network televised live the coin flip that occurred Friday morning between the 49ers and Raiders, to determine who would earn the No. 9 and No. 10 slots in the draft's first round, since the teams tied in both record (6-10) and strength of schedule (.512).
Leave it to the NFL, which believes nothing worth doing can't be over-done. A coin flip on live TV. Now that's drama that should reverse the league's decline in ratings. I haven't seen it, but I'm hoping there were slow-motion, high-def replays, with a lengthy review before the call was upheld.
The 49ers won the toss, and back in late November think about what their odds were of needing a little luck just to pick ninth overall. San Francisco was 1-10 at the time, in contention for the top pick with Cleveland. The Raiders were 6-6 through 12 games. Then Oakland lost four in a row to finish the season 6-10, while the 49ers inserted Jimmy Garoppolo at quarterback and won their last five games to rally to 6-10.