Less than two full days after beating the Ravens on Monday night, the Patriots held a Wednesday walk-through practice in their indoor facility behind Gillette Stadium. They're expected to be on their regular outdoor grass surface for the next two days of preparation before leaving for Denver.
The less intense workout today was necessitated by the short turnaround from their previous game. It's not ideal, considering the next contest is a road trip to a hostile environment where wins have been few and far between for the Patriots. In addition, a blast of Arctic air is expected to dip into the Rocky Mountain area, making for near-zero temperatures this weekend in Denver.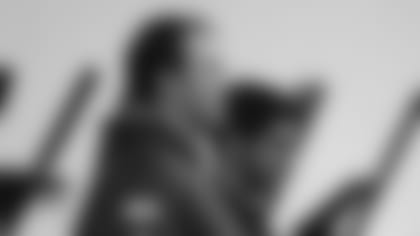 "It's a tough place to play in December," DE Chris Long acknowledged. "They've sold out their games for a crazy amount of time, they've got great fans, and they always have a good football team."
Then, of course, there's the thinner air, with Denver resting at a mile above sea level, making it harder for some visitors to breathe. LT Nate Solder, a Colorado native who played college football in the state, downplayed the altitude factor.
"You know, at CU, we certainly made a big deal about that – we put banners and signs up – but we didn't win that many games," Solder laughed. "So, is it a big deal? I think when you're highly trained, you can minimize some of those effects. I'm not a scientist, by any means, but growing up there and living there, I've never noticed anything."
Nothing except the difficulty of playing at Mile High, of course. The Patriots have lost their last three visits to Denver, including two of the last three AFC Championship Games.
"They have great fans and it's a unique place to play," Solder admitted.
Even if New England doesn't triumph this Sunday in Denver, the Patriots could still not only clinch the AFC East, but also secure a first-round playoff bye.
In fact, they could be division champs even before taking the field Sunday afternoon. For that to happen, though, they need the Miami Dolphins to lose to the Jets in New York on Saturday night. New England would earn a bye week – by virtue of a guaranteed spot in the No. 1 or 2 seed in the AFC – if both the Dolphins and Steelers lose this weekend, or if Miami loses and Kansas City wins. The Steelers travel to Cincinnati, while the Chiefs host Tennessee.
The Patriots control their own destiny, though. If they beat the Broncos, they get two early Christmas gifts: the AFC East crown and the first-round bye.
"That's kind of in the back of our minds," added Hogan. "We're just focused on going out to Denver and playing a really good football team, knowing that it's going to be a good atmosphere out there."
"We don't need any more motivation than just what's in front of us," Long insisted, "which is a good football team in Denver. It's going to be a tremendous challenge."
You may recall seeing cornerback Malcolm Butler leave the Ravens game briefly with what appeared to be a right leg injury. He received some stretching treatment on the sideline before returning to action. We now know, thanks to today's injury report distributed by the Patriots, that Butler sustained a hip injury. He was limited in today's walk-through activity.