Safeties are often compared to baseball centerfielders. Because both are usually positioned furthest from the action and can survey the entire field as a play unfolds.
New England's Jarrad Pagehas considerable experience at both positions and sees more similarities.
"Yeah, I would say that playing centerfield in baseball, you've got to get great jumps on the ball," Page began to explain. "You can kind of tell that from where the ball is pitched, the type of swing a guy gets. You can tell when a guy's getting ready to swing and he's going to pull the ball, or he's about to be late and hit the ball. Also, from the sound, you can tell whether you need to come in [closer to the diamond] or go out [toward the warning track].
"So, anticipation and being able to track the ball, being able to spin and take your eyes off the ball, but understanding where it's going to come down. I think it helps you a lot. Because a lot of times [in football], you get going one way, then you've got to speed-turn and you lose sight of the ball. Being able to judge where it's going and getting your eyes back around, it helps a lot."
A prime example involving Page came against Buffalo in Week 16. In the third quarter, on a 2nd-and-7 from the Bills' 15-yard line, Page was creeping toward the line of scrimmage. At the snap, he turned and dropped into coverage to help cornerback Kyle Arrington on the right side of the New England defense.
Bills QB Ryan Fitzpatricklooked that direction and fired a pass intended for receiver Steve Johnsonwhile Page still had his back [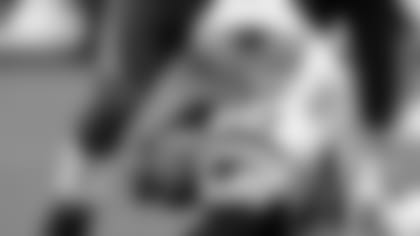 ]()turned. Page wheeled back around just in time as the football fell directly into his arms – you could almost tell the timing took Page by surprise as well, though he managed to come down with the interception at the Buffalo 21.
The pick was Page's second as a Patriot, his first having come way back in Week 4 at Miami. At the time, the 26-year-old Oakland native was only a month into his Patriots career and still assimilating to the New England defense.
Today, he says he feels much more comfortable as a regular contributor in the Patriots secondary.
"I'm very confident," he asserted. "I put in a lot of time when I first got here. I've been confident with this defense since… not too long after I got here. I just prepare to be ready to go out there when I get my chance and go out there and make plays.
"It's just terminology. If you run a 3-4, everything around the league is similar, but you have to learn what to call things and what checks to make. Once you get that down, it's just playing football."
Page spent the previous four seasons doing just that in Kansas City when the Chiefs drafted him in the seventh round of the 2006 NFL Draft – as low a selection as there is. That same year, he was also drafted in the seventh round by the Los Angeles Angels of Anaheim – a considerably high draft position given the dozens of rounds in Major League Baseball's draft.
He had played both sports since childhood, and actually thought a job in the majors was more likely than an NFL gig, given his high draft selection. But after a standout career in both sports at UCLA, Page had an opportunity to give both a chance. He chose football because he didn't want to regret not giving it a shot.
"I went to training camp [with Kansas City] and actually ended up having a very productive year as a rookie," Page continued. "So, I stuck with this."
He appeared in all 16 games his first three seasons, starting every game in his second and third campaigns, before his 2009 season ended prematurely. A calf injury landed him on injured reserve after just five games that year.
At the end of this past summer's training camp and preseason, the Chiefs traded Page to New England for future draft considerations. He worked his way into the lineup through special teams before getting reps on defense against Miami.
But in the following game against Baltimore, that calf injury resurfaced and Page missed the next six games. He returned for the Monday Night blowout against the Jets, which turned out to be his best statistical effort as a Patriot, as Page tallying five tackles (three solo).
He has gotten increasingly more opportunities at safety as he's learned the system, and even started the Week 16 Buffalo game.
"As the season goes on, you get comfortable or your get more of a feel for what guys are going to do. So, you get to move around a little more," Page said. "You get comfortable with the guys you're playing with and it makes things easier."
So, which is easier: catching a fly ball or snaring an interception?
"I think they're both pretty easy if you get in the right position... It's just the getting there that's the hardest part."
Tue 1/11 Practice Notebook