With the free agency deadline having come and gone, if moves haven't been made that you hoped would be made, there's really only one thing to remember.
Patience. As the saying goes, Rome wasn't built in a day.
Signing big-name players in free agency is only a small part of building a team, as you undoubtedly are aware. Trades are the exception these days, rather than a rule-of-thumb thanks to salary issues and cap restraints; evaluating collegiate players for the NFL Draft is another part of it, of course...but the Patriots have largely built much of their depth over the past several seasons through a shrewd evaluation of the bottom rung of the free agent ladder.
You can expect this formula to continue to play out in New England as the team begins to build itself for 2015. Free agents will be a part of this team, of course, as some will come from the outside and others will be re-signed to hang around for a few more years (see Devin McCourty). But one of the traits of the Patriot organization remaining competitive within the NFL has been the ability to recognize and sign players to provide quality depth. And much of that depth has come from players often overlooked by former teams, or players who go undrafted, or players who simply are driven to succeed and underutilized in their present situations.
The Patriots have a knack for finding these diamonds-in-the-rough, and perhaps no better example exists than Super Bowl hero Malcolm Butler – an undrafted free agent cornerback from Division II West Alabama, who was one of the final additions to the pre-season roster last summer. NFL.com's research found there were 12 free agents who started this year's Super Bowl game with Seattle (five from New England, two on the offensive line), and there were also 12 1st-round drafted players who started in the game as well.
Sometimes, you just never know where the talent will come from. And sometimes, it seems like the Patriots' roster is full of guys no one else wanted.
The proof of success, however, comes in the final results. Undrafted free agents might not catch your eye like the big names, but they play a huge part in roster construction. Ryan Wendell, Dan Connolly, Kyle Arrington and Ryan Allen all had their moments contributing to a championship team this season past.
Understand, having a solid foundation of players outside of the glamour guys is necessary for a team to remain competitive year in and year out. Grabbing a glamour guy might get the headlines, might get fans jump-started on the new year, might increase expectations all-around. But it also might not pan out – and cost a team precious dollars against the salary cap. The Patriots aren't necessarily penny-pinchers – they'll play at or near top-of-the-market salaries, but will only do so for the right players. The key here is they've been right more than they've been wrong.
"I tell the team that I don't care how you got here, it's what you do when you get here. It doesn't matter if you were drafted in the second round, the fifth round, or not drafted at all," Belichick said to a question posed at the Combine a few years ago. What matters, of course, is how they play when they get to New England. The Patriots aren't perfect in personnel decisions – no team is. But they certainly do the job well enough to remain relevant as a contender in the NFL.
Don't sweat the big-dollar deals. The devil is in the details, not in the big-name signings. Rome wasn't built in a day, and neither is a Super Bowl champ.
Umm, hey wait just a minute
That seems to be what the NFL is saying – or getting ready to say – when it comes to the free agent signings that are soon to be announced.
Yahoo! Sports reported Monday that a letter was sent to all 32 NFL teams expressing their displeasure that some contract terms were being released to the public before the official start of free agency at 4:00 pm ET Tuesday. According to the report, the league will investigate the issue and look into teams' dealings with potential free agents, and whether or not terms were agreed upon BEFORE free agency began. Several reports have indicated the Miami Dolphins' negotiations with former Detroit Lions defensive tackle Ndamukong Suh, and WR Torrey Smith's (late of Baltimore) potential deal with San Francisco may have breached this policy.
ESPN's Adam Schefter reported the NFL promised to discipline any potential violations they find. Teams are allowed to contact and negotiate with the agents of players in the three days leading up to the start of the free agent period. Contracts, however, cannot be completed (and thus announced) until 4:00 pm ET Tuesday.
Get the NFL bean-counters ready...there could be some extra cash coming the league's way.
Patriots could face a few of Brady's Bunch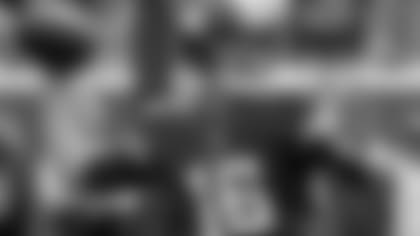 With AFC East rival Buffalo trading for ex-Patriot quarterback Matt Cassell, it could very well mean the Patriots will be facing a few of Tom Brady's former understudies next season. At least three times, anyway.
Both Ryan Mallett and Brian Hoyer, one-time backups for TB12, will apparently be in Houston to battle it out for the Texans' starting QB job. Hoyer, who was thought to be a candidate for the New York Jets, settled on Houston according to an NFL.com report, and now has the chance to work with former New England QB coach and offensive coordinator Bill O'Brien, now the head coach of the Texans.
Ditto for Mallett, who has also agreed to terms to return to Houston as per an NFL Media report. All of a sudden, two potential prizes in the free agent QB pool are apparently off of the market, and now will possibly compete against each other for a job. The great unsaid in Houston? What to do about Ryan Fitzpatrick, who hasn't hit the open market as of this moment.
Don't be surprised if the Jets kick Fitzpatrick's tires should he become available, which would then give him the chance to face New England twice per year again, after playing under center for Buffalo two seasons ago. The revolving QB door probably won't stop here, either.
At the very least, there will be some familiar names running the show for different teams next year, each trying to do something only a few before them have accomplished – and that is, of course, beat TB12.
John Rooke is an author and award-winning broadcaster, and has been the Patriots' stadium voice for 22 years. Currently serving in several media capacities – which include hosting "Patriots Playbook" on Patriots.com Radio – Rooke has broadcast college football and basketball for the past 26 years and is a member of the Rhode Island Radio Hall of Fame.